Celebrating 15 Years of Blogging With My Favorite DIYs!
Celebrating 15 years of blogging with my DIY and decor favorites!
I can hardly believe it, but last week marked 15 years of blogging at Thrifty Decor Chick!! I started this site in May of 2008 and would have never fathomed in a million years that it would become what it has. 
I am beyond grateful! 
I started this blog when our son was just a year and a half — I had quit my full time public relations career to stay at home part time. I worked part time as an interior decorator when I started writing about DIY and decor, and less than a year into blogging I quit my decorating job to work at home. 
Blogging is the perfect combination of my two loves — writing and DIY/decorating. 
Writing TDC has created so many amazing opportunities, from being published in print, TV and online to being featured on the Nate Berkus show. 
I was supposed to appear live on his show so many times, but the scheduling always got messed up. I adore Nate and am so thankful his team's support!
Years later, a bunch of my blog friends and I created the Haven blogging conference for DIY and decor bloggers. It became an incredible success and I'm SO proud of that event. It is now under new ownership, but those were some of the best (and tiring!) weeks of my life. 
I've also worked with hundreds of wonderful brands over the years, and was so excited to win the La-Z-Boy Design Dash a few years back. 
Blogging continues to take me out of my comfort zone, and I'm really, really proud of what I've created! 
OK enough about that stuff, let's look at some projects shall we? I gathered what I consider to be the top 15 projects I've completed in the past 15 years. I'm sure I've left something out from all these years in our two houses, but I feel like this is a pretty good list! 
1. Dining room turned library built ins
Our dining room at our last house was a great, open space that was hardly used. 
Little did I know that these DIY bookcases using kitchen cabinets in our first house would be replicated so many times over the years! Since then I've seen countless projects using my tutorial. 
My Dad came up with the smart idea to use UPPER wall cabinets as the bases to these built ins. This saves SO much time and effort: 
Here's a look at that dining room space before the makeover:
This post may contain affiliate links for your convenience.
I may earn a small commission when you make a purchase through links. 
This was my red and gold phase. 🙂 
Using the wall cabinets makes the bookcases a standard 12 inches instead of the 24 inch depth of base cabinets. Base cabinets also have drawers that look more like a kitchen or bathroom set up. 
2. First family room 
This room saw SO many changes over the years! 
Before the biggest transformation, we had an awkward layout with a corner fireplace. There was nowhere to comfortably place a TV and still have space in the room. 
So after living in this home for more than ten years, we decided to knock down a wall between this living room and the corner office. We repositioned the gas fireplace against the wall (instead of angled), and the final result was a MUCH more open and comfortable space!:
This is the corner fireplace layout we started with: 
I hate to not include our current family room because I love it so — it gets an honorable mention as well: 
3. Closet turned book nook
This little closet redo is one of my all time favorite makeovers!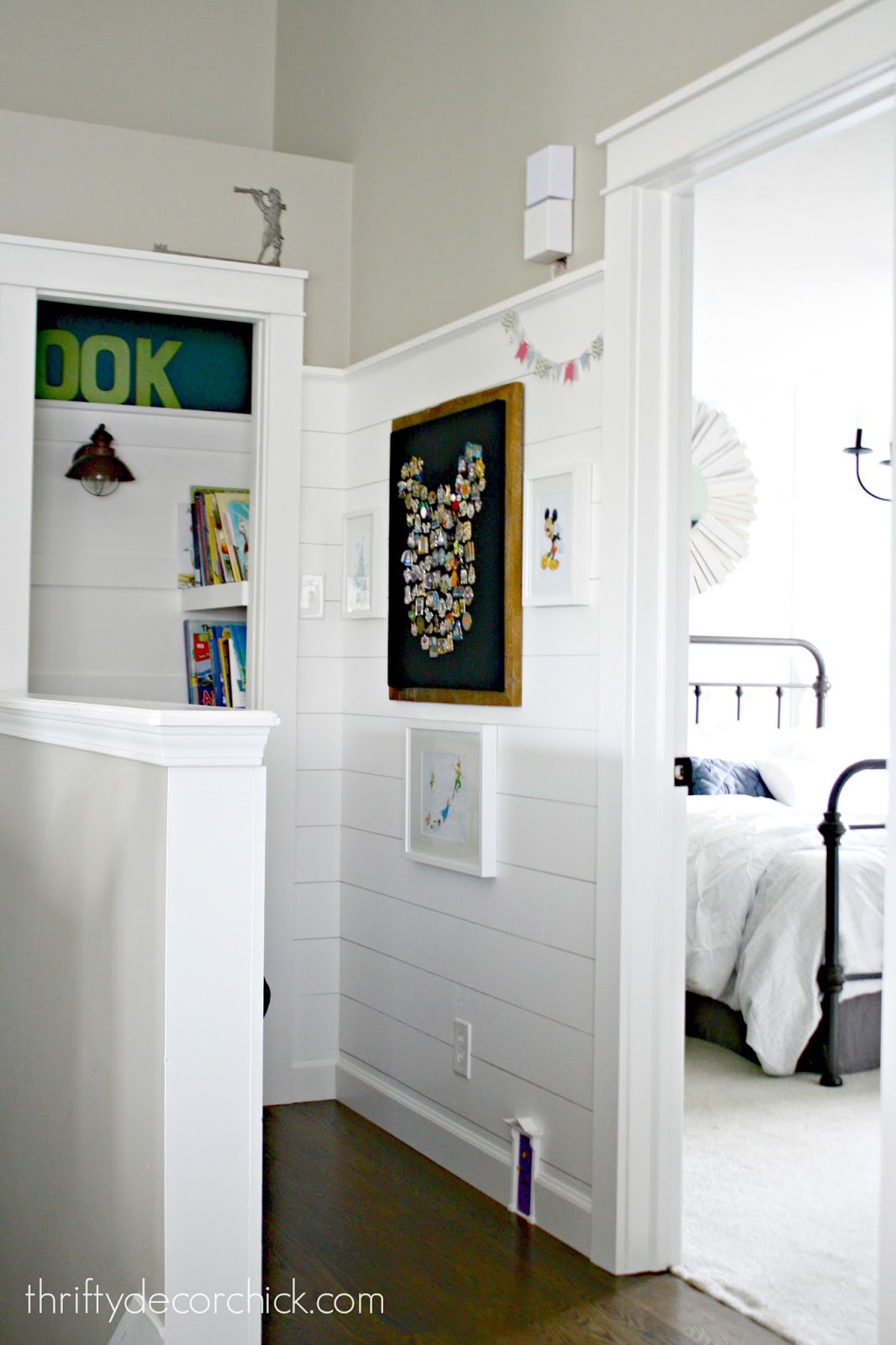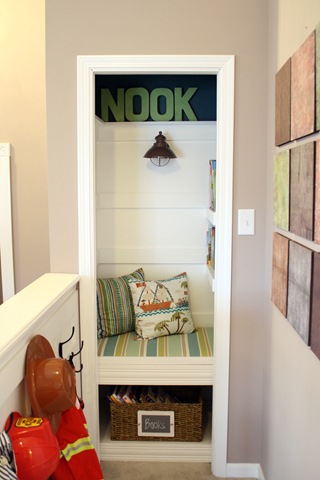 It was a simple linen closet before, but we had plenty of room for these items elsewhere:
This is a really inexpensive project (especially when you use scrap wood like me). If you have enough storage and don't need the closet space, a book nook is such a great addition. 
It was one thing everyone commented on when they visited our home. The nook was such a sweet space for our son when he was younger. 💙
4. Mud/laundry room combo
I still ADORE this space! I was hesitant to do a laundry and mud room combination because that room at our first house was always a disaster (stay tuned for that!). 
But as soon as we realized how big this room was, I was all in! Now we LOVE having all of this functionality in one spot:
This room started with great bones:
5. Laundry room turned mudroom
This was a HUGE transformation and by far one of the best we made in our first house!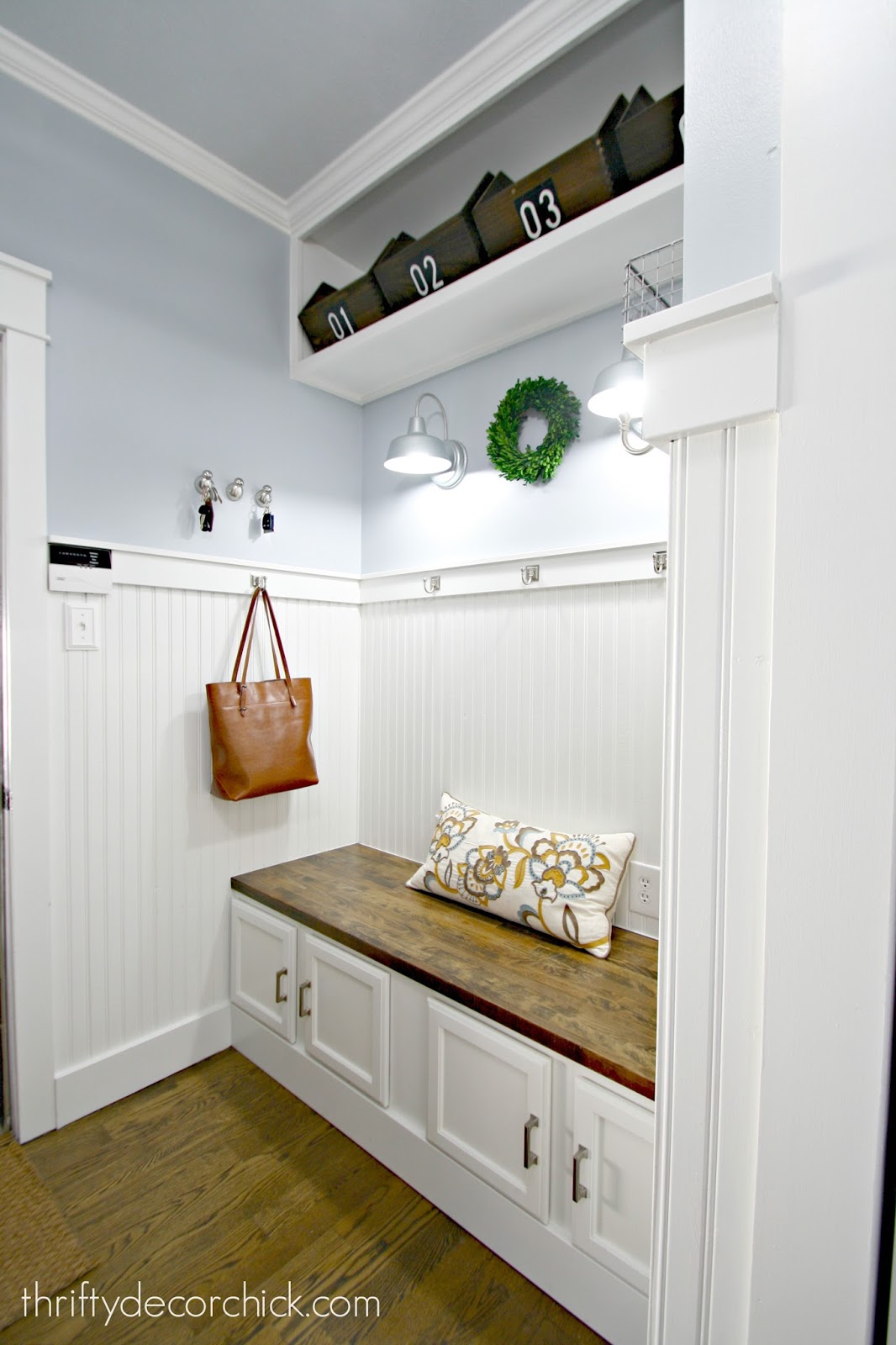 Especially considering what it used to look like! Yikes!:
This photo was not an exaggeration — it was always a disaster.
6. DIY TV entertainment center built ins
It packs tons of function — with storage all along the bottom, the bench we use as extra seating and the added lighting above. And of course, the shelves are a great spot to display some pretty items: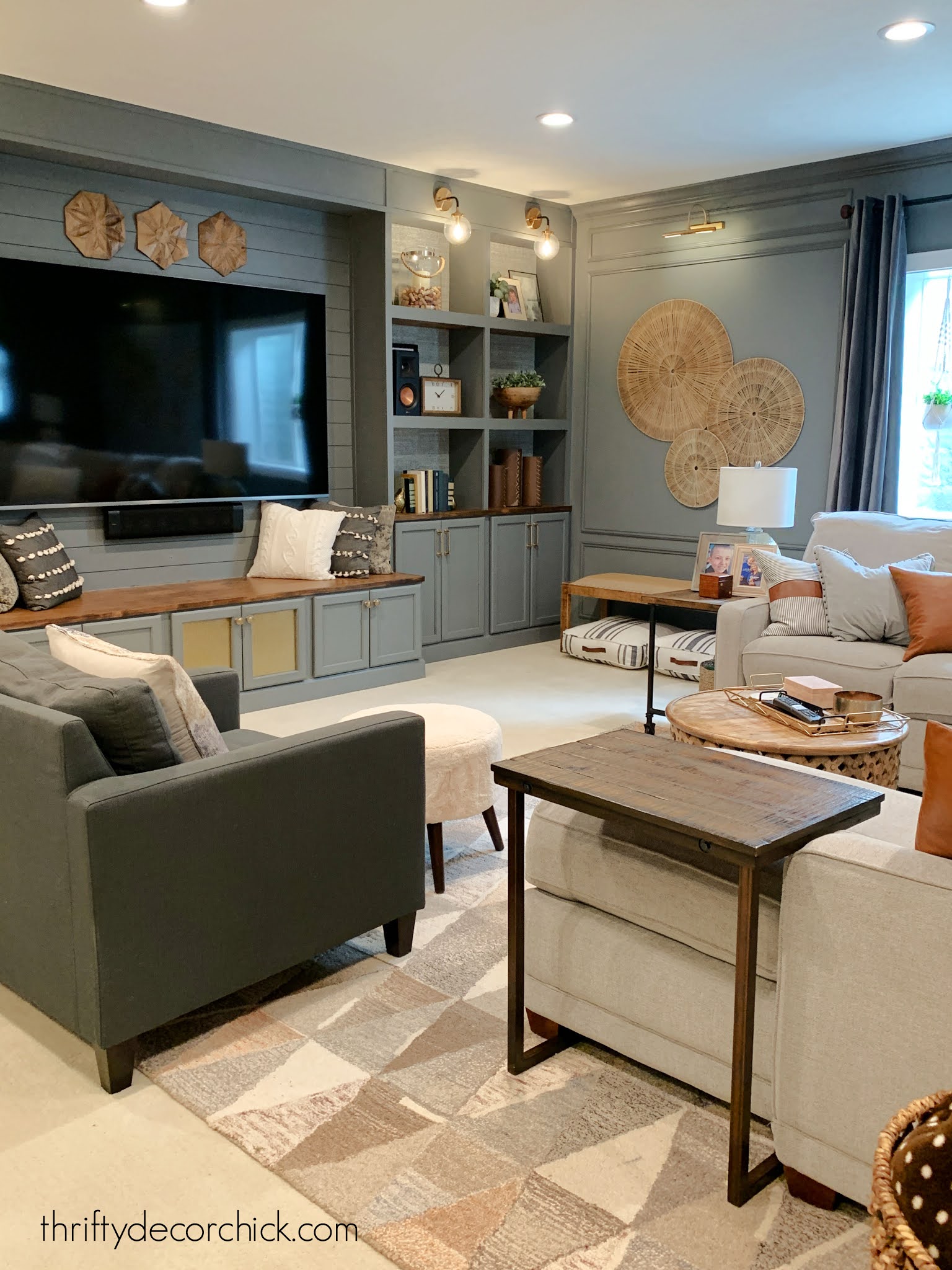 We started with a blank wall 19 feet long! I knew from the moment we moved in that I would build something to fill this space: 
Our basement has seen many DIY projects since then, including tons of picture frame molding and our dark green DIY fireplace as well: 
7. Our first kitchen 
When I took on this kitchen renovation at our first house, it was by far my biggest transformation yet! 
Take a look at how this kitchen started out!: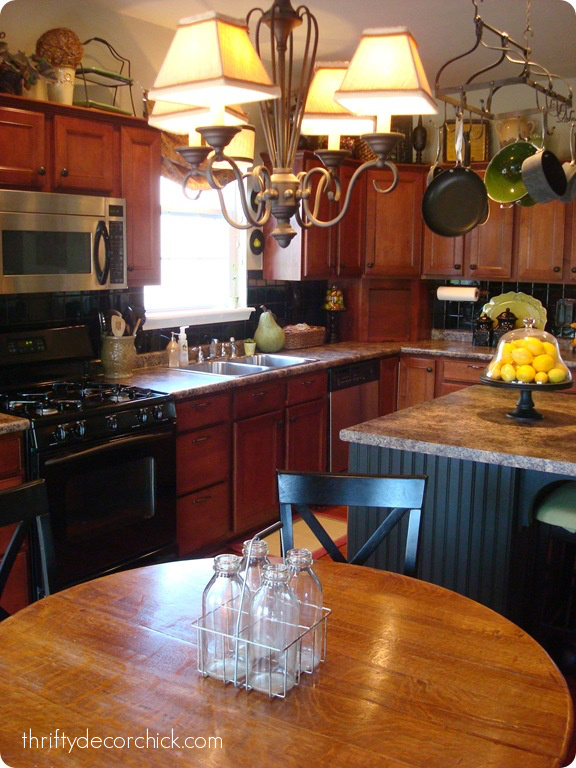 Taking down the wall in our family room allowed us to shift everything and opened up the spaces tremendously! I was so proud of how this kitchen turned out. 
8. From carpet to wood stairs
After the carpet was gone, I removed all the tack strips and staples, then after a good sanding, I stained the treads and painted the risers white: 
This was a labor intensive job but I'm so glad I did it! It was SO worth all the work. 
Here's the only photo I have of the carpeted steps before the redo: 
We loved the wood steps so much, we had the stairs stained in our current home as well. (Thankfully I didn't have to do the work this time!)
By the way, I get asked all the time if wood steps are slippery. 
I still say that wood stairs are way less slippery than carpeted stairs. I can't tell you how many times I slipped down ours before I took the carpet off. 
Knock on wood…I don't think we've ever fallen down our wood steps. 
9. Two room bathroom opened up
This was another one I'm super proud of. And also another example of making your spaces work for you and how your family uses them!
Our son's bathroom renovation in our last house was a labor of love… goodness, I worked so hard on this room. It was SO worth it though — we absolutely LOVED the result: 
Pretty much immediately after we moved into that house, I regretted going with the two room bathroom layout. You know…the ones with the vanity in the first part and the toilet and shower in the second room: 
It always felt so dark and cramped. My dream for years was to take that wall down, and one day I did just that! It was AWESOME. 😂
10. Moody office built ins
The build went way quicker this time, and now I have my process down pat: 
My moody bookcases (Vintage Vogue by Benjamin Moore) add so much character to my office! And of course the added storage is especially important in a work space.
My office is spacious and full of natural light, but it needed some color and warmth after we moved in:
Check out how I built a giant upholstered bulletin board on the other side of the room as well. 🙂 
11. My closet transformation
In our last house my husband and I shared a closet, so I was pretty excited to get my own space when we moved in here. It had plenty of room, but I knew immediately that I'd have to make some changes eventually. 
The wire shelves lined most of the walls, but they weren't very functional for folded clothes. This was the norm (no matter how I tried to keep things organized): 
This closet project probably made a bigger impact than any others I've tackled over the years. I felt stressed and disorganized every morning when I walked into the old room. 
The new closet has a spot for everything, and the organization calms my soul! 🙂 I absolutely love it!
12. Pretty powder room
Oh how I adore this little space! 
I LOVE adding more daring touches in smaller spaces like hallways, bathrooms and laundry rooms. Why not have some fun? 
When we moved in this room was simple and plain: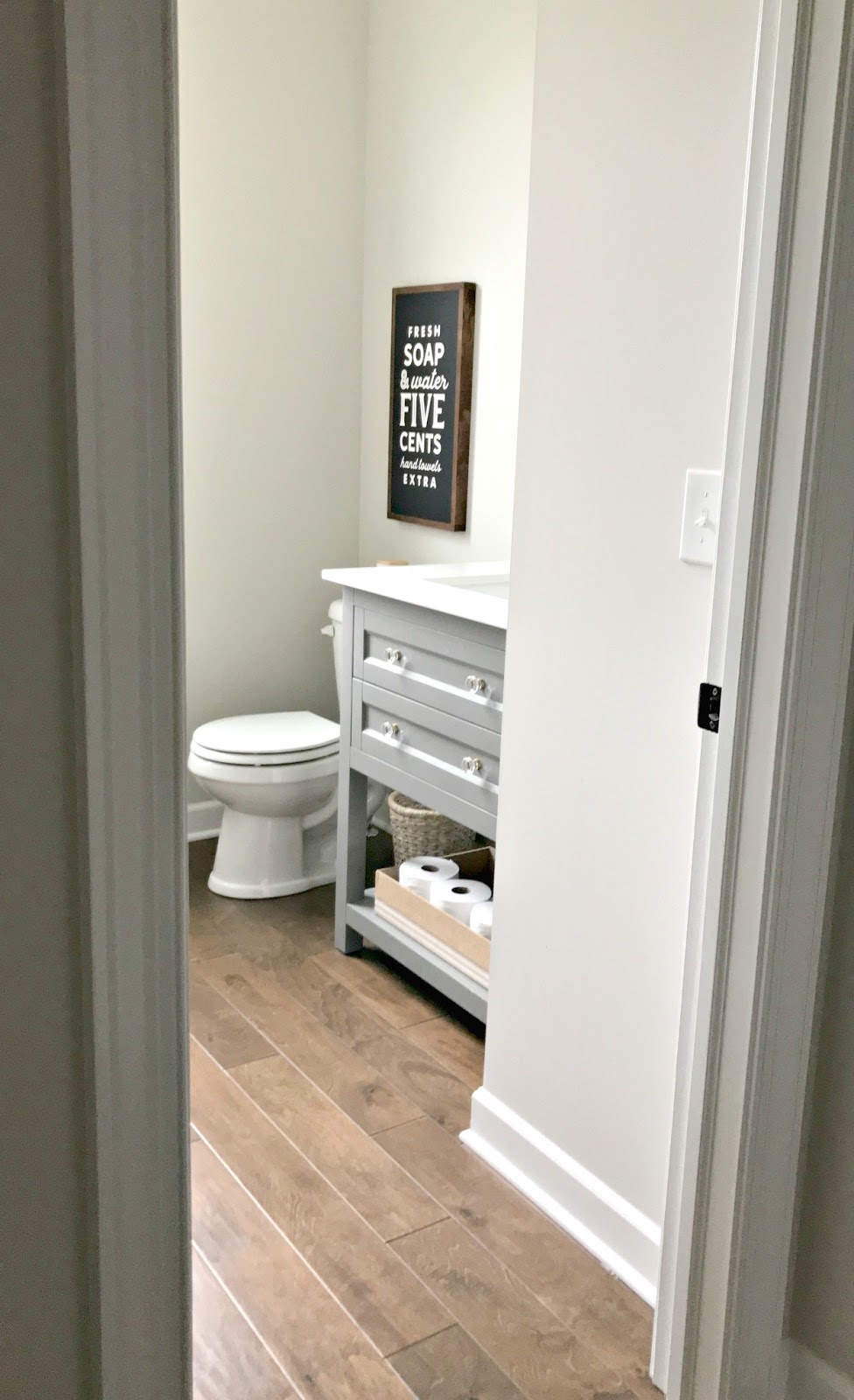 13. Patio with round fire pit
Now…I didn't do the biggest part of this addition myself (I would have if I knew how to pour cement! 😁), but I've done most of the changes since! 
Opening up our home to family and friends fills my soul, so this space has been such a blessing. It's our little oasis and we're so thankful for it!
The best part is the round fire pit area: 
This is how the patio looked right after we had it poured: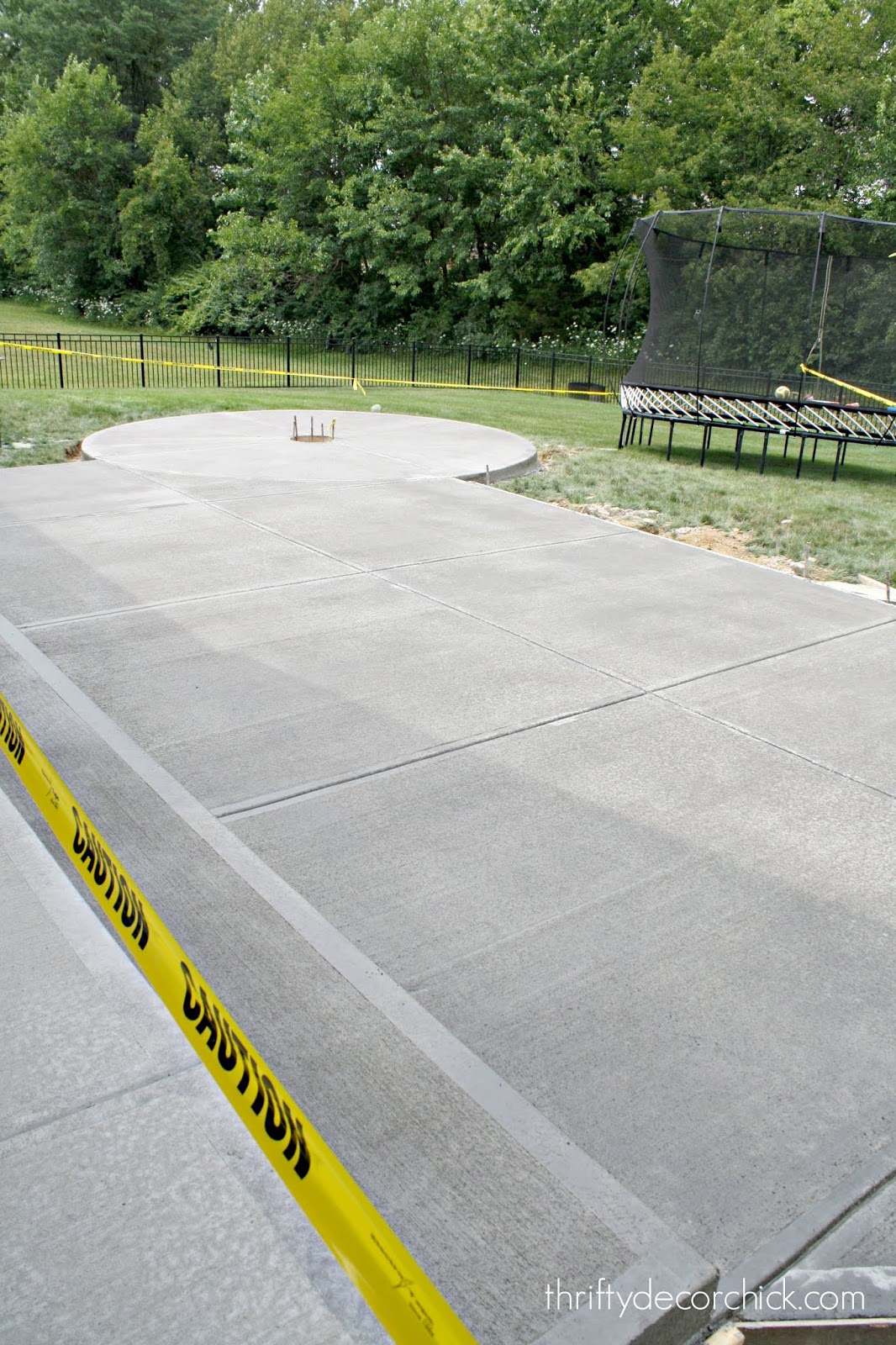 Since then I've added tons of plants (I'm doing a garden tour soon!), built that fire pit and added the string lights across the patio (definitely check this tutorial out if you don't have trees for your lights!) as well. 
We love it!!
14. Brand new basement kitchenette
I still haven't shared the final reveal of our basement kitchenette, but it's another space I'm super proud of! It was an empty spot before, and now we have a wonderful mini kitchen down there. 
We are totally spoiled with it now and use it all the time: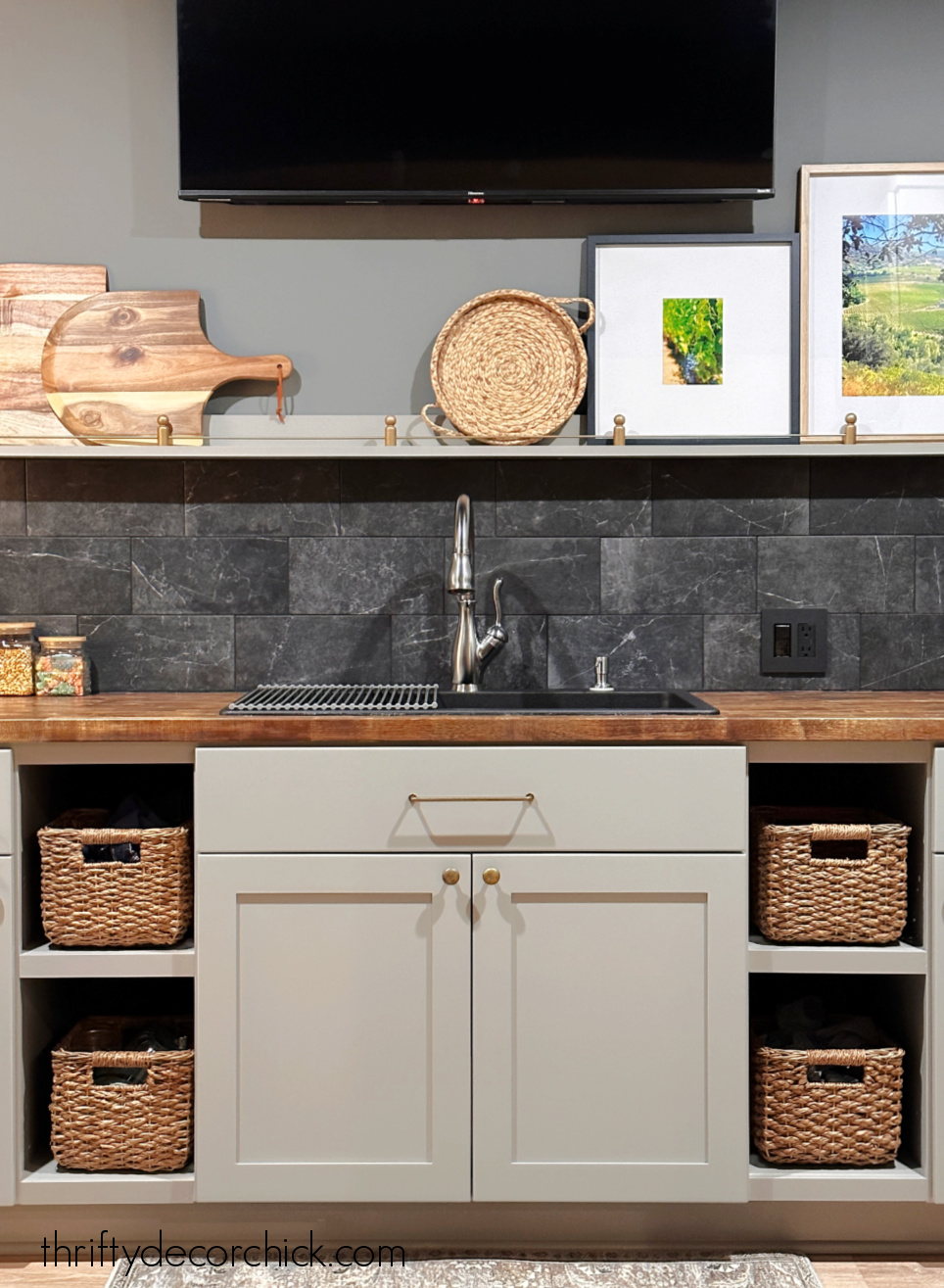 The before is pretty underwhelming, but it does show how far this space has come:
15. Making the most of our pantry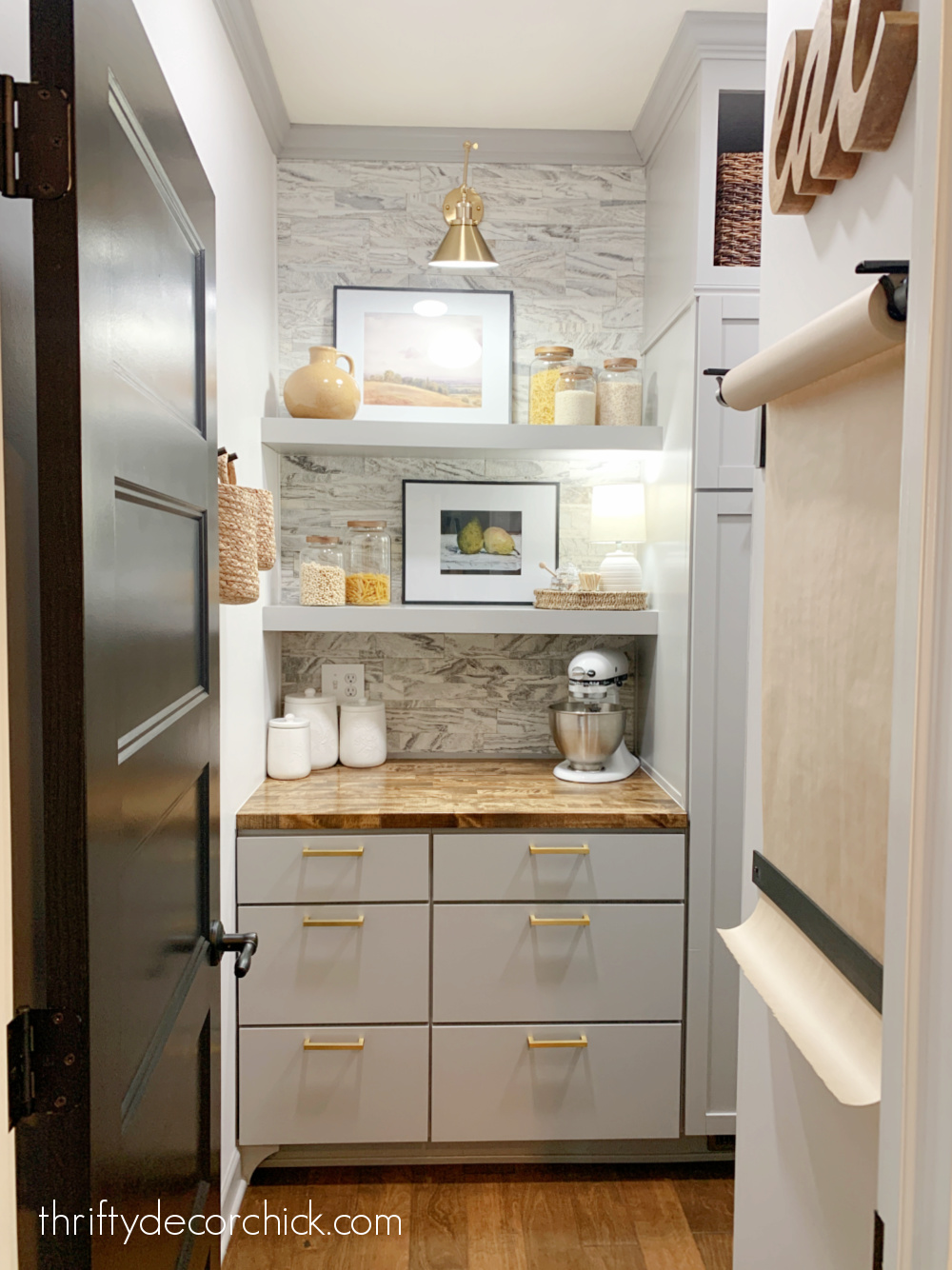 The before was great, but I knew it could function so much better! 
I always imagined more of a "butler's pantry" where we could keep appliances and prep food. The melamine shelves we had before stored a lot, but anything below waist level always ended up piled high and unorganized: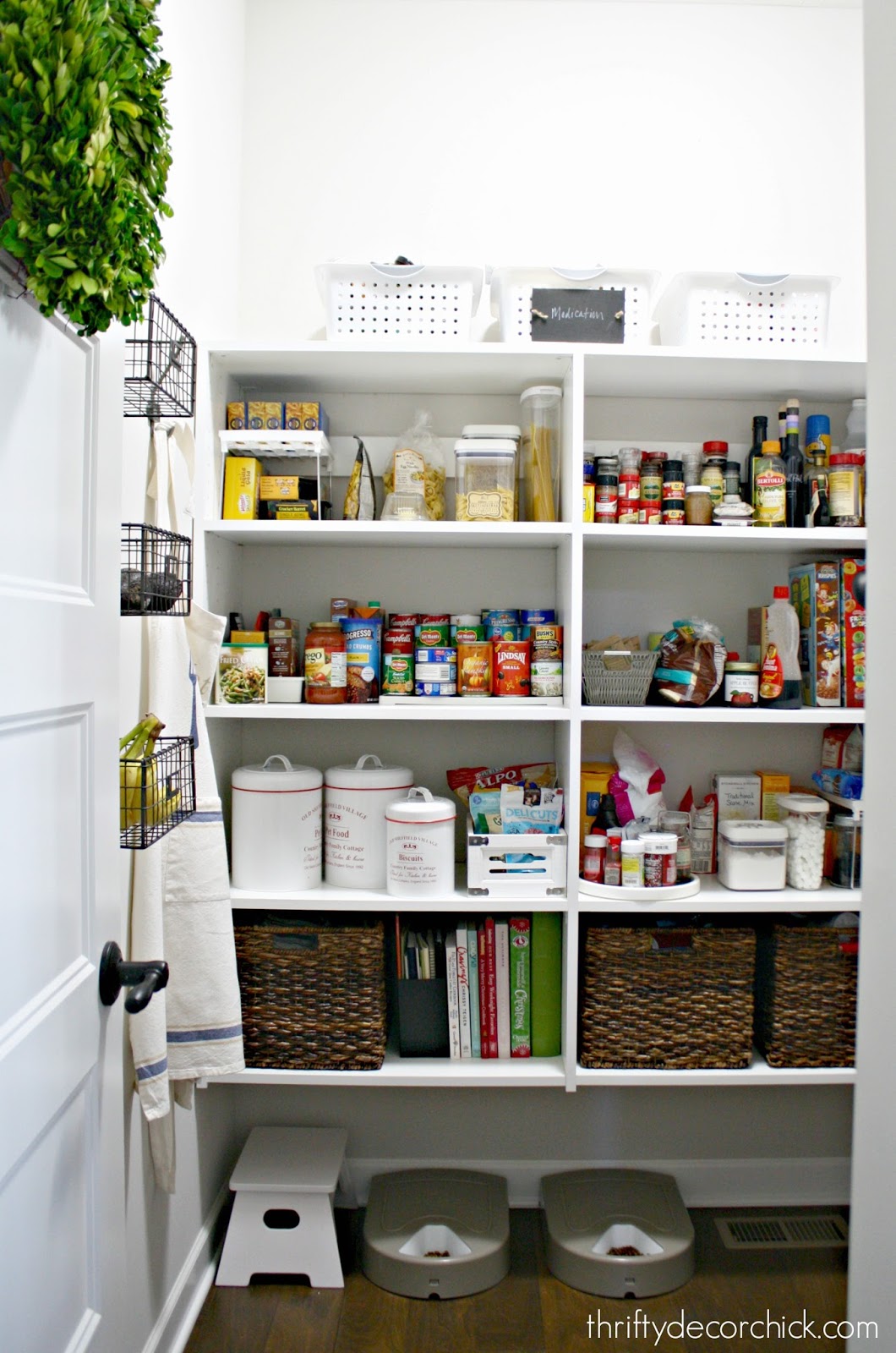 Now that we have the tall cabinets full of pull out drawers, we store all of our food plus most of our appliances in this room. It's amazing how well you can utilize the space when you add some custom touches!
Whew!!! It was hard to come up with only 15 projects, but I feel like these are definitely at the top for me. Did I forget any you can think of? Please let me know if you have any questions. 
All of this would not be possible without you all — I'm so incredibly thankful to you for following along with my DIY escapades over the years! Blogging is a dream come true for me, I could not ask for more. 
Thank you for a fun 15 years and here's to another 15 more! 😍