Fronte Oceano: Terrace Extension in Newcastle East by ASJP Architecture.
From top to bottom: Mask from PNG (unknown artist), a ceramic by Dino Consalvo, painting hanging over fireplace by Lottie Consalvo and another ceramic by Dino Consalvo. Photo by Ben Hosking.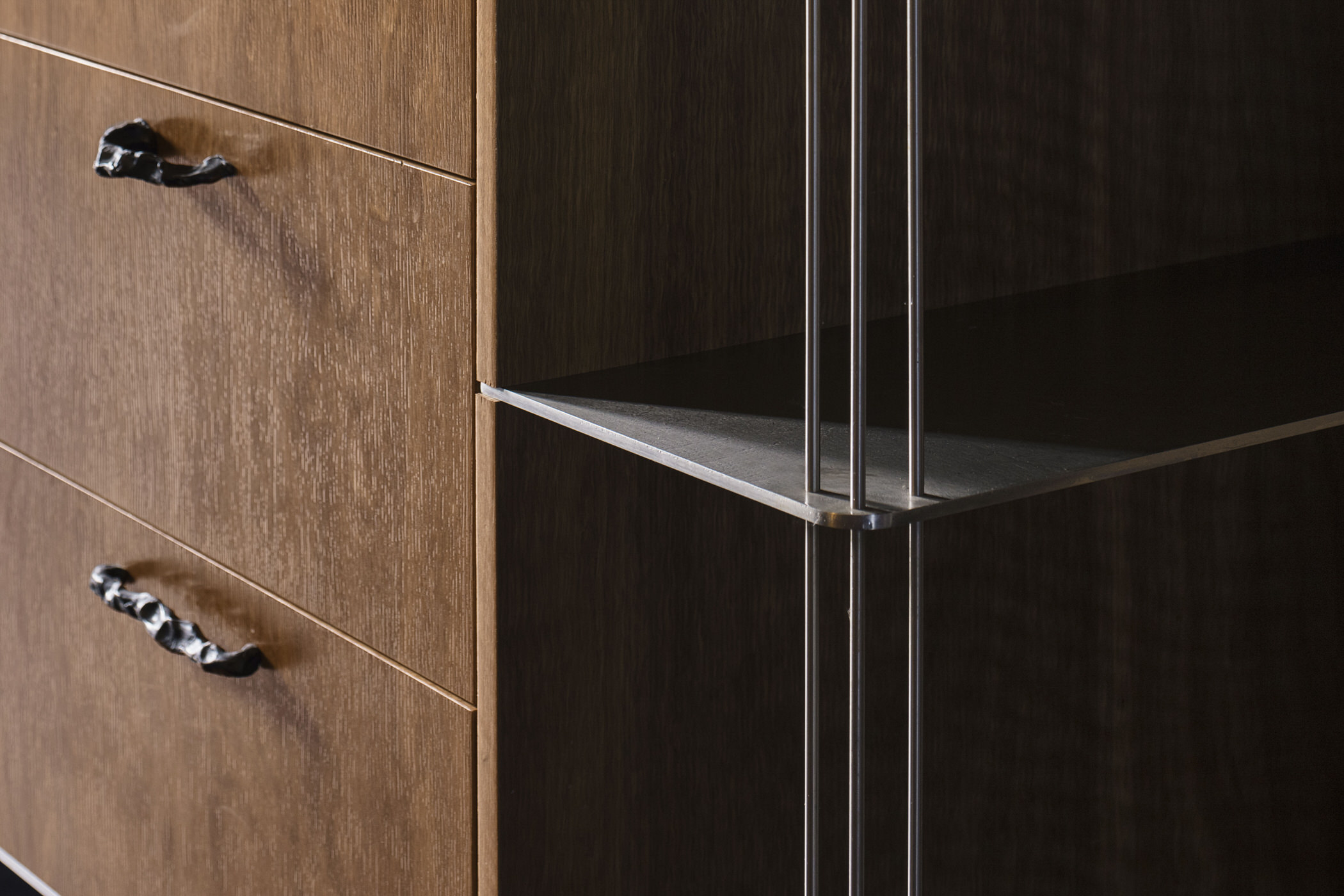 Detailing of the timber and steel kitchen cabinets. Photo by Ben Hosking.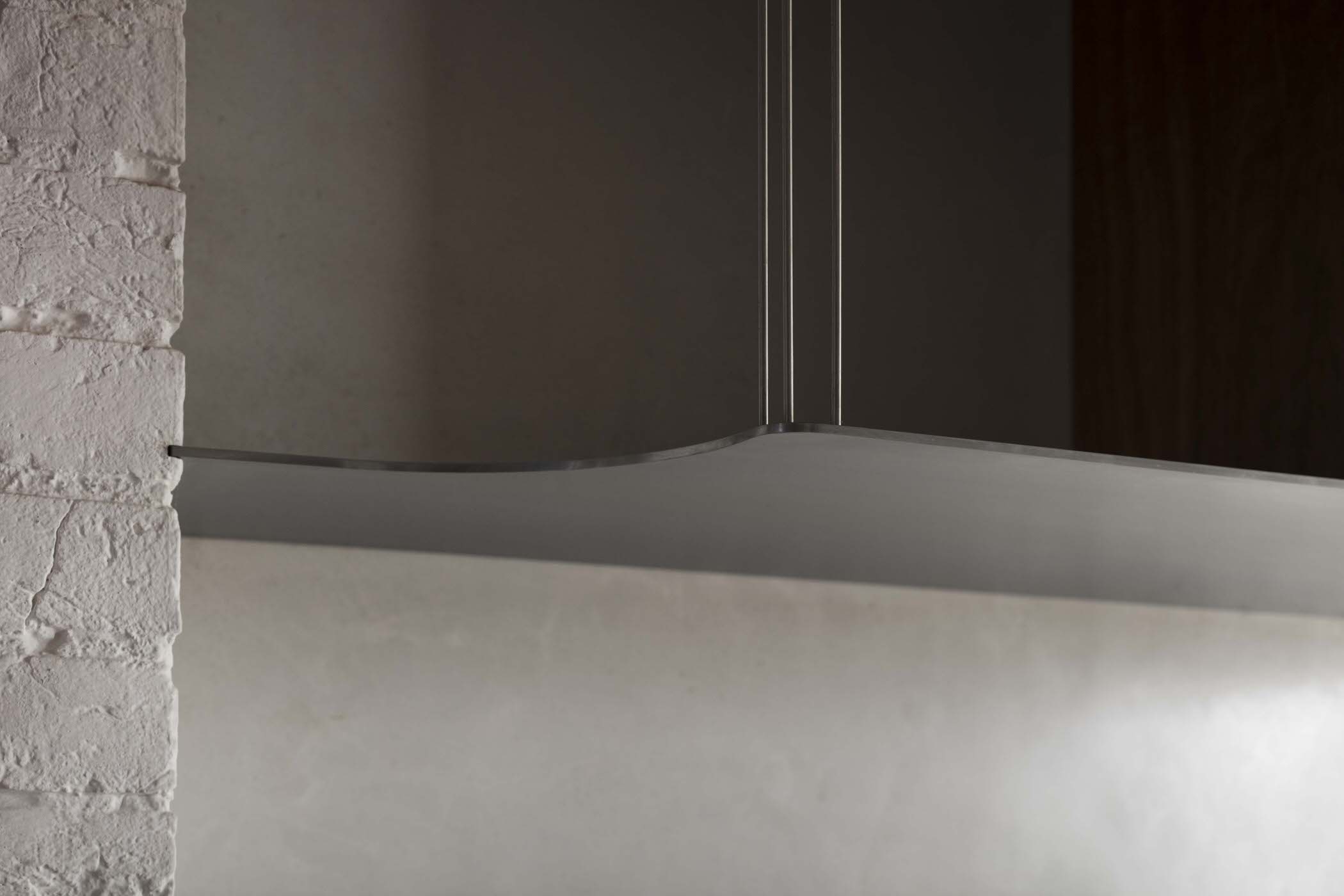 Matching detail of the above hanging shelves. Photo by Ben Hosking.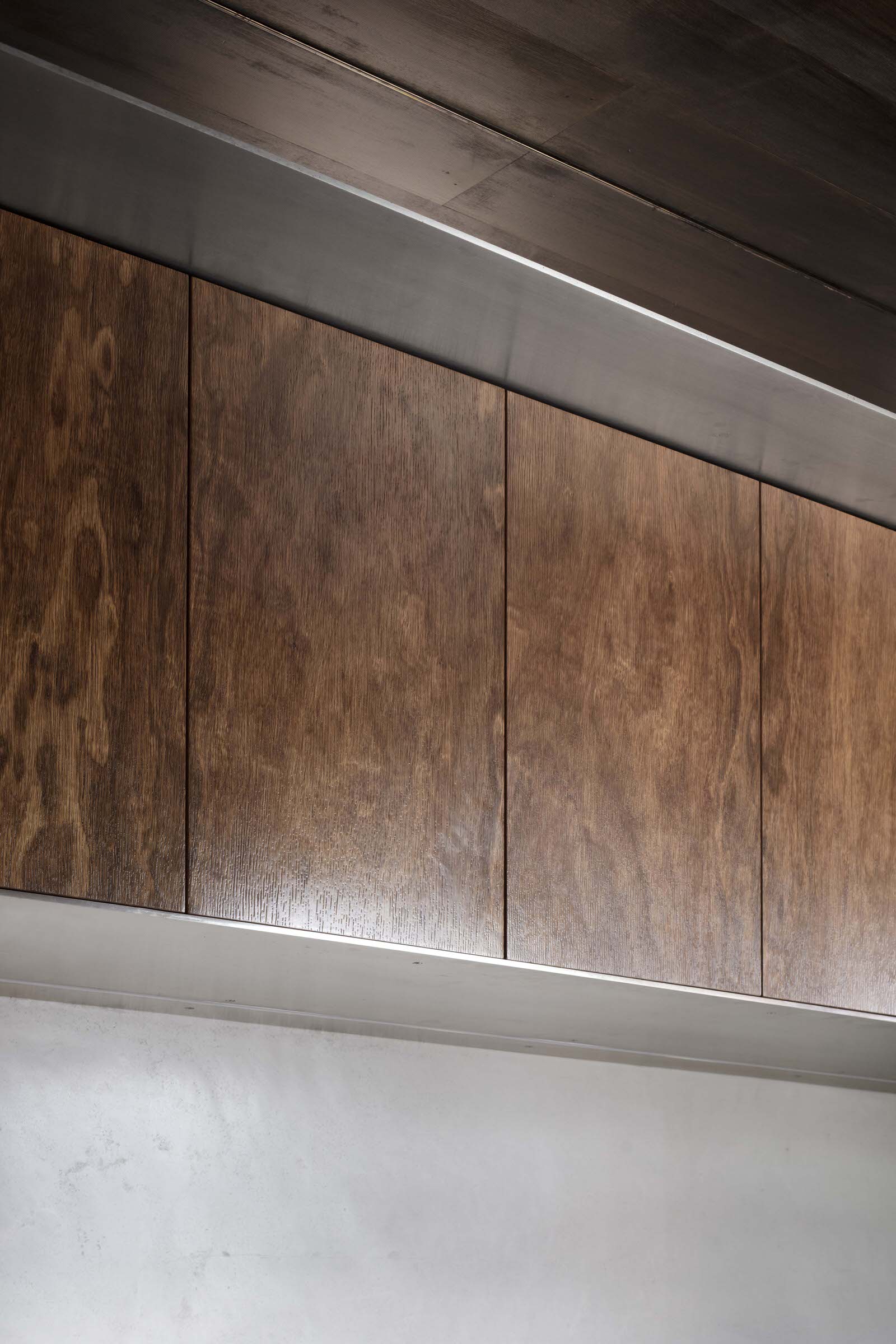 Photo by Ben Hosking.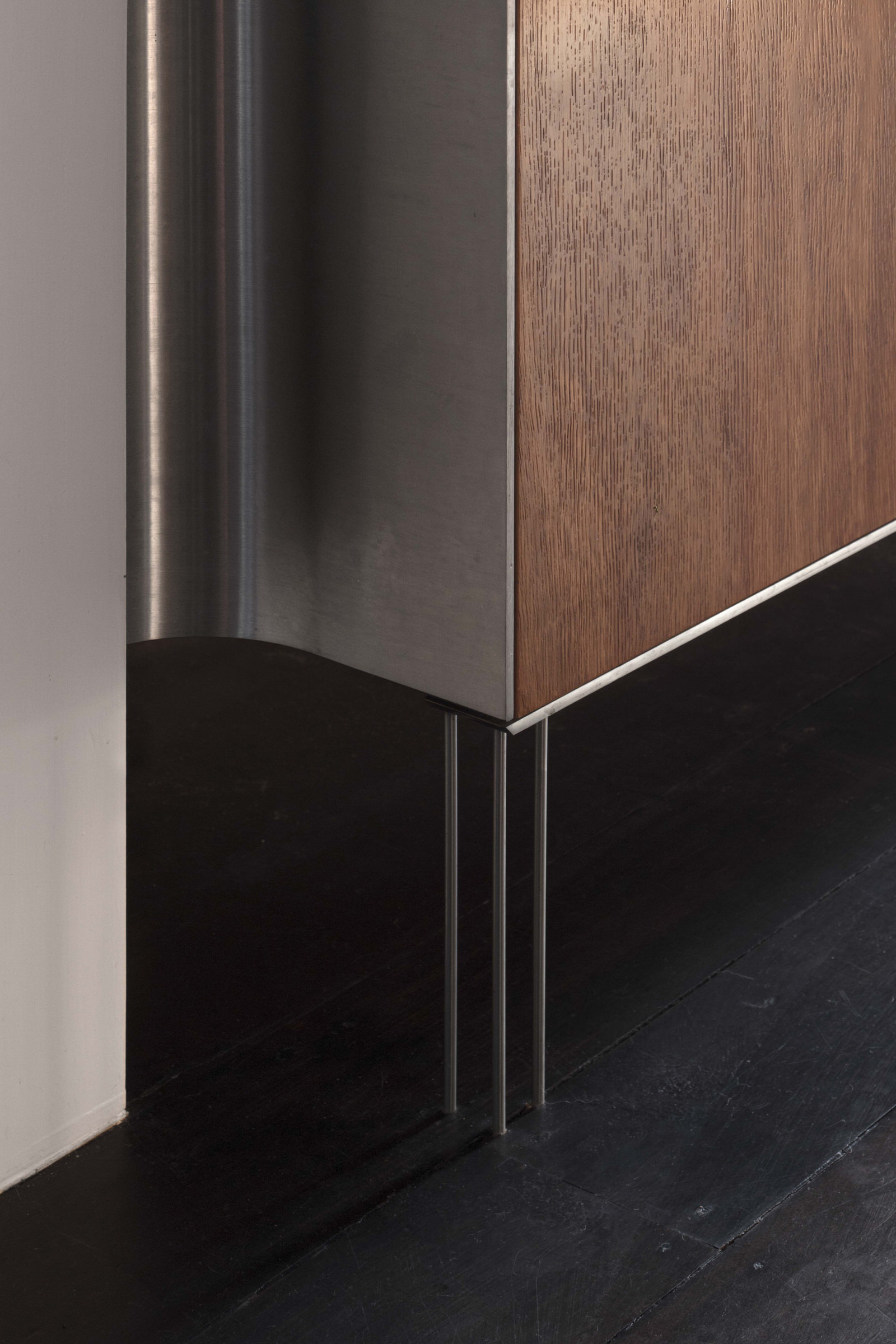 Photo by Ben Hosking.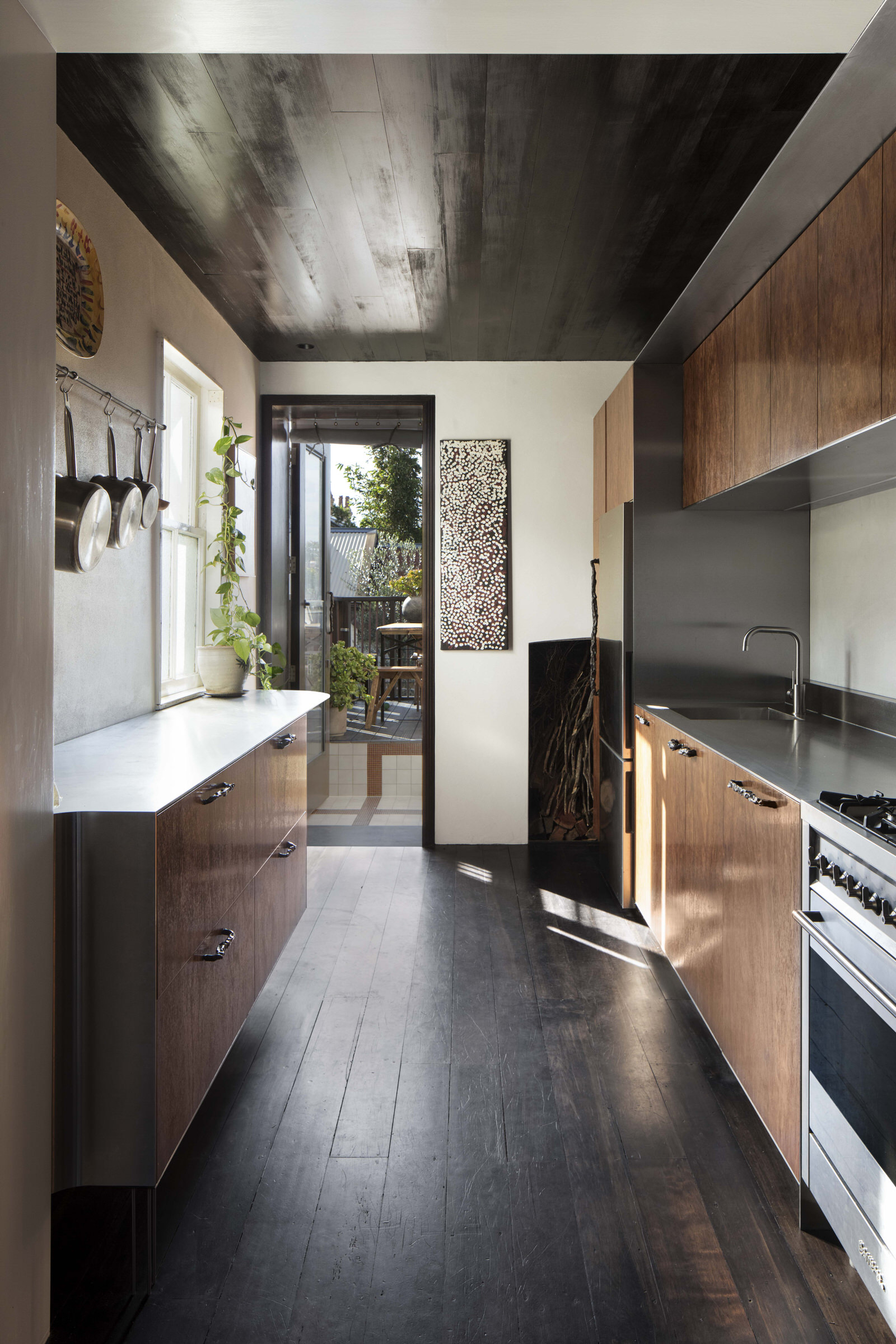 A Johnny Warangkula Tjupurrula painting by the door, a formative figure in the Western Desert art movement alongside a James Drinkwater platter, top left. Photo by Ben Hosking.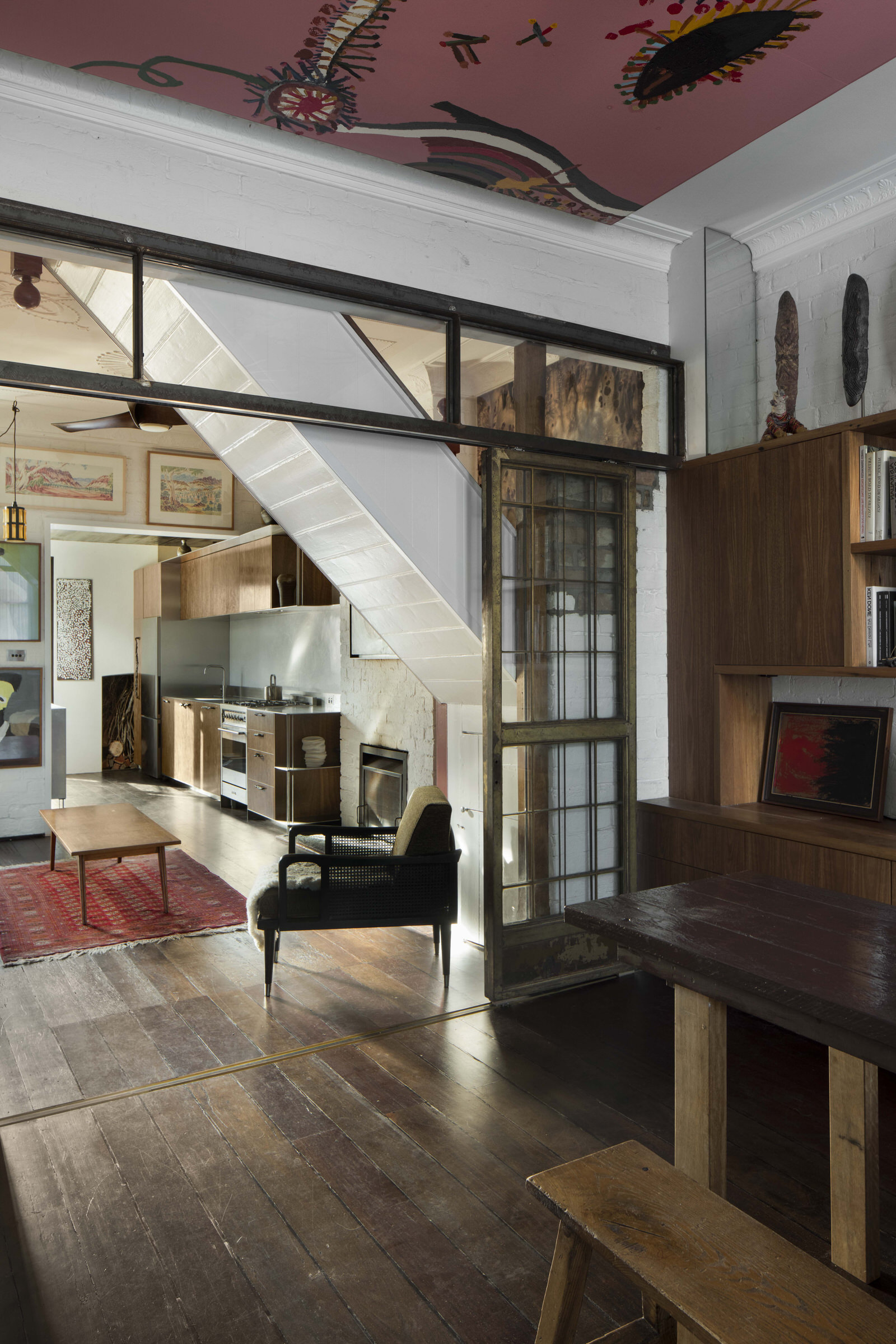 A colourful mural on the ceiling by James Drinkwater and the artists own painting can be found in the timber shelving in the living room. Above sits shields by Raymond Young and a Tjanpi Desert Weaver (artist unknown). Paintings by Hubert Pareroultja and Patrik Francis can be seen in the background. Photo by Ben Hosking.
A deep love for the ocean has found Australian artists Lottie Consalvo and James Drinkwater to establish their family home by a row of terrace houses in Newcastle East. They commissioned their dear friend, Anthony St John Parson of ASJP Architecture, to reconfigure and renovate the interior of their compact two storey home. By allowing a friend to impart his vision and an interpretation of the artists' personalities, St John Parson transformed the home into a series akin to collaged reinterpretations of Brett Whiteley's 'Self-Portrait in the Studio' (minus the obvious blue, of course) while encapsulating the charms of a family home.
Named Fronte Oceano, the home is tucked among a row of other terrace houses made of sandstone and brick. Nearing 150 years of age, yet still prove to be structurally sound, the couple provided a straightforward brief to reconfigure the former two-bedroom house into a three-bedroom home with the bathroom relocated upstairs to accommodate a family of four plus pets. Instead of proposing for an expansion, ASJP exploits every nook and cranny while layering it with nuance and detail within the modest 83-square-metre footprint.
Tiled mural by James Drinkwater, the crowning jewel of the bathroom. Photo by Ben Hosking.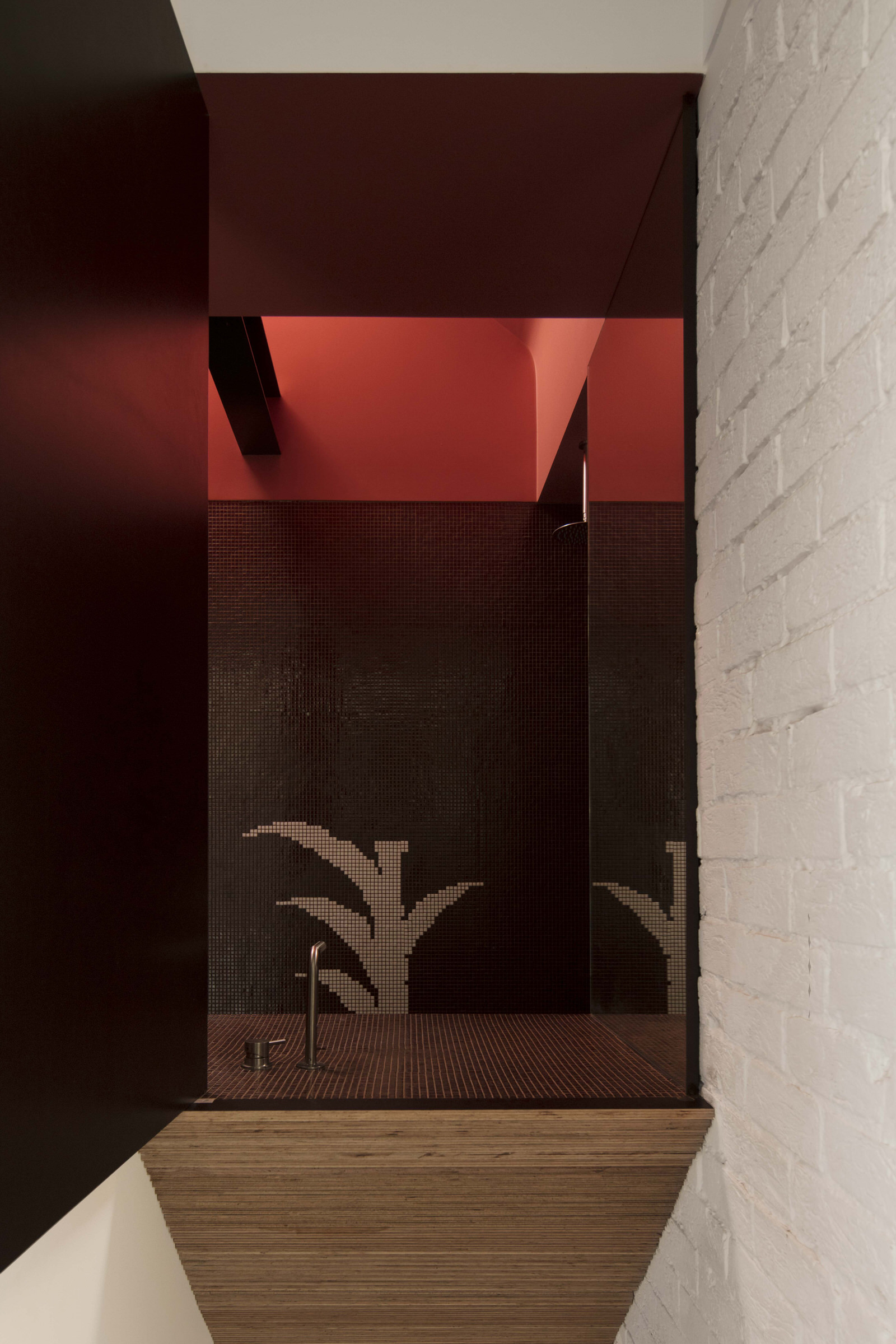 Photo by Ben Hosking.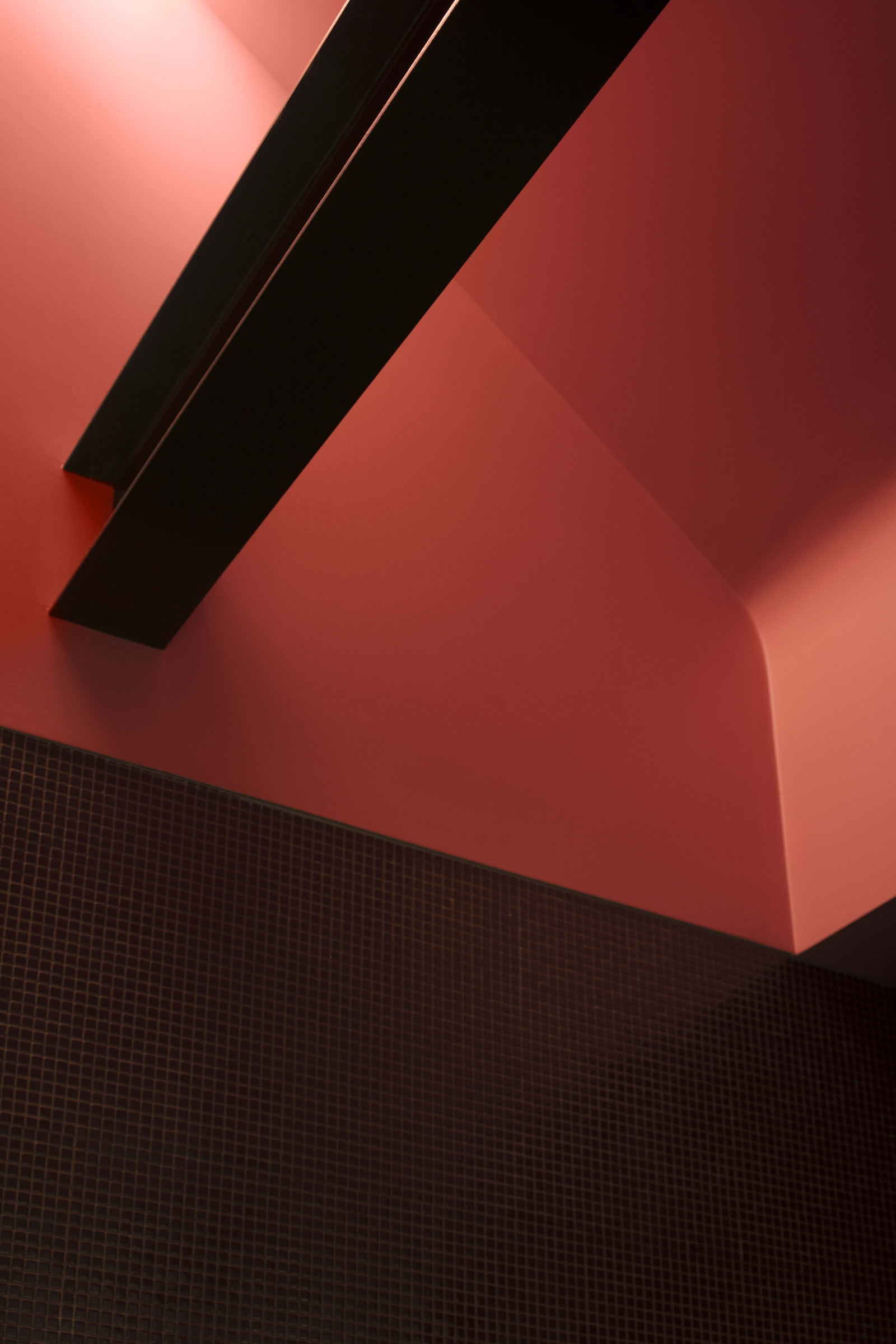 Photo by Ben Hosking.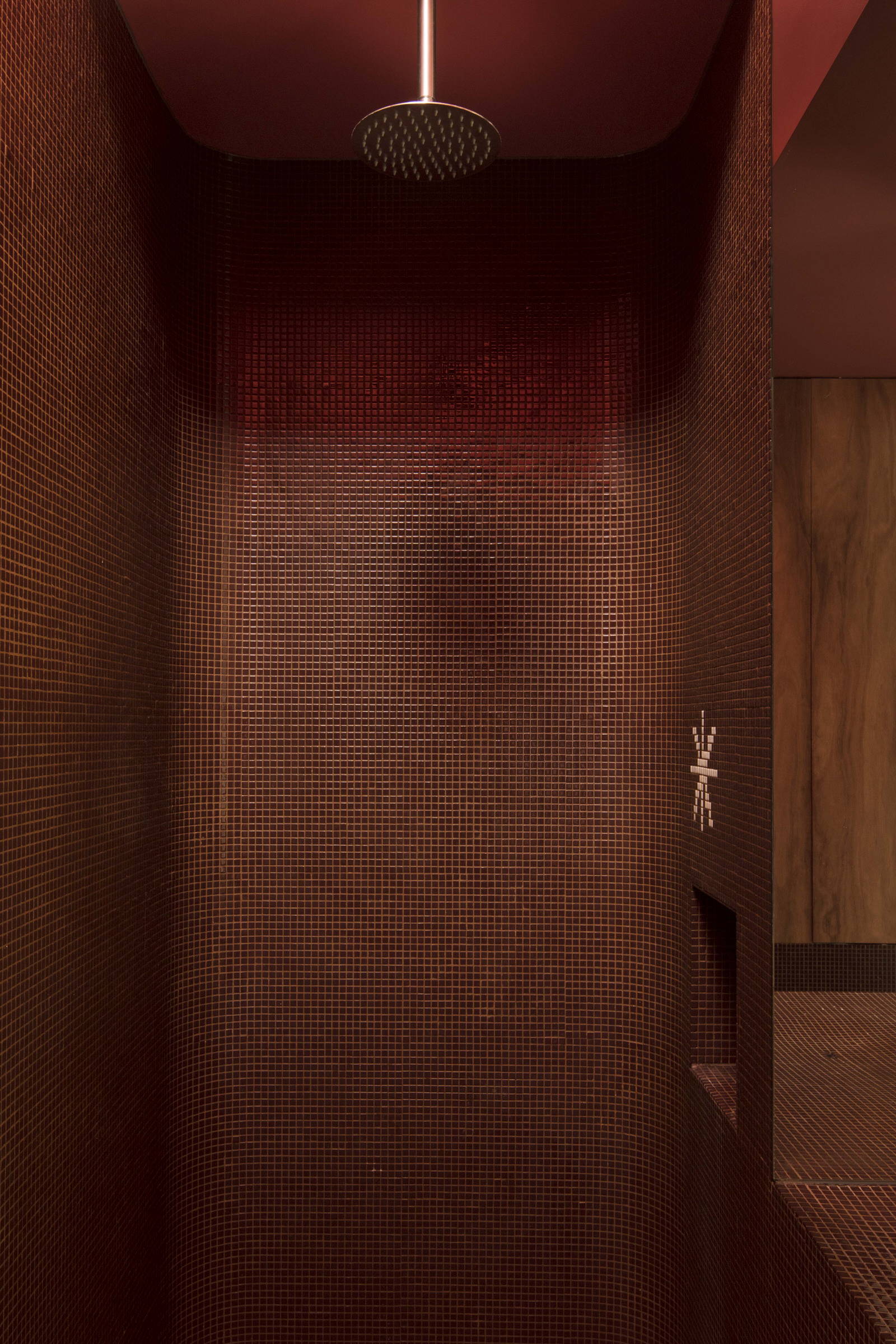 Motif by James Drinkwater above the shower niche. Photo by Ben Hosking.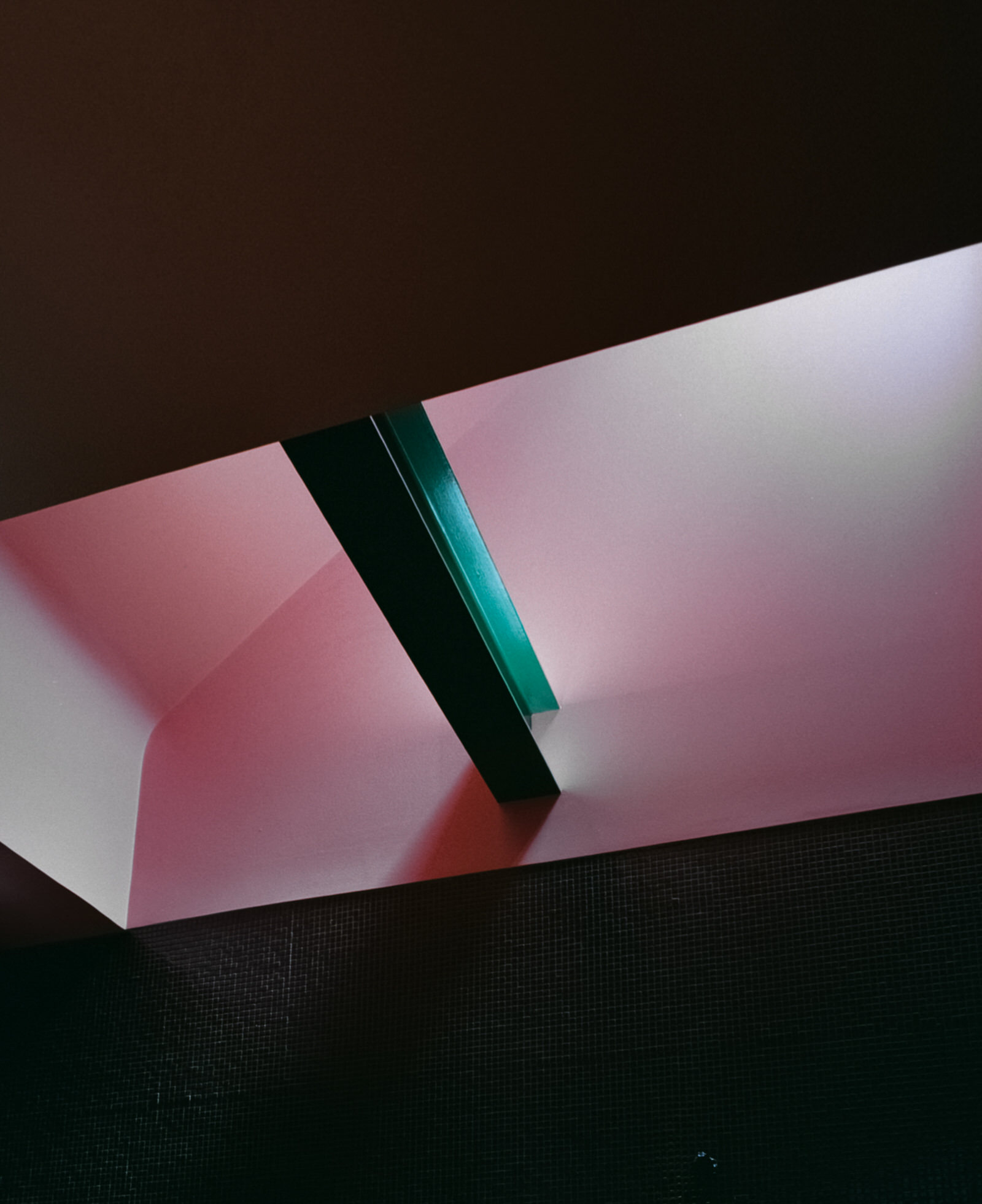 Photo by Kien Van Young.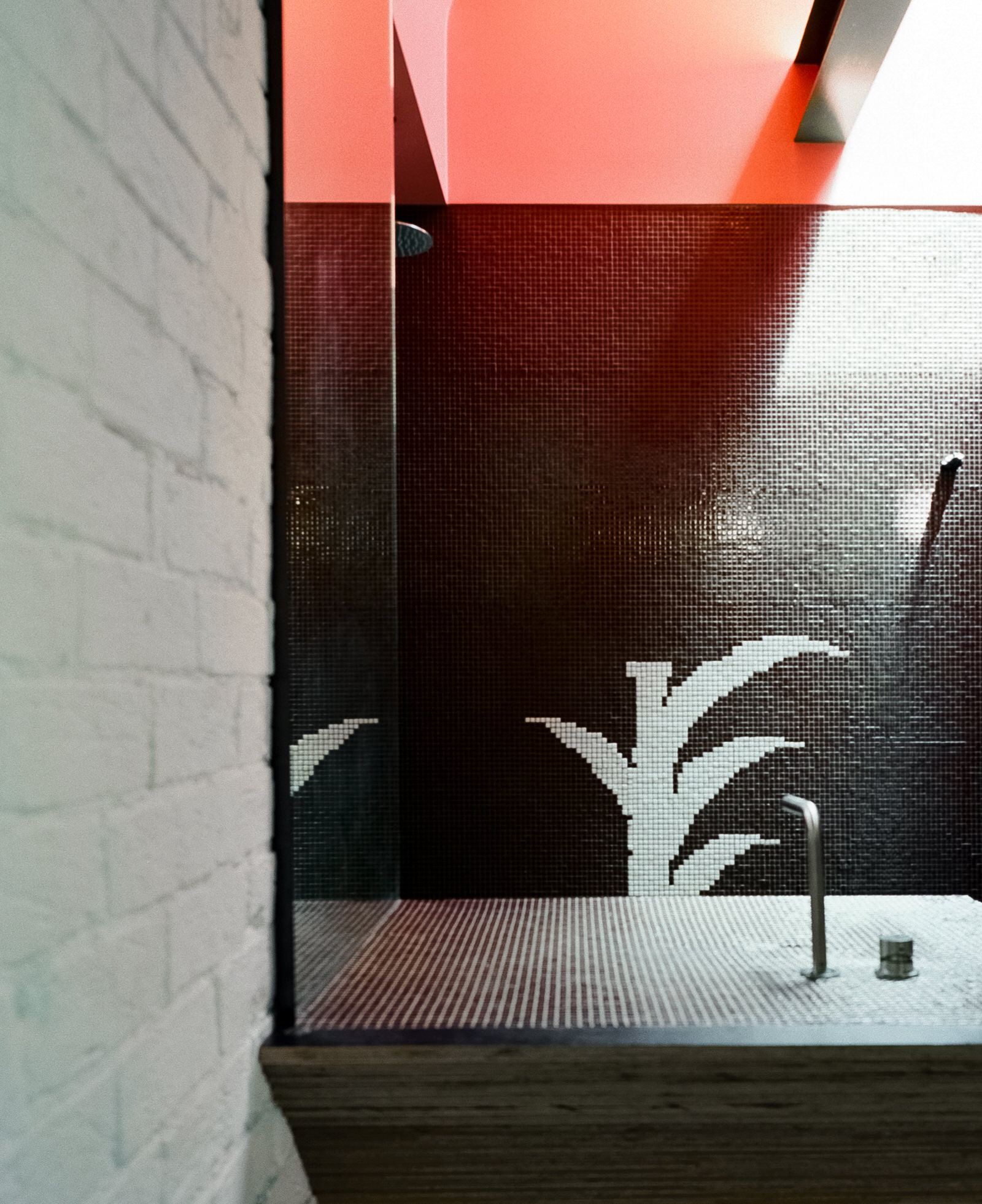 Photo by Kien Van Young.
Being a home for the artists, the ground floor space is turned into an open canvas with its existing exposed brick walls painted in white. The ground floor is now retrofitted with a living, dining, and kitchen area, which leads to the courtyard that was once disconnected. The interior is tactfully furnished with up-cycled or found vintage pieces, complimenting the displayed artworks and trinkets collected by the clients.
Curious additions include glass sliding partition between the living and kitchen area, while mirrors line the column corner above to subtly enlarge the space. In addition, Drinkwater unveils a colourful mural on the ceiling above the living room (an homage to Australian artist John Olsen) while Consalvo embeds her painting above the fireplace. Dark stained timber floorboards are selected for a balanced grounding of the interior, with similar shades of dark spotted gum used in the joinery, almost like an abstract three-dimensional framing of the interior.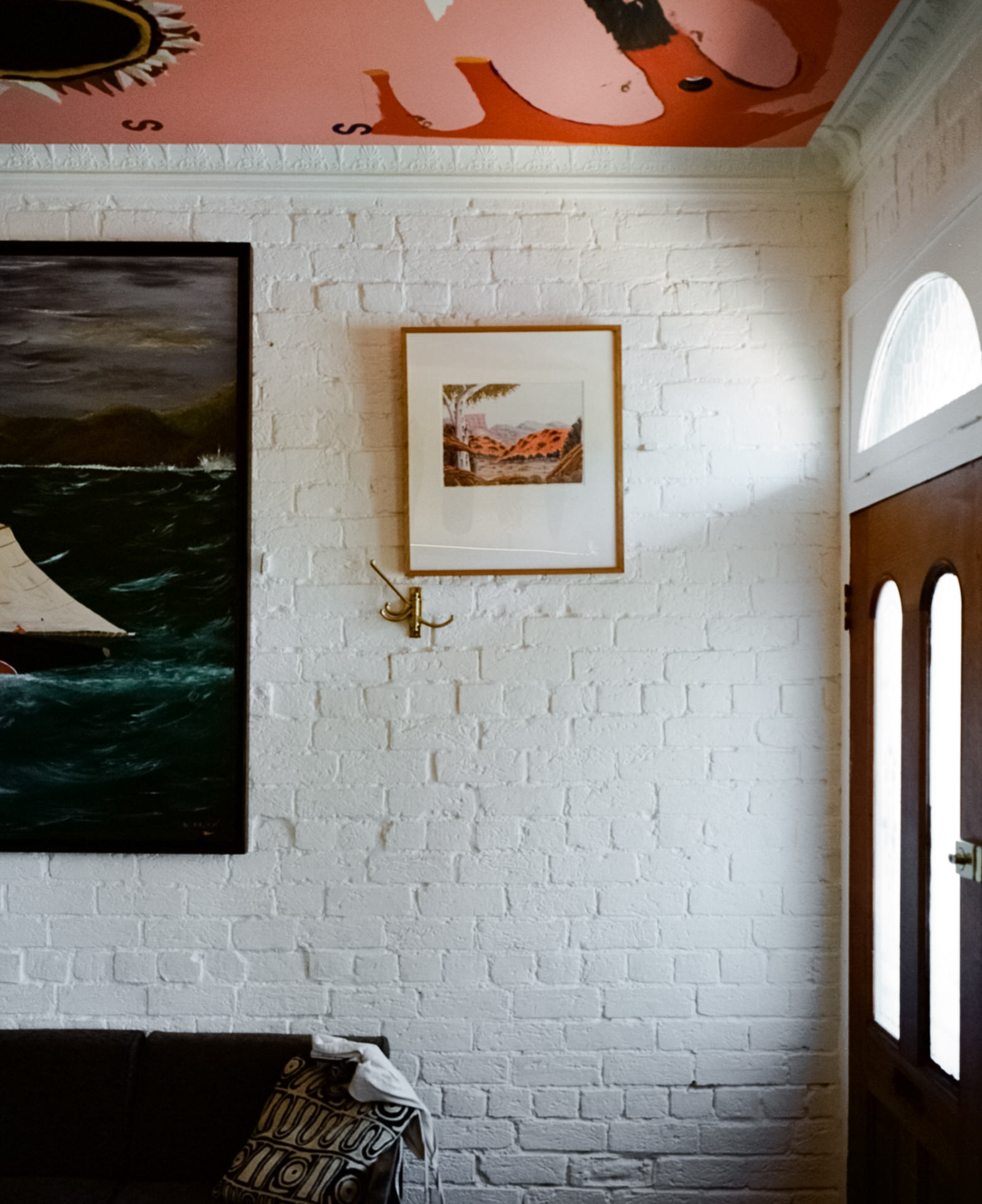 Left to right: Paintings by Wayne Magrin and Kevin Namatjira. Mural above by James Drinkwater. Photo by Kien Van Young.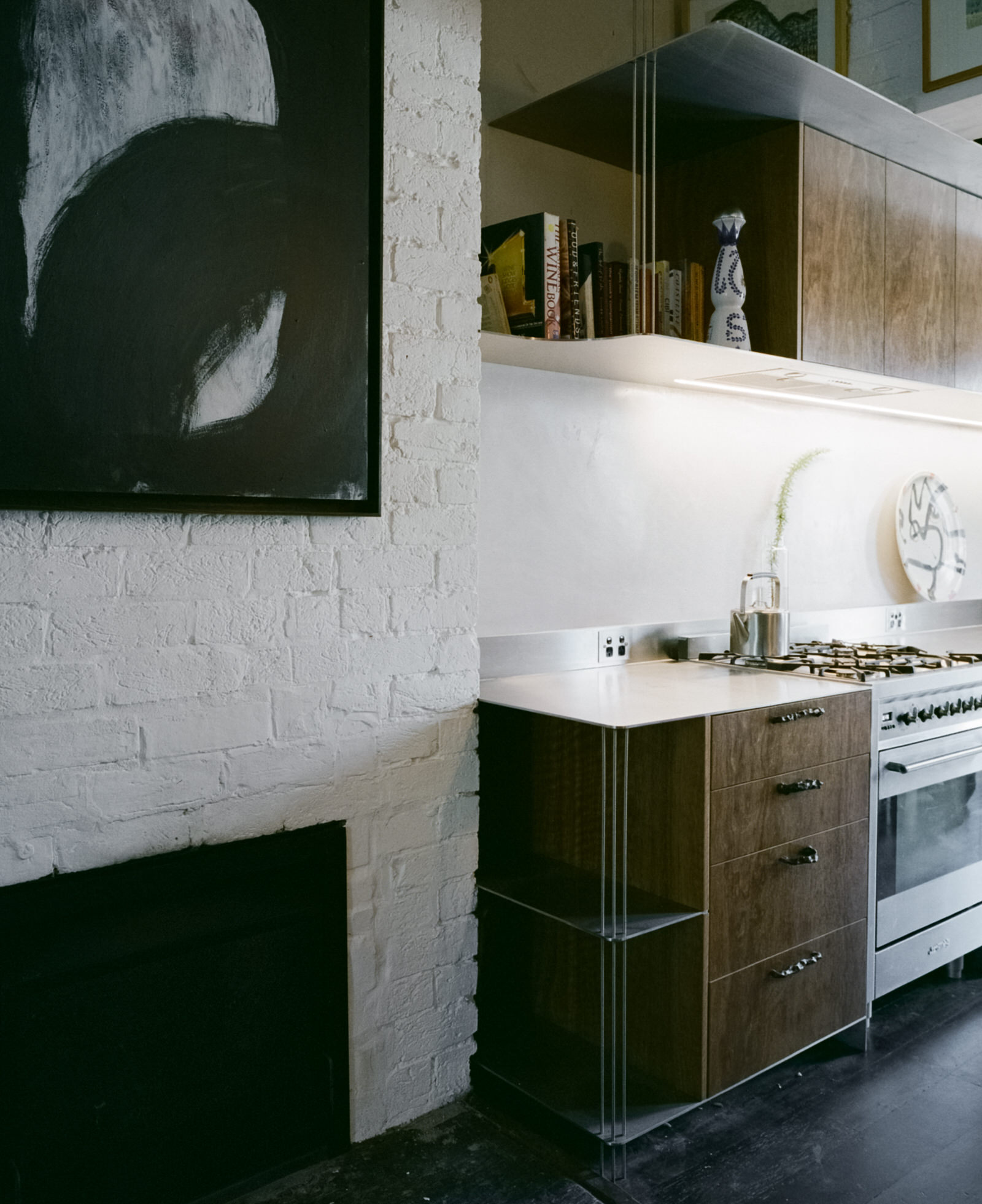 Left to right: A large Lottie Consalvo painting and John Olsen Platter in the kitchen. Photo by Kien Van Young.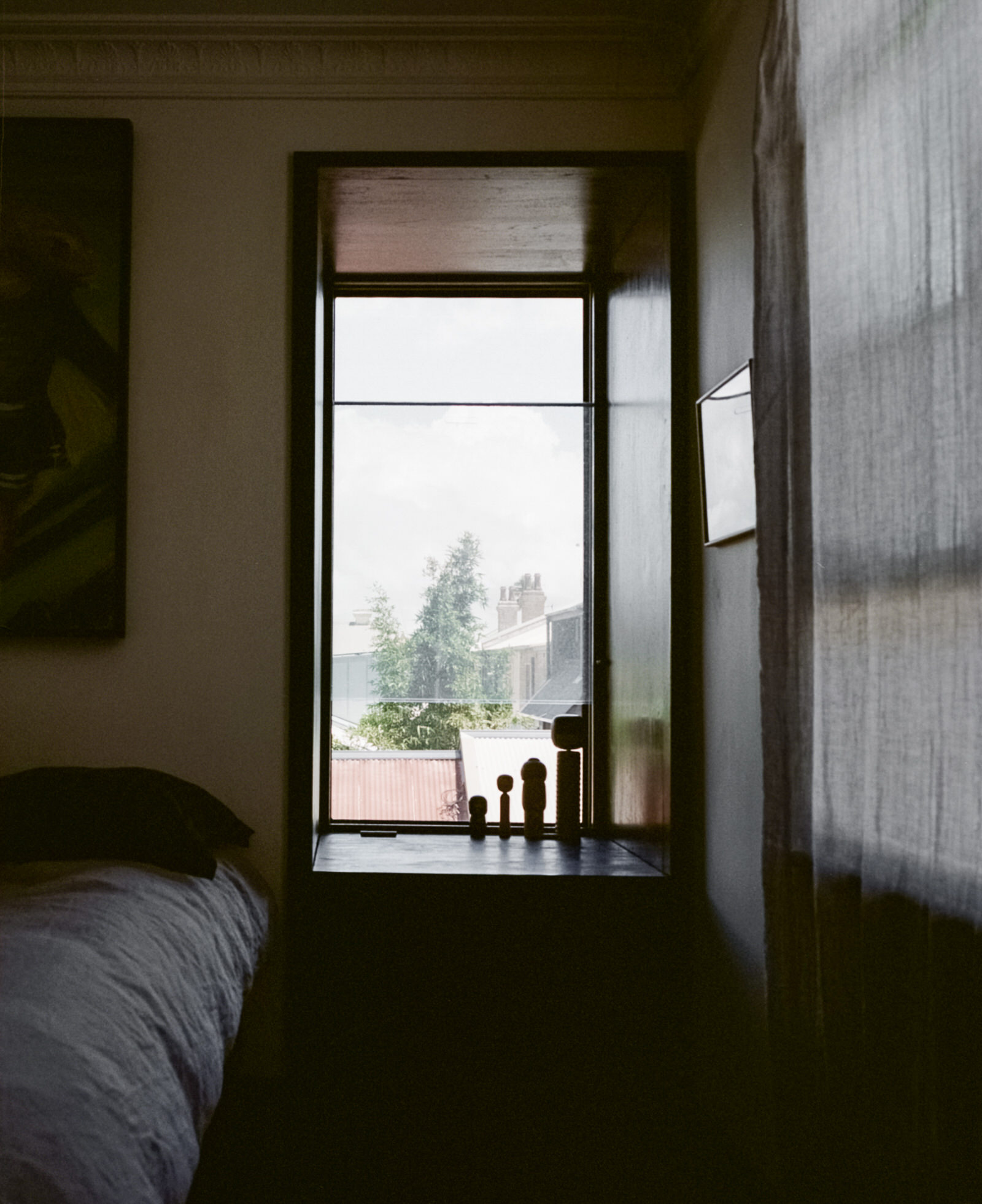 In the bedroom above the bed is a Dino Consalvo painting. Photo by Kien Van Young.
Left to right: Paintings by Patrik Francis and Turbo Brown in the children's room. Photo by Kien Van Young.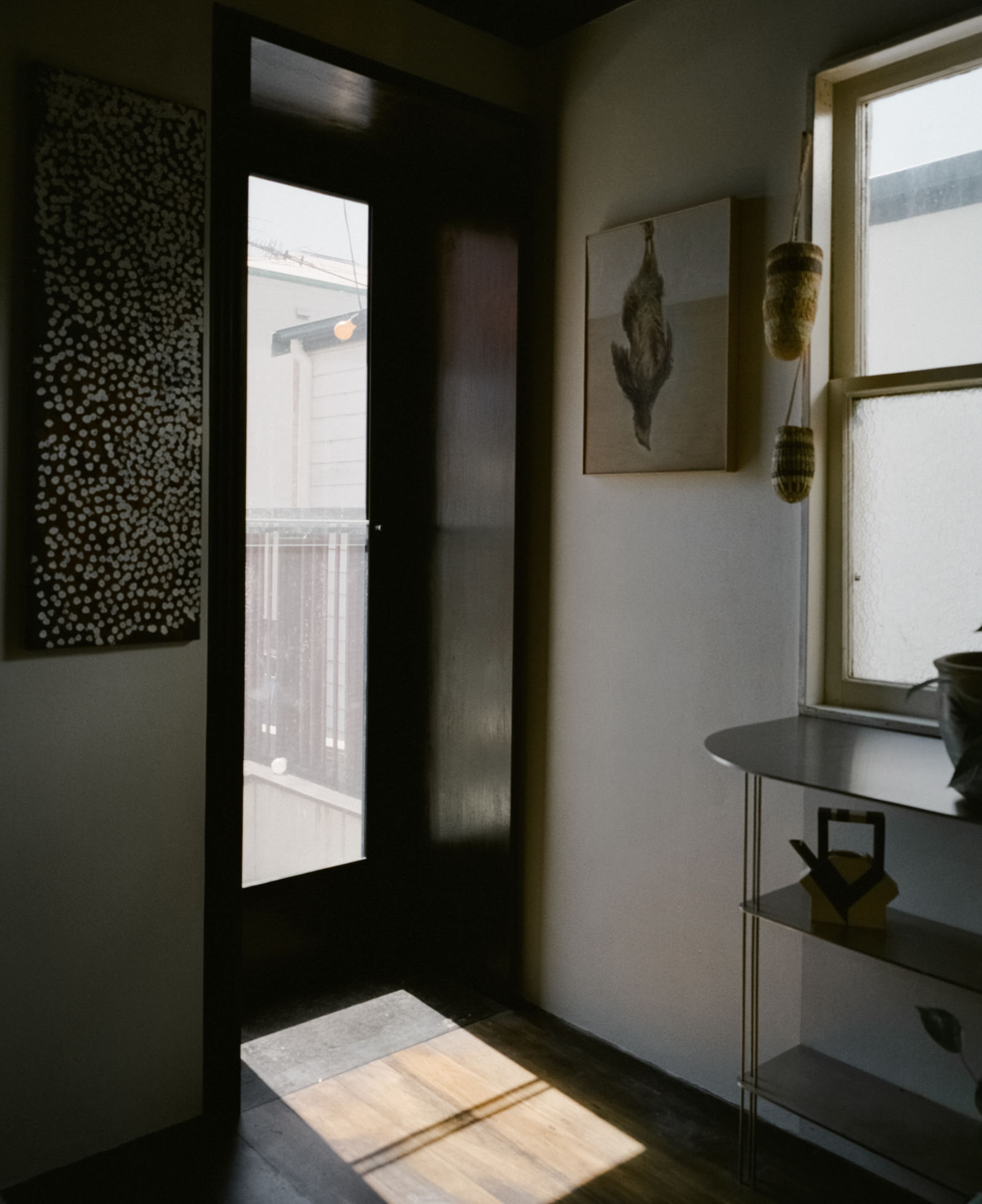 Left to right: Paintings by Johnny Warangkula Tjupurrula and Dino Consalvo and a ceramic by Dianne Peach on the bespoke console.
Among the ensemble of spotted gum and brass, Fronte Oceano is adorned in a mirth of colours that offer a calming warmth. Upstairs includes swatches of deep green, Pompeian Pink (Drinkwater's favourite colour), while deep rust red hand-polished glass mosaic tiles reflect on the house and its surrounding context. Ephemeral light-play is seen through the installation of the lightwell above the skinny staircase and bathroom to allow the colours to add an element of surprise. The bathroom sink, placed against a wall opening that looks down to the staircase, captures an aura of chiaroscuro in amber shades. A similar sense of light play is captured in the children's bedroom, for a dormer window is added above for the original ceiling to be transformed into an elevated bunk bed. The result is a grand view overlooking the external surrounds.
Overflowing with heart and curiosities and surprising features, there's no denying the fact this is the case of an artistic architectural palette brought forth into another dimension. Fronte Oceano faithfully captures the spirit inscribed by Drinkwater on the plaque by the entrance—'Be Generous With Your Heart'.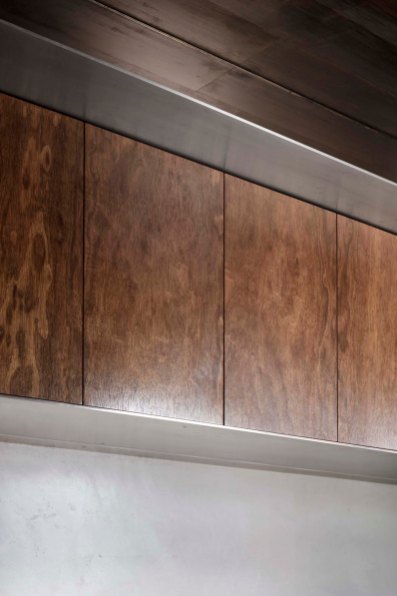 ---
[Images courtesy of ASJP Architecture. Photography by Kien Van Young & Ben Hosking.]