Greg Natale debuts new lifestyle collection at Maison&Objet Paris
Held biannually in Paris, Maison&Objet is one of the world's most esteemed interior design trade fairs and this year's event saw the celebrated Aussie interior designer Greg Natale debut his new collections with a major exhibition titled Fantaisie. Drawing on art, fashion, architecture and music, Greg's gorgeous new lifestyle range spans tabletop, accessories and objets d'art and is finished in the designer's signature mix of luxe materials including exotic marble and travertine, ceramic, crystal and brass. 
"I was inspired by the incredible intersection of art, fashion and music that emerged from the underground club scenes of the 1970s and 80s. Many of my new ceramics are named after the New Wave superstars of that era," says Greg Natale.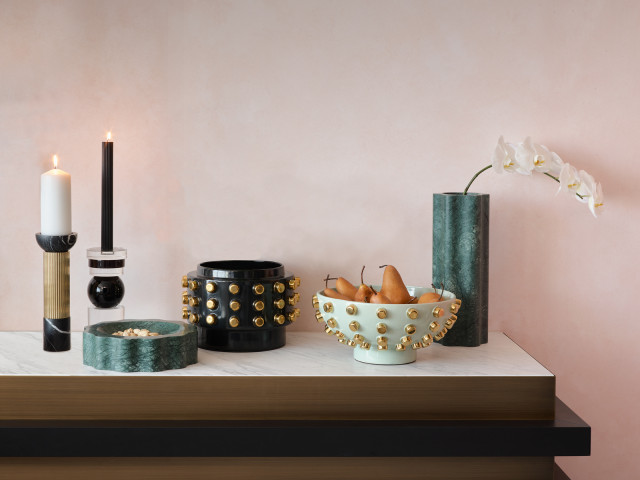 Paying homage to Blondie frontwoman Deborah Harry, Debbie is a collection of vases, bowls and planters that layer punk rock inspired gold spikes or silver studs over elegant forms while Visage draws on London's 1980s Blitz Kids and features shades of Bowie, Cocteau, Matisse and Picasso. The stylised silhouettes that zigzag across the collection recall the theatrical makeup worn by Steve Strange, the leader of the New Wave synth-pop group Visage. 
The Billy Idol inspired Billy bowl is raised on geometric platforms and features a perforated finish punctuated by gold or silver embellishments. The clean design is also a nod to the work of Swiss architect Mario Botta.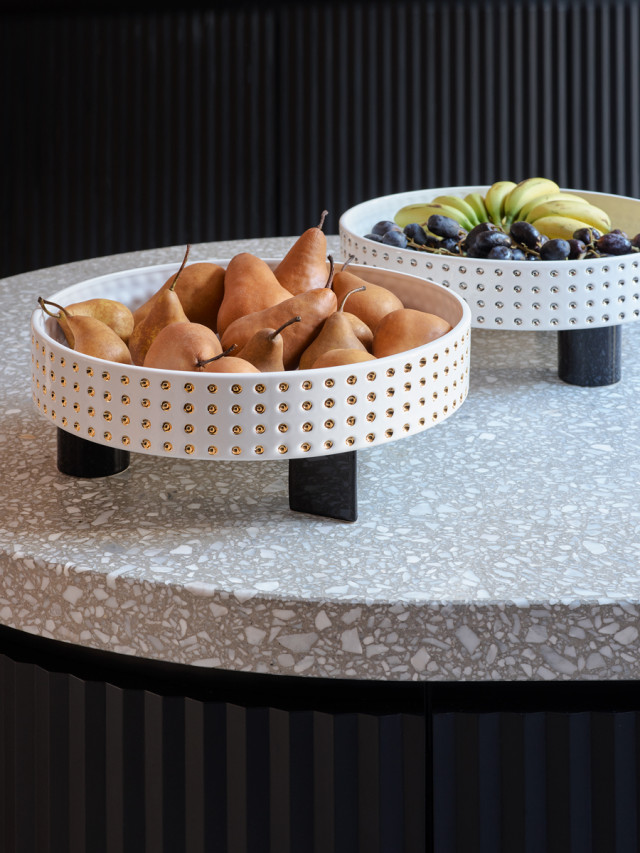 Onda is a series of sculptural accessories carved from jewel-toned marble and a sand and red travertine – the series of elegant bowls and vases feature gentle undulating wave-like profiles. The Jackie vase, Aristotle candle holders (available with Bianco or Nero Marquina marble accents) and Boule bowl are brass pieces inspired by ancient Greek columns and torcheries.
The Blitz bookends reflect Greg's obsession with 1980's postmodernism and the underground music scenes of the same era whiel the complementary Blitz candle holders feature stacked geometric shapes in black and clear crystal – they can be flipped up or down to create different looks. Finally, Greg has added his first wineglass to his signature tabletop collection – the stemless design joins the Studio 54-inspired Rubell family of tumblers and highballs.
Maison&Objet finishes today in Paris.
Shop online
A remarkable contemporary Mosman villa by Greg Natale
The extraordinary Greg Natale has released his third book The Layered Interior. The following is an extract from the book.…
Greg Natale's latest 80s inspired rug range is our favourite yet!
Greg Natale's New Wave collection for Designer Rugs has a number of inspirations, with postmodernism and a bold 80s sensibility…