New restaurant brings Paris style to Canberra
Located on the footsteps of Parliament House in the inner-city suburb of Barton, Canberra's five-star Hotel Realm has opened a new flagship restaurant, Louis Dining. With interiors by the famed architecture and interior design firm Luchetti Krelle, the sophisticated fit-out draws on traditional Parisian café culture and has us wanting to book a trip pronto.
"When guests enter Louis, they'll be delighted by the level of luxe, and the way in which the space is picking up on a distinctly European feel, especially in the courtyard," says Rachel Luchetti of Luchetti Krelle, who co-founded the practice with business partner Stuart Krelle. "We really hope that people feel like they've been transported to Europe – even just a little bit. To have achieved that feeling of escapism would be an ideal outcome."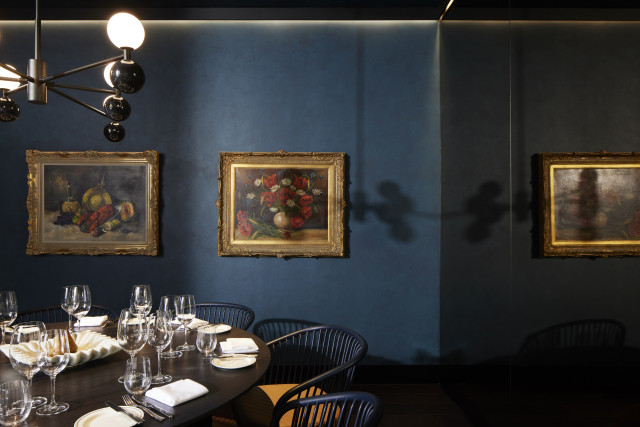 The interior weaves together an array of sumptuous materials including marble, leather, textured glass and bronze metals. "We love featuring natural products where we can and showcasing honesty in materiality. But we also love the luxury aspect of materials, as seen in the marble, and the leather that we've sourced from regional New South Wales," says Rachel.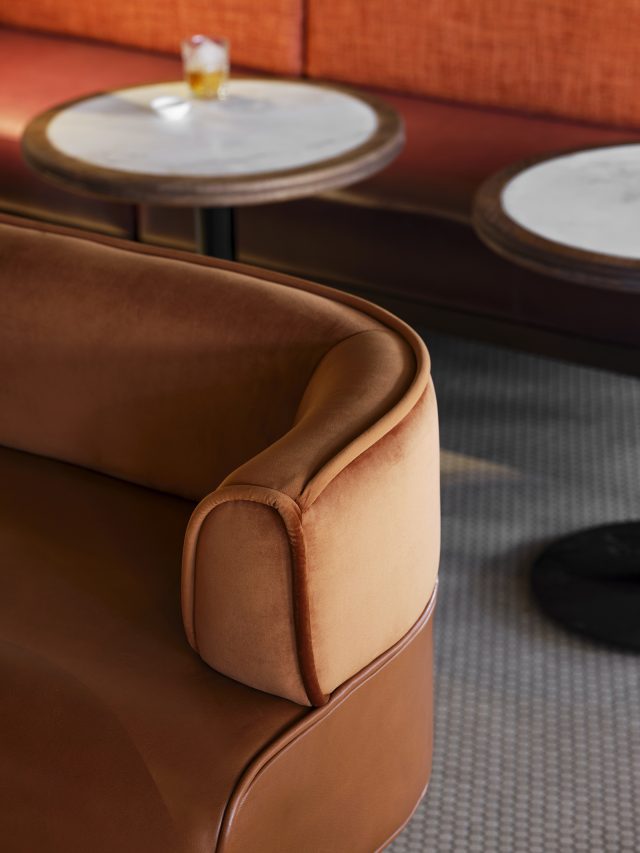 The dining room features hardwood tables paired with caramel hued bentwood chairs, cane-backed Thonet Hoffman bar stools, upholstered banquettes, sculptural pendant lighting and gilt-framed paintings. The revitalised bar features a custom marble mosaic bar front illuminated by concealed strip lighting. "The bar behaved more like a dispense bar in its previous life, so we wanted to create a focal point with it, making it an area that was comfortable – that guests can walk up to – where there's a bit of a buzz," says Rachel.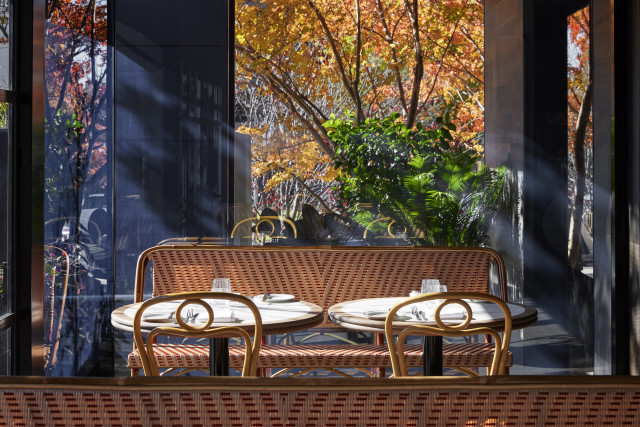 The restaurant also features a partially enclosed alfresco area. "By including the new glass canopy in the courtyard we've achieved the feeling of stepping into an atrium, and in Canberra it's important to have that protection and climate control," says Rachel. 
The restaurant also features a garden bar with French-style garden furniture, custom double-sided banquettes and tabletops lined with terracotta mosaic tiles by Rendition. 
Louis Dining is part of the Hotel Realm precinct which is within walking distance of national icons including the National Gallery of Australia, the National Library of Australia and Lake Burley Griffin.
Photography: Romello Pereira
Book your table
Real reno: Striking shingle-clad extensions in Canberra
We're big fans of Austin Maynard Architects and their latest project further cements the firm's place as one of the most innovative in Australia. Having already won two significant awards (the prestigious Canberra Medallion and Gene Willsford awards), Canberra's 'Empire House' is also a finalist in the upcoming Design Files Awards.
Australia's most beautiful restaurants and bars: Eat Drink Design Awards
A celebration of Australia's most exceptionally designed hospitality venues, the winners of the 2021 Eat Drink Design Awards have been announced with plenty of fabulous design to be found within the recipient list.