Smoke Without Fire: Smoked Room in Madrid by Astet Studio.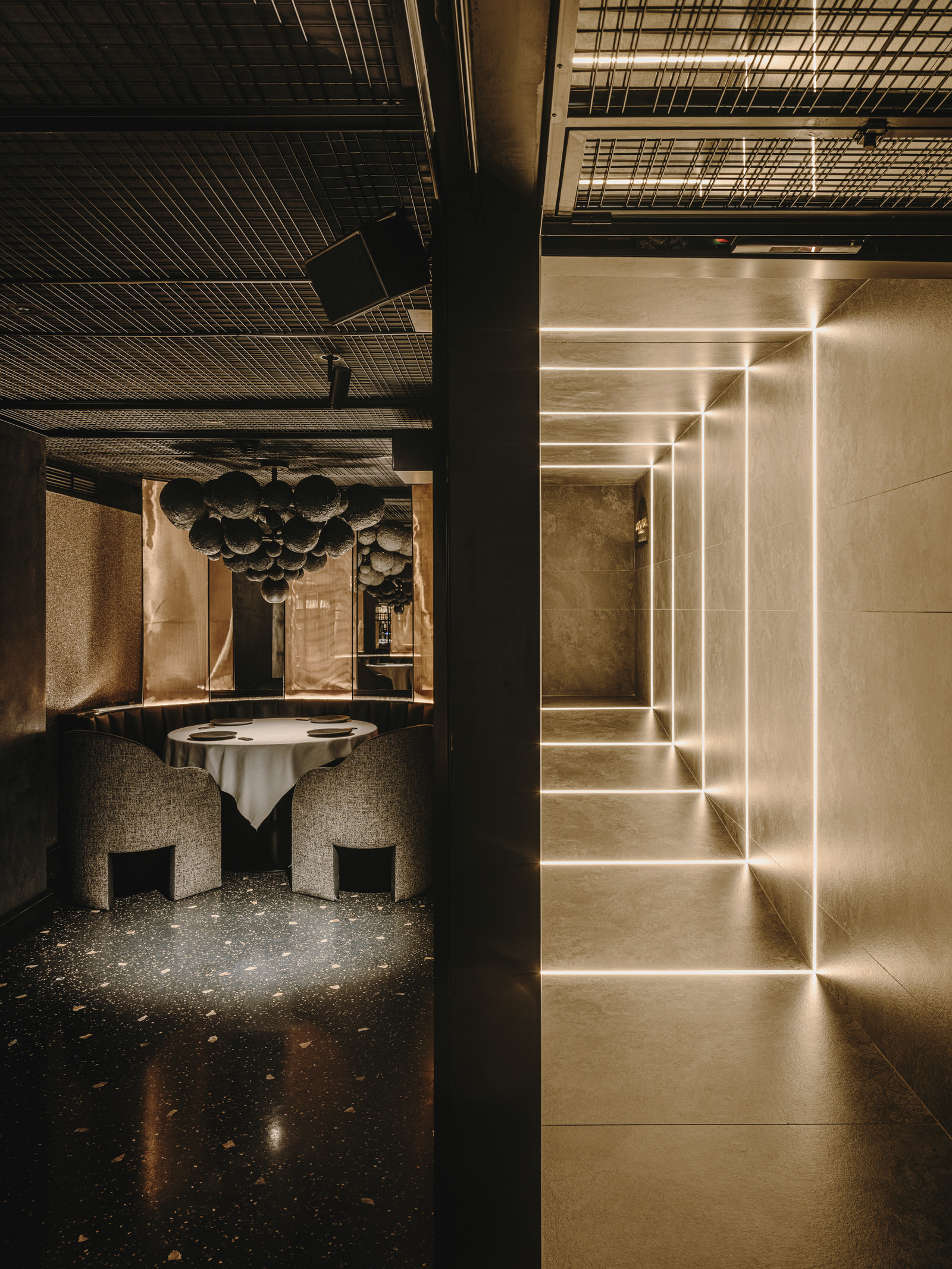 Whoever coined the term 'smoke without fire' could well have lunched last at Madrid's latest haunt. With its charcoal passages, sculpted black doors, dark brick backdrops, and chandeliers that look like lava balls, the restaurant channels the inside of a volcano—if volcanoes also had 15-dish tasting menus and a Japanese maple wood bar. Located inside Hotel Hyatt Regency Hesperia in Madrid, Smoked Room is intimate in scale, with exclusive seating for only 14 diners.
"We were tasked to create a space that would seem as if it had always been there," say Óscar Engroba and Ala Zreigat, co-founders and principals of Barcelona-based multidisciplinary studio Astet, who shone up the rustic cocoon with overlays like metal, mirror and brass mesh. "Not only do they provide a touch of sophistication, they are also reminiscent of the reflection and intensity of sparks produced from a fire."
The interior is divided into two mystical halves: on the left is the Omakase experience, where half a dozen diners gather around a theatrical fire and taste freshly smoked fare fresh out of the fire; and on the right, are two group tables for six diners each, meant for intimate celebrations and more private gatherings.
"On the Omakase side, a large mirror shows diners how the plating is performed on ceramic plates of Japanese inspiration. In this area, there is also a large grill that showcases the preparation of certain dishes," say Óscar and Ala, who were declared the Global Winners in the Small Space category for the restaurant design.
For the architects, there was another motivation behind muting the colour. "[The monochrome shell] allows us to focus our sights on the dishes on display, so the experience of listening to the chef's explanation and [taking in] the dish itself may be sublime," says Óscar.
The two parlayed that philosophy beyond the walls and onto the floors (black terrazzo) and the ceilings (black mesh). "The spaces are in perfect dialogue with the gastronomical experience, achieving a complete journey for the senses that is hard to forget," Ala signs off.
---
[Images courtesy of Astet Studio. Photography by Salva Lopez.]