Stylist helps couple create new home merging two aesthetics
Guest post by Hayley Griffiths
A dark and drab apartment in the heart of Redfern, has been transformed into a calm and contemporary oasis for a retiring couple by interior stylist Jessi Eve. Faced with the challenge of merging two completely different briefs from each client, Jessi found a balance that honoured both. One of the clients preferred an all-white, cool-toned, clean and fresh look while her partner requested a slightly more masculine vibe. Jessi delivered a cohesive interior, bringing life and light to this much-loved home.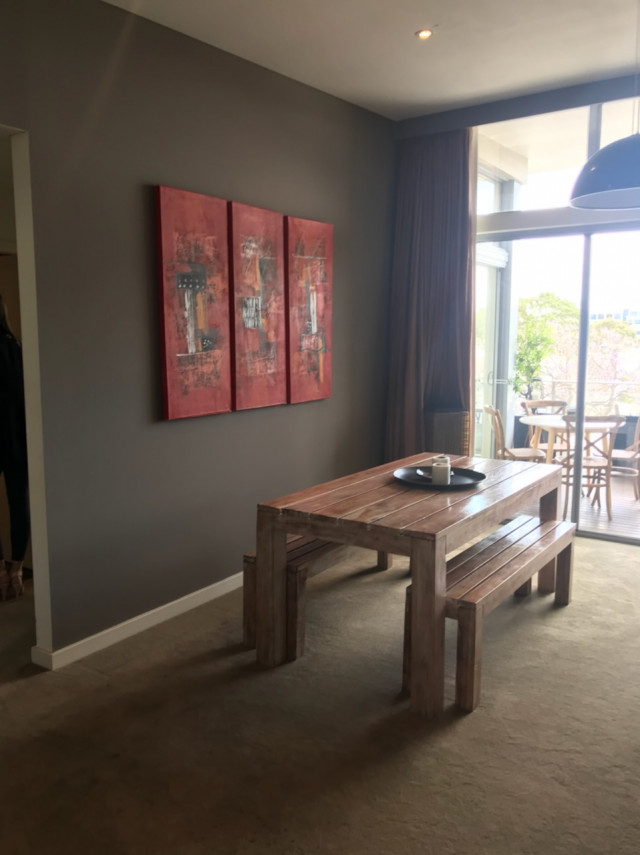 "The greatest challenge was merging the two polar-opposite design briefs. It's not unusual for couples to have completely different design preferences and there is an art to finding a balance between two extremes to ensure a cohesive result. A skilled eye will be able to identify and extract the similarities to form the basis of the scheme," says Jessi Eve.
A key objective was to incorporate a contemporary and timeless interior to the dated apartment. Jessi achieved this with beautiful new cabinetry in the kitchen and entry, replacing the chocolate brown cabinetry with white fronts. "We did a mini kitchen reno in the sense that we kept the original stone splashback, stone benchtop and internal cabinetry and just refreshed the overall style by swapping out the heavy brown cabinetry and island benchtop," says Jessi.
The main living, dining, entry and kitchen areas of the home feature a black, white, grey and navy palette with hints of tan leather. To appease both clients, a minimal and clean aesthetic was chosen with touches of masculinity connecting the spaces together. A navy blue Molmic sofa is paired with a Trit House leather armchair and textured braided rug from Rug Culture. 
Existing bedroom joinery was removed to allow for more movement and flow while a coat of paint, new window treatments and new Hycraft carpet further elevated the spaces. The two bedrooms became the perfect space for Jessi to bring the polar opposite client briefs to life. 
In bedroom one, a white-on-white palette is featured against a cool grey backdrop of curtains and carpet. The client's existing Lone Swimmer artwork by Aquabumps was a sentimental piece incorporated into the space and Jessi drew inspiration from the minty hues of this artwork to add accent styling in the room.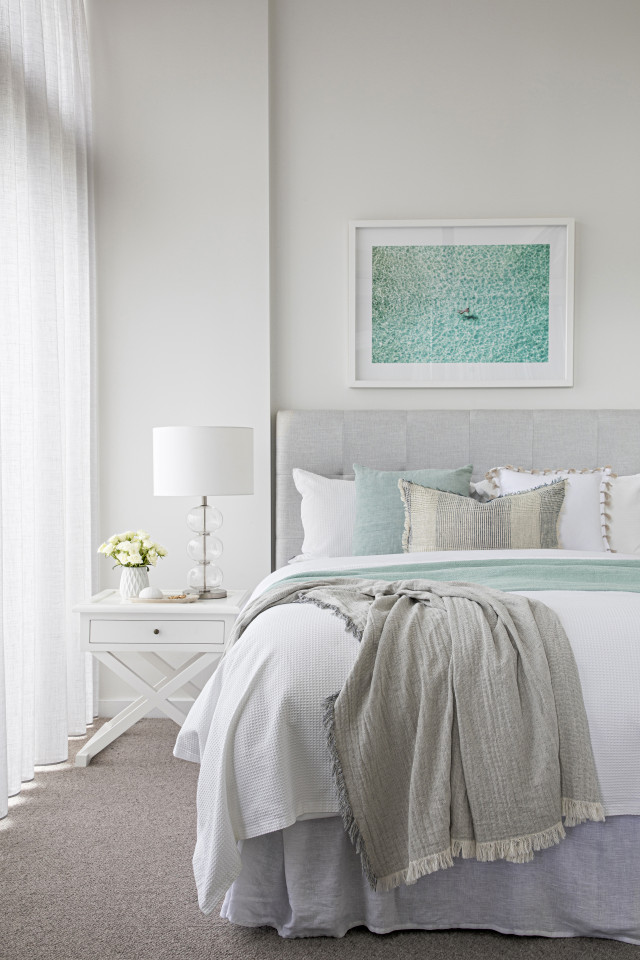 And although the two briefs are contrasting in aesthetic, Jessi created synergy between them by selecting another Aquabumps artwork in moody tones for the more masculine bedroom. Create Estate custom bedheads were created for both spaces – for the masculine room, a bedhead fabric was matched to the custom sofa in the living room to create a subtle link between the spaces.
Patterned Cultiver linen is featured in the masculine room alongside black rattan Globewest bedside tables.
The result of this design transformation is a home that blends the best of both worlds for the lucky owners, who can ease into retirement with a space that brings joy and relaxation. 
Photography: Amani Lindsell
For more on Jessi Eve Interiors
Redfern rooftop garden home with killer Sydney views
"The ambition for Cleveland Rooftop was to realise a garden that you happened to live in, rather than just an…
Bohemian spirit infused in art-filled St Kilda apartment reno
"Moving from a sprawling modernist house to an apartment would normally be a difficult adjustment, but after a substantial cull,…