Taking Fun Seriously: The Scoop Kitchen by Studio Doherty.
In their latest design collaboration, Laminex partnered with Studio Doherty for a kitchen that takes fun seriously. Known for their approach described as "just the right amount of kooky", the Melbourne-based studio explores the possibilities of laminate. The result is the Scoop Kitchen—a masterclass of colour, texture and form.
Scoop Kitchen veers off the traditional template, as Studio Doherty pushes the boundaries of the versatile finish. Led by Mardi Doherty, the studio infused the project with some of their classic signatures, with curves and unconventional compositions seen at every turn. "Often when you see Laminex, you think about it as the square face, square front, but it's actually incredibly versatile, and you can do a lot of things you can't with other materials," says Mardi.
This Yellowtrace Promotion is supported by Laminex. Like everything we do, our partner content is carefully curated to maintain the utmost relevance to our audience. Thank you for supporting the brands that support Yellowtrace.
DISCOVER MORE
Curves, concave elements and free-standing joinery take centre stage in a design for those ready to experiment. The kitchen employs lightness and space with furniture-inspired elements tied together by Studio Doherty's playful touch. "We asked ourselves— 'How can we make the kitchen unique?" Mardi continues. "We knew that, alongside merging some neat hospitality tricks with home design, it was about making it playful and really pushing it!"
Playful it is, but there's a lightness and subtlety to this design, as the studio balances that "just the right amount of kooky" approach. "Obviously, colour is something that permeates all our projects and something we want to show in these kitchens, but we're also really interested in composition and beautiful detailing," Mardi elaborates. "We want to demonstrate how you can use and work with different finishes to achieve beautiful and maybe unexpected results."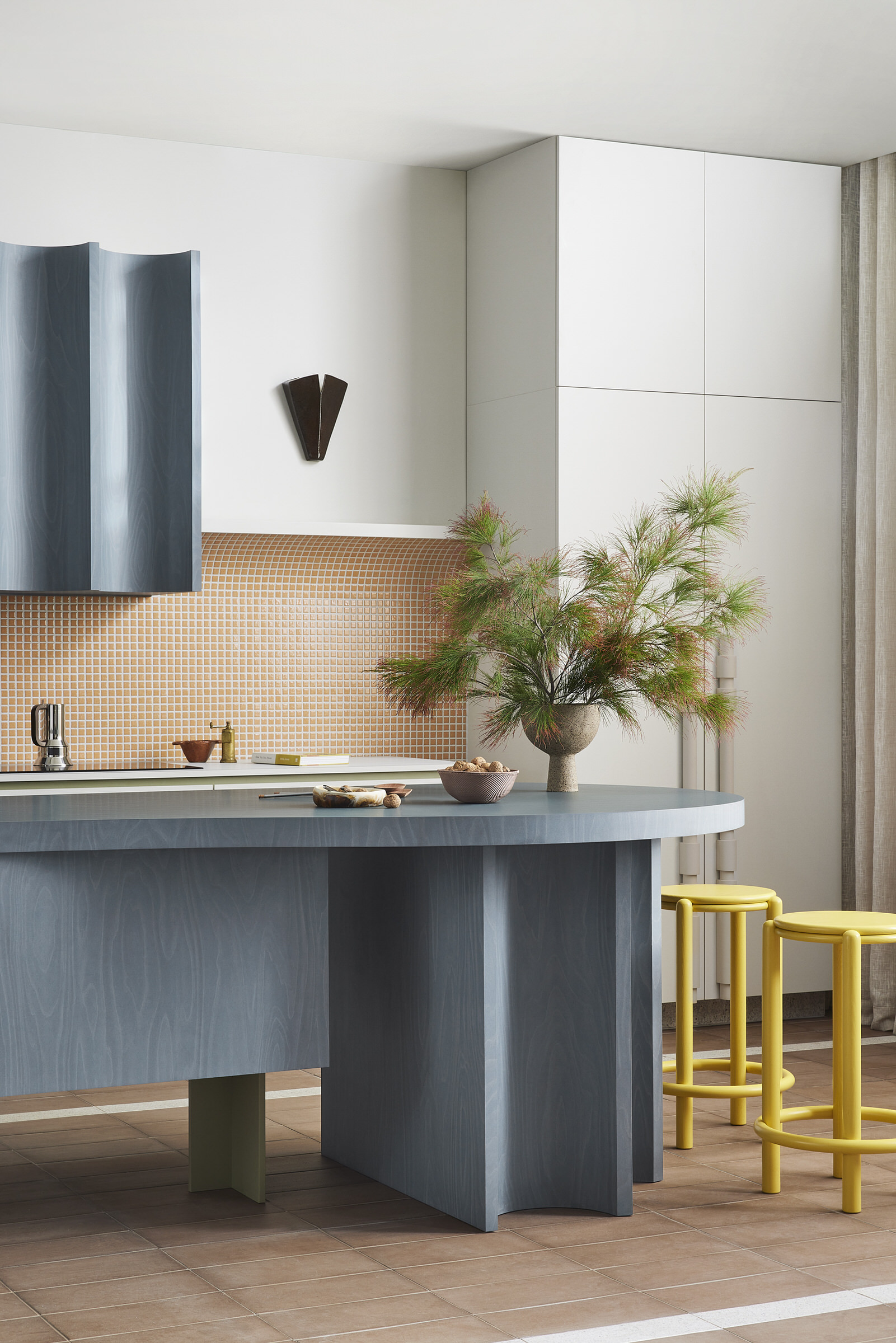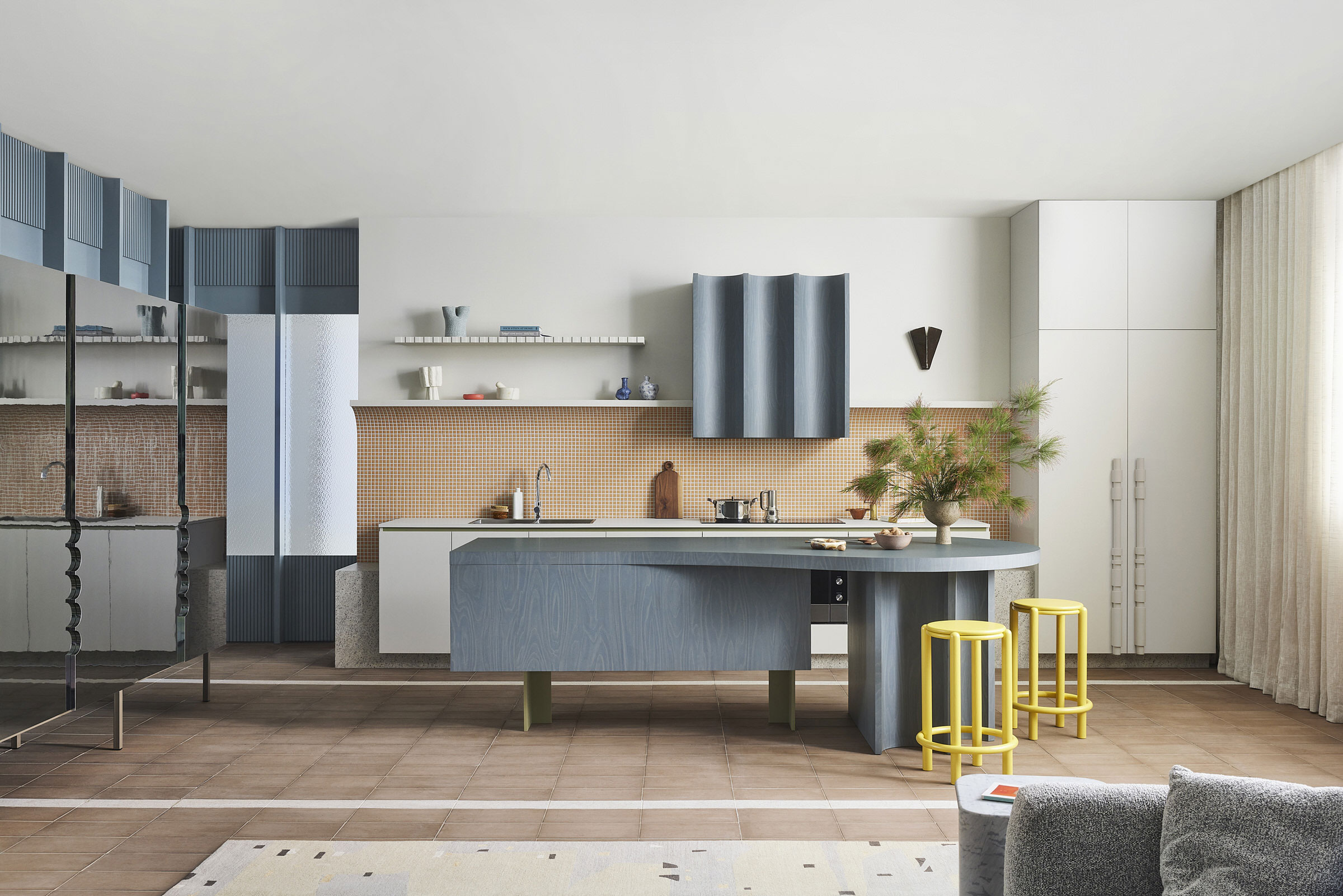 The practicalities of a modern kitchen are balanced with shades of Modernism and elements of hospitality pragmatism. Laminex's extensive textural library is seamlessly layered alongside other Australian materials and furniture pieces, from Fibonacci flooring to Artedomus tiles. The sculptural rangehood and island bench are finished in Laminex Smoked Birchply in Chalk, contrasted with pantry and drawer internals in the vibrant tones of Laminex Moroccan Clay and Steel Blue, a curved splashback in Artedomus' Diamant Mosaic Tiles and Christopher Blank's yellow stools.
Oozing with personality and fun, this dazzling collaboration aligns perfectly with Laminex's pursuit of quality and aesthetic appeal. For more information on The Scoop Kitchen by Laminex x Studio Doherty, click here.
DISCOVER MORE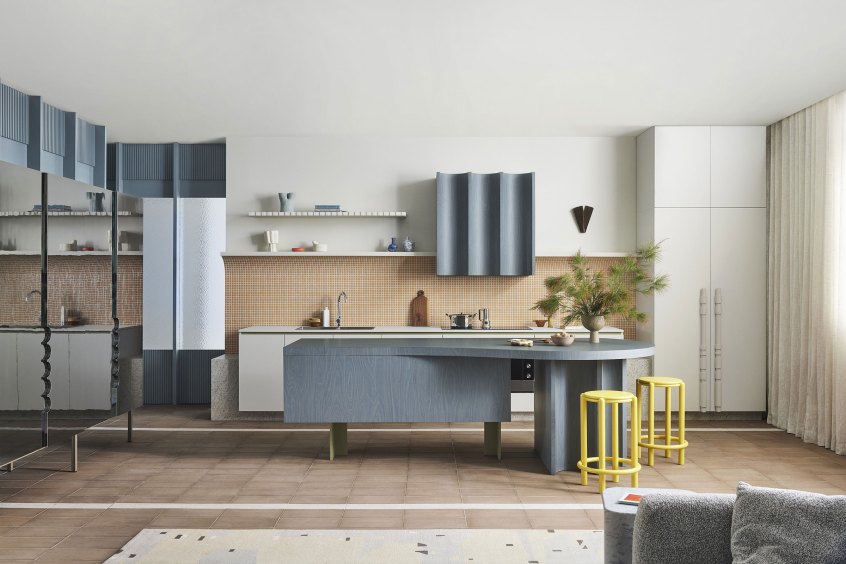 ---
[Images courtesy of Laminex. Styling by Natalie James. Art direction by Ortolan. Photography by Derek Swalwell.]