Top 5 Christmas styling tips to make holiday hosting easy
As great as the festive season is, for many of us Christmas can be a stressful time with hosting duties expected of us. It's hard enough to keep the house clean and tidy let alone make it scream Christmas spirit for visiting family and friends! Thankfully with Christmas just around the corner, property stylist Justine Wilson has shared her top Christmas styling tips for 2022:
1. The main event – a tree!
There are so many styles and price points that there is something for everyone. From real trees to real touch trees, to sparse looking, or snow-covered, pre-lit or plain, there are so many to choose from. This year I have been a big fan of the ones available at Target which are beautiful and very affordable, or for a more top end fuller tree my other favourites are Alfresco Emporium and Balsam Hill, these trees will last a lifetime.
2. Ornaments
You can't have a beautiful Christmas tree without lovely decorations or ornaments and as with Christmas tree styles, ornaments are just as varied. A traditional colour palette of gold and silver is timeless and my pick this year. Alternatively, you can go for the minimal Nordic look marked by bead garland and handmade wood ornaments, or a more traditional tree adorned with red and gold tones and lots of ribbon and trimmings. Pick a style that reflects you and your family for the best impact. David Jones always has beautiful ornaments as do Pottery Barn and Adairs.
3. Tablescapes
One of the highlights of any Christmas is the Christmas feast! Whether you gather for a family breakfast, lunch, or dinner, whatever your tradition, having a beautifully styled table will always set the tone. A tablescape can be as simple as a run of garland and a few candle votives, or it can be an elaborate setup that mirrors the style of your tree. My tips for a magical table are in the small details, such as place cards so everyone feels welcome, nice napkins and simple under-plate chargers – charger plates can dress up any crockery set and adds a sense of occasion to the meal.
4. Wreaths
Nothing says welcome like a beautiful Christmas wreath at your front door and like Christmas trees – the style you opt for will depend on your overall decorating theme. It could be a beautiful native wreath, a flocked snowy wreath, a glittery wreath, or simple greenery. Real or faux they make a beautiful statement and add that festive touch to your home's entry. This season my favourite wreaths can be found at Tara Dennis Store and The Christmas Cart.
5. Pets
Last but not least get your furry friends involved this Christmas. I have three beautiful dogs who love a dress-up and of course new Christmas themed toys and beds that also act as decorations in their spaces.
For more on Vault Interiors
Mrs Tablescape's new art-inspired store is bringing joy to Sydney
A new concept store has opened its doors to Sydney art lovers, interior design enthusiasts and home entertaining aficionados alike,…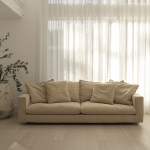 An expert guide to style your house from scratch
Styling your home from the ground up? Fluctuating between being excited and overwhelmed? Great! You're in the right place. Thankfully…