Understated luxury and spectacular views make for dream kitchen
The family lucky enough to call this new kitchen theirs had lived in the house for many years but it had never functioned well for their needs. The space was moved and overhauled as part of a bigger reno and it's now a showstopper as well as the natural heart of the home.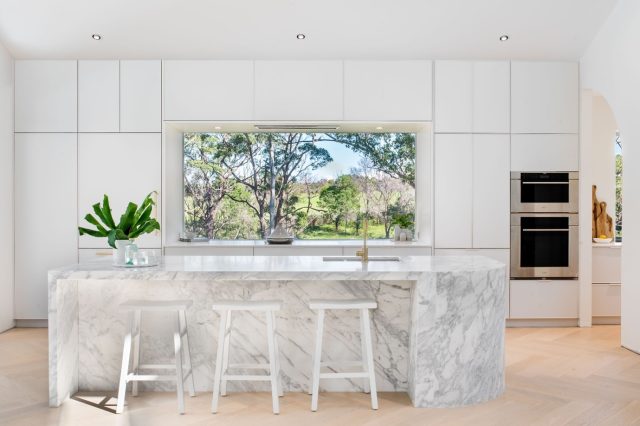 Interior designer Hilary Ryan of Hilary Ryan Design and Impala Kitchens are responsible for this beauty and it recently won Hilary KBDi Best Kitchen Designer of the Year NSW.
"They've lived in the house for a long time," says Hilary. "Their children grew up here but it was never their dream home; not big enough for a busy large family although it is a dream location on acreage in Dural. The kitchen was to be luxurious but not loud or extravagant as it is a forever family home that needed a forever kitchen. Making the most of the space and creating a warm and inviting interior was the main intent."
She adds: "The kitchen was part of a whole home renovation that has taken at least two years. The existing kitchen wasn't large enough and had no connection to the outdoor living areas. It was relocated to the back of the house and now opens onto the outdoor entertaining areas including outdoor kitchen, outdoor lounge, dining and pool."
The original plan had small splashback windows but Hilary, a kitchen and bathroom specialist, changed these to large feature picture windows which now take in the amazing rural views and plenty of natural light.
"We also included a butler's pantry that is a game changer when it comes to storage and working appliance zone. It also has a second sink and dishwasher to handle dirty dishes out of sight."
Some of Hilary's favourite features are the integrated Sub Zero fridge and the servery to the outdoor area for having drinks and enjoying the outlook.
"The curved natural stone island bench is the feature of the kitchen. It was hard to do and very expensive but stunning! The client now enjoys the beautiful outlook the most, backed up by the massive storage and functionality. As the view is spectacular, a restrained colour scheme was chosen. The kitchen is now a beautiful place to be in."
Established in 2008, the KBDi Designer Awards program is a well-established and highly regarded event on the Australian design calendar. The winners of this year's Awards were announced at the KBDi Designer Awards Gala Dinner in Brisbane on 19 August.
The kitchen is also a finalist in ACFA Best Kitchen Renovation over $80,001.
For more on Hilary Ryan Design
Photography: Bose Creative
80s home described as "ugly, ugly, ugly!" gets Parisian style makeover
Built in the 1980's this large Sydney family home, located in Bellevue Hill, was in serious need of a facelift before interior designer Hilary Ryan was engaged to overhaul its layout and dated aesthetic.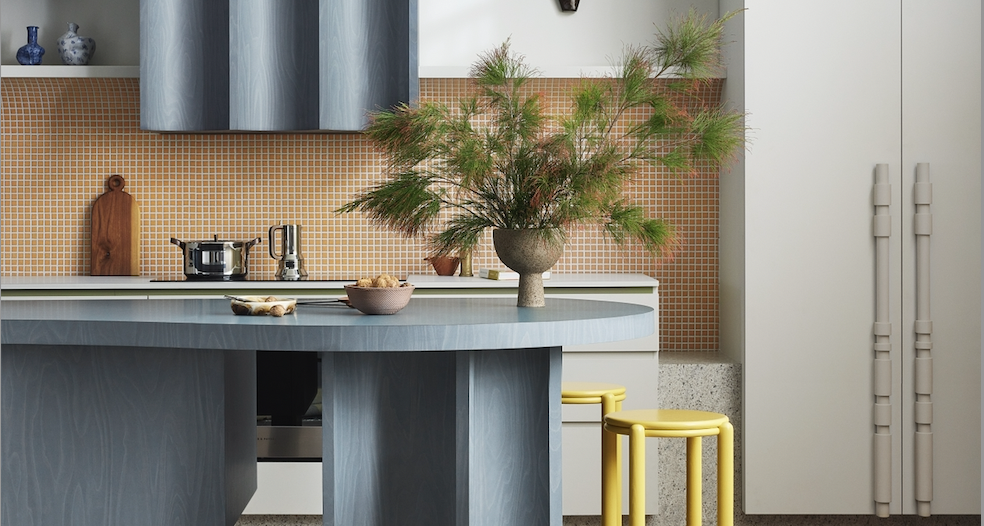 A playful approach to colour in a kitchen design
Laminex's latest collaboration with Studio Doherty really shows what can be achieved when you think aside the box with colour and texture and we're loving it. The partnership seeks to inspire, bring joy, and …