80's beach shack now an eclectic, retro-inspired holiday home
Located on the dunes at Blairgowrie in Victoria's Mornington Peninsula, Camillo House is one of the most unusual and beautiful holiday homes we've seen. "The home is more than unique, luxury accommodation. Created with sensory pleasure in mind and an incredible attention to detail, it is a backdrop to live fully," says the home's founder Clare Hillier who explains that the home was borne from the depths of Melbourne's arduous COVID lockdowns.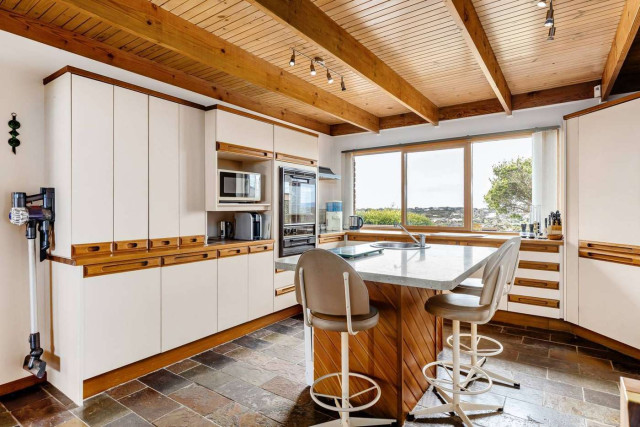 "The world felt smaller than it ever had in 2020 and I started dreaming of creating a true escape – in every sense of the word," says Clare who spent hours online each day looking for the perfect property before stumbling upon this home. "I remember saying out loud 'this is it'!" says Clare who inspected the home the day after finding it, promptly purchased it and then spent a summer camping in the house getting to know it better before commencing the renovation.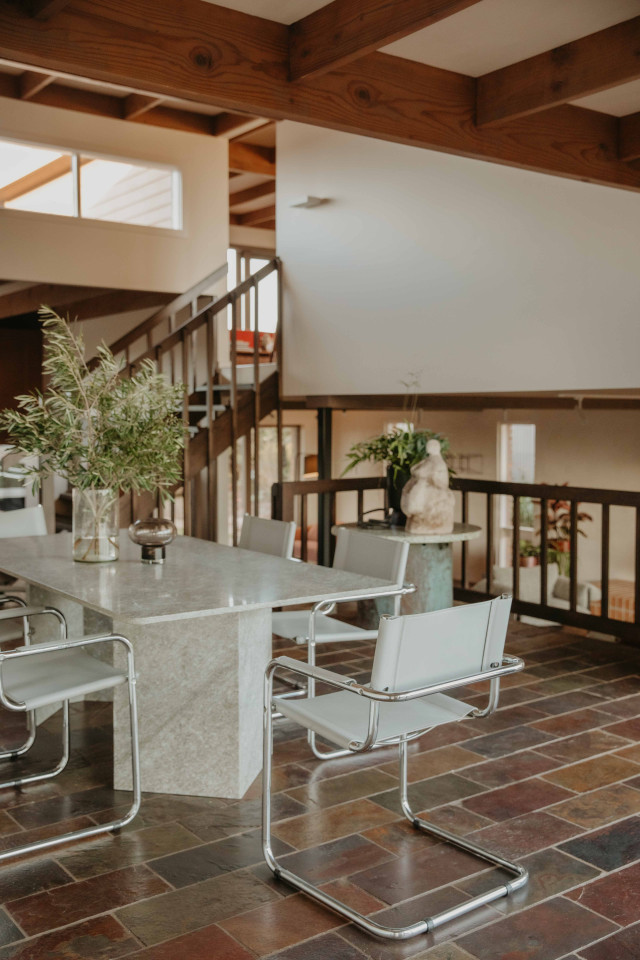 After much contemplation, two years of hard work ensued with Clare determined to create a home that remained true to its faded 1980's beauty, while having an identity all of its own. "Our vision for Camillo was that it would be more than luxury accommodation. Rather than playing a supporting role in our guests' holiday tale, we wanted to create an experience in and of itself," says Clare.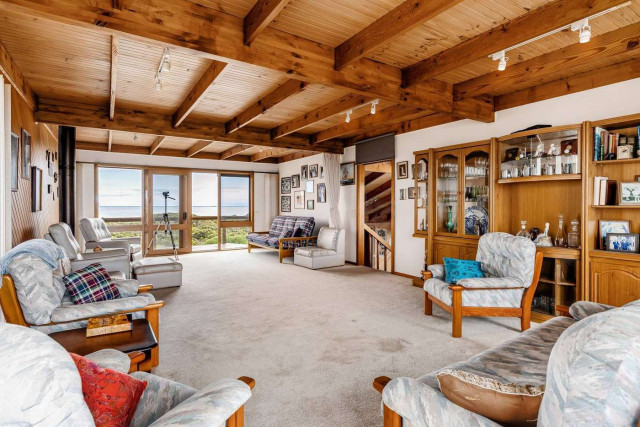 In collaboration with Blair Smith Architecture, the home's layout was reconfigured to make the most of the ocean views while every room and surface was updated. "Pine lining boards running across the walls and ceiling combined with a rabbit-warren floor plan made the space feel like a Swedish sauna," says Clare of the original abode.
Many details were updated – the original exposed mission brown bricks were bagged and a ply ceiling was introduced (a quieter alternative to the hectic orange pine boards) and all of the windows were replaced. The original slate floor was resurfaced to remove the 1980's high gloss and the material formed the inspiration for the home's entire colour scheme. "With its purple, pink, red and brown tones, the slate was the starting point for our interior palette," says Clare.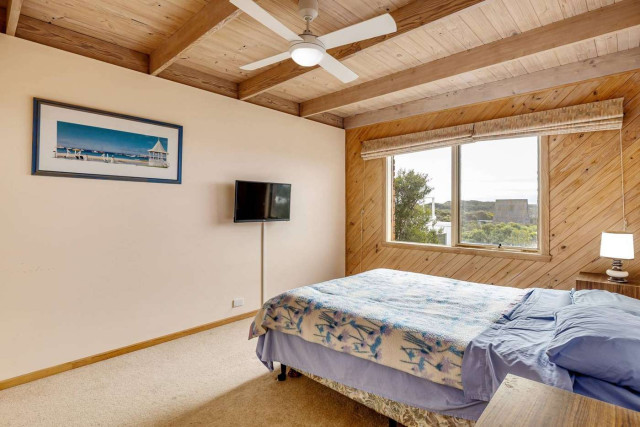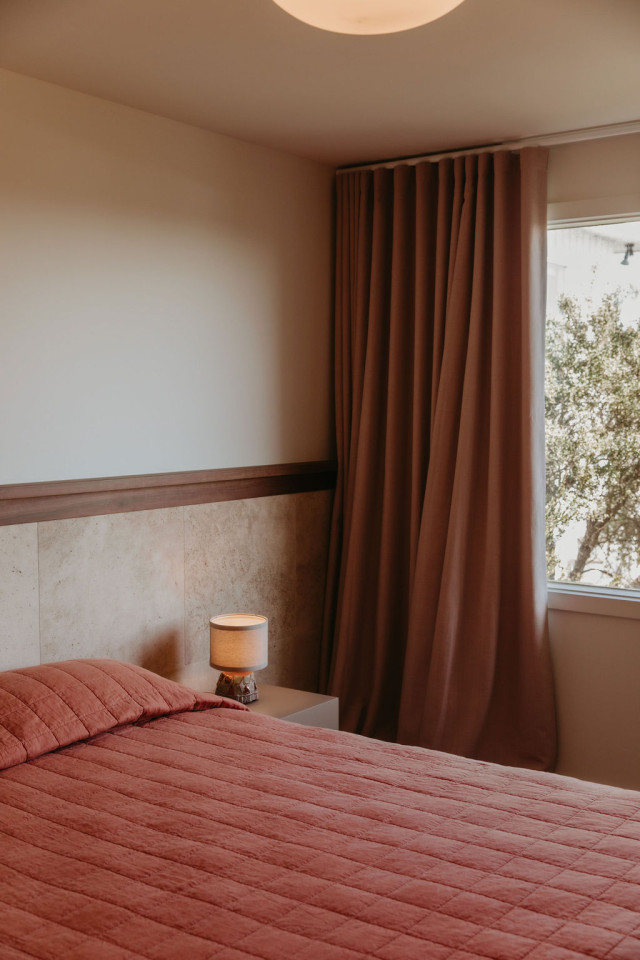 "We have decorated the home almost entirely with vintage furniture that we sourced from near and far and pieces we designed and made ourselves," says Clare who also selected all the home's materials and interior fixtures and fittings. Incredibly, while Clare has always had an interest in interiors she isn't formally trained!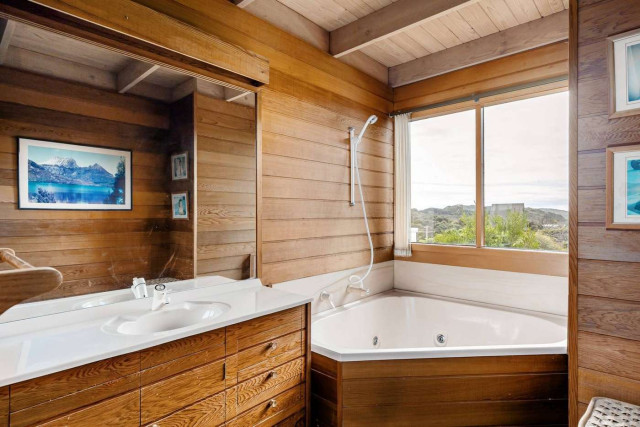 The kitchen features statement 'Cosmopolitan' quartzite which is repeated in the master ensuite shower shelf. Travertine and venetian plaster feature in the second bathroom and Verde Green marble tiles feature in the third bathroom – salvaged from Facebook Marketplace. "They were a steal from a lady who was renovating her bathroom and throwing them out," says Clare. 
"As an antidote to the grind of modern life, we designed spaces and selected materials with sensory pleasure in mind and a devotion to attention to detail. There is something that is more playful about creating a space for people to escape to than when you are designing a home for everyday living," says Clare.
Just 50 barefoot steps from the beach, the home has three bedrooms, three bathrooms, four living spaces, a cook's kitchen, four decks and an outdoor bath. The bespoke designer space also enjoys stunning ocean views while showcasing 25 original artworks from Australian and international artists. 
"Totally at one with the landscape, Camillo is a hideaway that celebrates the raw beauty of our part of the world. Whether it's a secluded bath outdoors, watching thunderstorms roll in over the dunes while lying in bed or nightcaps and card games around the firepit, Camillo frames the rituals of time away towards a deep connection with nature and each other."
Photography: Kate Shanasy
Book your stay
Real Dads of Melbourne's gorgeous new holiday house pool
With 125k Instagram followers, there's a chance some of you may follow the dad duo The Real Dads of Melbourne.…
A Byron Bay 'new old house' filled with playful moments
There are pockets within Byron town where creativity and community come together as a welcoming gesture. The kerbside acts as…