A pretty pink plunge pool renovation in Melbourne
Last time we stepped inside the home of Melbourne interiors and lifestyle blogger Krystal Dahaby (of House of Harvee), it was to showcase her gorgeous pink kitchen renovation. Today we're bringing you another pink-tinged space in the form of her highly covetable compact backyard plunge pool.
After building the house in 2011, Krystal approached someone about installing a pool but was told that it couldn't be done. Fast forward a few years, with the plunge pool a bona fide trend, and Krystal was convinced that it could be done. "I started to see so many pools in spaces like ours and even in smaller backyards. I just had to find someone that could do it!" says Krystal.
At 2.5 metres by 5.5 metres, the pool is small but perfectly formed; it takes up one quarter of the backyard area which measure 5 metres x 16 metres wide. "Before the pool, only half of the backyard was usable – the side with the decking and grass area. The grass side was the kids play area and in summer we would blow up a pool for the kids," says Krystal.
The pool design was a collaboration between Krystal and JNJ pools who advised what was possible in the relatively small backyard. "Jay from JNJ Pools helped heaps with the structural decisions and it was his idea to have the pool half above ground which I loved!" Krystal who was inspired by European villas when designing the space.
Once the creative vision was clear, Anna Moore from Moore Creative created a 3D render of the space. "Honestly, having that done was the best thing ever. It really helped to cement my idea by seeing it come to life before we made any locked-in decisions, and it was a great help to be able to show the builders the render so that when they began to work they already had an idea of what it was going to look like," says Krystal.
She designed the pool's pretty pink mosaic pool tile combo (as an aside, you can purchase the exact 'Krystal' blend from Trend Group) and it was paired with Millboard composite decking. The timber screening from Screening Solutions adds extra warmth while providing privacy from the neighbours. "That part of the pool is quite high in comparison to the neighbours, so I wanted something that screened us but didn't block the view completely. The thin timber panels were perfect," says Krystal. Sourced locally, 'crazy pave' limestone effect pavers complete the space.
Krystal's children get in the pool at every opportunity with the heat pump ensuring it is used all year round. "We go outside so much more now. I really love it and I am so proud of how it turned out. I feel like we have turned an average backyard into an incredible space and the pool doesn't feel small at all. Even when all five of us and friends and family are in it, it still feels like a huge pool!"
For more on House of Harvee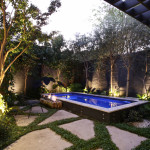 Plunge pools: everything you need to know about small pools
There's no denying that COVID has had a very significant impact on the way we live and what we expect…
The most fabulous pool house we have ever seen!
"I'm a bit of party guy and love having people over," says Scott Tresidder, the owner of this jaw-dropping pool…