Curves define luxury waterfront Sydney home
Located in the impossibly pretty Sydney waterside suburb of Mosman, this statement making new build was designed by Ursino Architects and features interior design by Manny Alas of Made by Alas. Home to a builder and his wife, the home features high end finishes and plenty of sumptuous curves and statement moments. "Tasked with creating eye-catching moments of awe, the house takes you on a visual journey through expansive heights and it features an abundance of natural light," says Manny.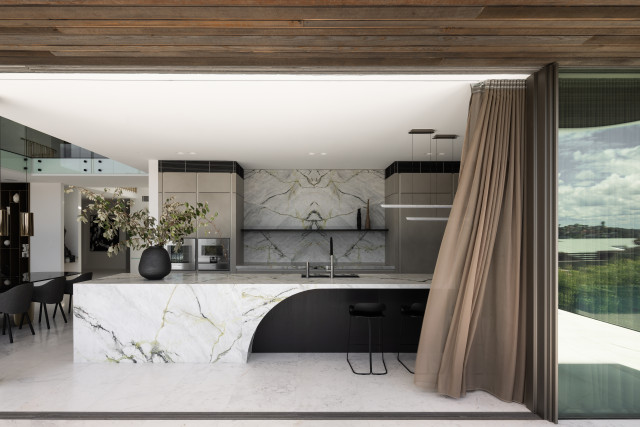 Designed to optimise the block's expansive water views, and provide a resort-like feel at home, the ground floor of the abode features an open plan kitchen, living and dining room that flows out onto a luxurious pool and outdoor entertaining area. "The kitchen became an extension of the outdoor area whilst the adjacent living area features a striking titanium marble," says Manny.
A favourite area for Manny, the home's entrance sports a double ceiling height and a custom finished brass balustrade staircase against a textured rendered wall. "The staircase features marble treads," says Manny. 
There are certainly no bargains to be found in this build with all the finishes selected for quality, longevity and timelessness in order to create a residence that will stand the test of time.
The first floor features generous guest bedrooms in the southern wing while the northern wing houses a generous master suite that includes a separate living space, ensuite and walk-in robe. "All the bathrooms feature distinctive, contrasting natural stones to ignite the feeling of a luxury residence – it's grand in materiality and scale," says Manny. 
The lavish feel continues in the basement which has a wine cellar, home cinema and luxury car garage. "The home defines luxury and Ursino Architects has seamlessly blended the surroundings into expertly crafted curvatures," says Manny.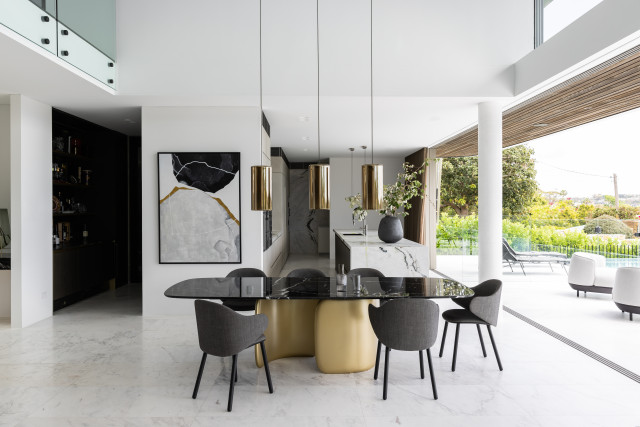 Based out of Alexandria, Made by Alas is a newly launched business that blossomed during COVID. "We specialise in high-end residential interior design. Our clients approach us looking for designs that push boundaries whilst remaining functional too."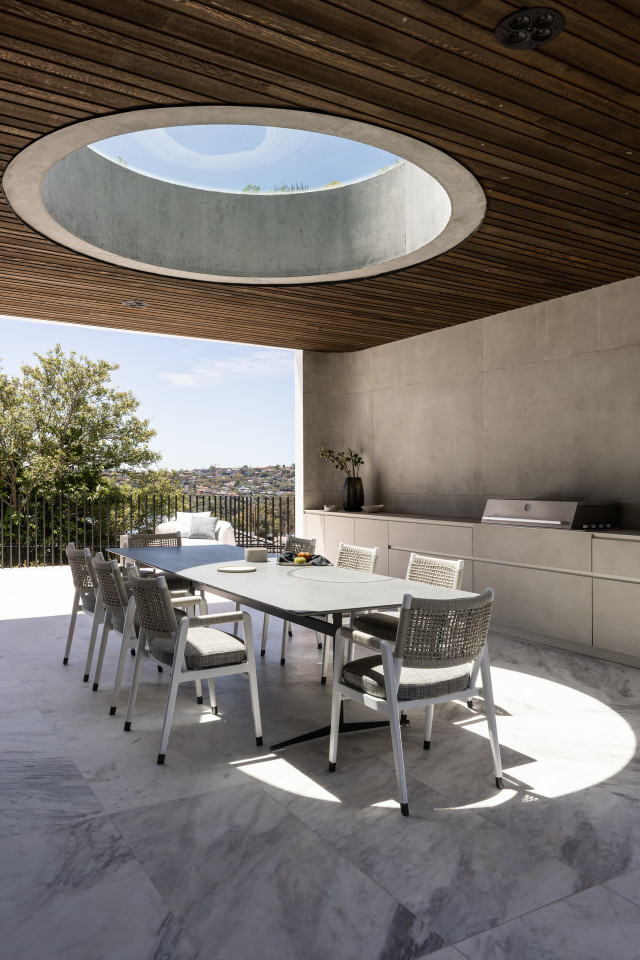 Photography: Simon Whitbread | Styling: Holly Irvine
For more on Made By Alas
Edwina Bartholomew shares what she's loved about her Sydney home
As TV's Edwina Bartholomew prepares to part with her family home, one of the oldest in Sydney's Dulwich Hill, she…
Sydney family home reno inspired by feminine energy
Designed by Smac Studio's Shona McElroy, this semi-detached/duplex house is in Sydney's Dover Heights and is home to a busy…