How to do a stylish coastal kitchen makeover for just $500!
When British ex-pat Keeley Menz purchased her home an hour south of Perth last year, she loved everything about it except for the kitchen. "It is a beautiful home, but the original kitchen just wasn't my style as it was too dark and brown. My first instinct was to paint the walls but I felt that if I lifted the kitchen it would make the whole space feel brighter and lighter."
She set about transforming the space with chalk paint, stick-on stone tiles and new handles. Incredibly, the circa-2008 kitchen has been transformed into a breezy, coastal-inspired space and the whole makeover only set Keeley back $500!
Having just spent over $10,000 on moving to Western Australia from the eastern states, Keeley was looking for a cost-effective solution to update the kitchen cupboards, when she came upon Frenchic Paint. "I've done a lot of DIY and makeovers in my time, and I've painted a kitchen before, but this product was amazing. It didn't drip at all, and the paint's self-levelling aspect really works," says Keeley who, incredibly, worked on the kitchen during the day (with her two-year-old son running around) and at night when light conditions weren't the best.
"Obviously, it would have been better to have done all the painting under natural light, but it wasn't always possible. I remember being amazed when I woke in the morning because I was sure I'd have to go over the cupboards again but there were no drips or streaks," says Keeley, who cleaned and lightly sanded the cupboard fronts before applying around three coats of Frenchic's Dazzle Me. "I did a lot of coats because the cupboards were so dark and I wanted to make sure they were completely white. I'd describe the finish as matte and easy to keep clean," says Keeley.
Paint aside, Keeley used self-adhesive, heat-resistant, waterproof stone tiles from Tic Tac Tiles to update the kitchen's functional yet dated glass splash back. The real stone tiles have adhesive backing and are easy to install on any clean surface.
The kitchen was put through its paces recently when Keeley's family arrived from the UK for a long holiday over Christmas; with a full house for six weeks, Keeley says the kitchen withstood the onslaught. "I had my mum, dad, sister, husband and then three toddlers smashing into the cupboards with their toys, but the wear and tear was fine!"
Chalk and mineral paint Frenchic was founded in the UK in 2014, fast gaining a loyal fanbase and a Facebook group of more than half a million DIYers sharing their projects. It has been available in Australia since 2021, through independent stockists and online.
Get a free Frenchic colour chart sent to you
DIY interior design kits delivered to your doorstep
We have talked extensively about the impact of COVID on our homes. With more people working from home, suddenly they…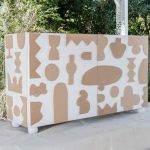 A DIY abstract cabinet hack from Bunnings
The latest research from Bunnings has revealed that more and more Aussies are turning to upcycling to help their dollar…