IKEA hack with VJ panels creates stunning media room
In 2019 during covid, Chantelle and Marcus Barresi took the exciting step of buying a plot of land and building their first family home on it. "Little did I know that this would ignite a deep passion for interiors within me. I absolutely love seeing my home transform from an empty space into a reflection of my personality," Chantelle says.
Today she's sharing their second living /theatre room which they completed transformed from a bland empty box with an excellent IKEA hack and some VJ wall paneling.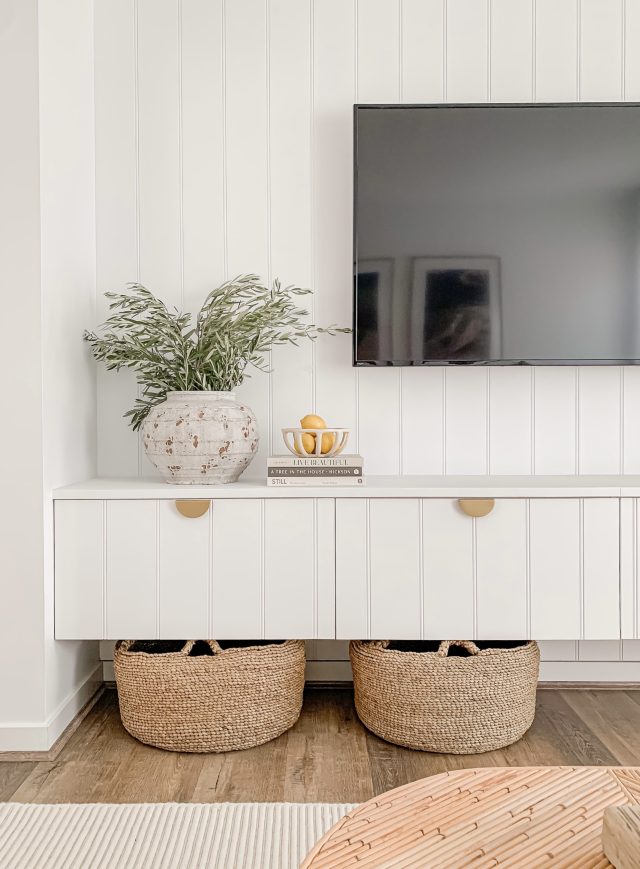 "The second lounge room had been empty for some time before the renovation took place. I wanted to take my time and wait until I had a clear vision of how I wanted it to look. My goal was to create a space that was not only practical and unique but also seamlessly integrated with the other completed areas of my home.
"With future kids in mind, I aimed to make the room versatile, doubling as a playroom with ample toy storage. The main focus was on enhancing functionality and infusing the space with a distinct vibe that set it apart from a traditional theatre room. 
Chantelle, 27, said the Easycraft VJ wall paneling was an absolute game changer in adding character and texture to the space. They cleverly repeated it from the walls onto the front of the IKEA PLATSA unit doors. "It also creates an illusion of higher ceiling height," Chantelle says. "It has completely elevated the overall aesthetic." Gold arch handles provide the perfect finishing touch.
"I can't even put into words how much I love this room; the floor-to-ceiling paneling and all that storage space, not to mention it's unique and one of a kind. It's everything I wanted and love. It's a room that just fills me with so much happiness every time I walk in."
Having plenty of tradies in the family meant they could complete the project for a steal. "We were fortunate to have many helping hands on deck during the renovation process. This allowed us to save money on hiring trades. The approximate cost to complete this unit was around $700 to $800. We had previously been quoted $3,000 to $3,500 to have something made like this so decided to DIY."
What they used
Wall paneling: Easycraft easyREGENCY panels
Paint: Paper Plane by Tint Paint
Paint equipment: Large accessories kit from Tint Paint
Door handles: Manovella Design
Door hinges: Prestige Brass Plated Continuous Hinges from Bunnings
TV unit cubes: IKEA PLATSA 1600 x 420 x 420
Top panel: FJ PANEL 2100 x 600 x 27 from Bunnings
Gap fill: Selleys Spakfilla Rapid
To secure the panels: Selleys Liquid Nails Original from Bunnings
Pan head screw slotted 8g x 9mm screws from Bunnings were used for door attachment to avoid them going through to the other side.
To cover the screws, they used Kaboodle stick-on screw caps (100 pack) from Bunnings.
Sheer curtains: Tahiti Snow, s-fold, ceiling mounted from Tuiss Blinds Online.
Faking built-in joinery: how we used flatpack and VJ to create an amazing TV unit
I've shared our living room on here many times and I really love the space, but what people often ask…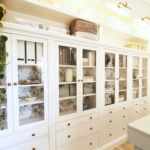 IKEA hacks Australia: DIY built-in HEMNES cabinetry how-to
Would you love built-in cabinetry in your living room but balk at the cost? Well, you know we love an…