Interior designer mum creates 2 stunning nurseries in rental home
Interior designer Katie Sargent wasn't going to let renting get in the way of creating beautiful custom nurseries for her babies!
Living in a temporary home while they search for their next renovation project, she still wanted to create a space that reflected her and her family and found a way to design two stunning baby rooms for Charlie, 20 months, and newborn Olive.
While landlords' restrictions can often get in the way of having your dream interior, Katie knows there are still ways to make it work.
"The opportunity to change the rooms to my liking was limited but my intention was to inject as much personality as possible with the soft furnishings and the removable vinyl wallpaper from Pickawall. I chose decals as we can take them down and move them into the next house if we choose."
The Victorian weatherboard cottage in Melbourne's Bayside had a lot of white walls and not much else! "The floors are timber so adding rugs for warmth was important," Katie says. "The rooms really come alive when you add the wallpaper, beautiful children's furniture and lots of lovely layers – throws, playmats and cuddly toys."
Without a doubt, the wallpaper decals made the biggest difference. "Both rooms are a custom design for the children. I decided on a neutral whimsical safari theme for Charlie and a pretty crane and floral design for Olive. I started by brainstorming, putting colour palettes together and then worked with Pickawall to bring them life." 
Katie loves upcyling Facebook Marketplace finds, as was the case with Olive's play gym. "Although sometimes by the time you buy sandpaper, primer and paint and spend hours prepping and painting, it's not so much of a bargain!" she says. "Although they are completely unique." Katie splurged on the kids' main furniture from Danish by Design as investment pieces.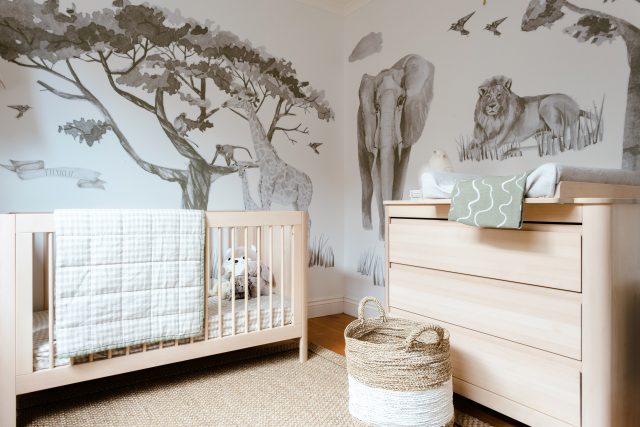 "I love the personalities of each room. Every morning and evening we say good morning and goodnight to the safari animals and Charlie absolutely loves this. These rooms are very peaceful and whimsical.
"The removable wallpaper really is a game changer and the perfect way to add personality to a room without feeling that you might ruin the walls or the kids are going to grow out of the design. It's also great for renters as you don't need permission!"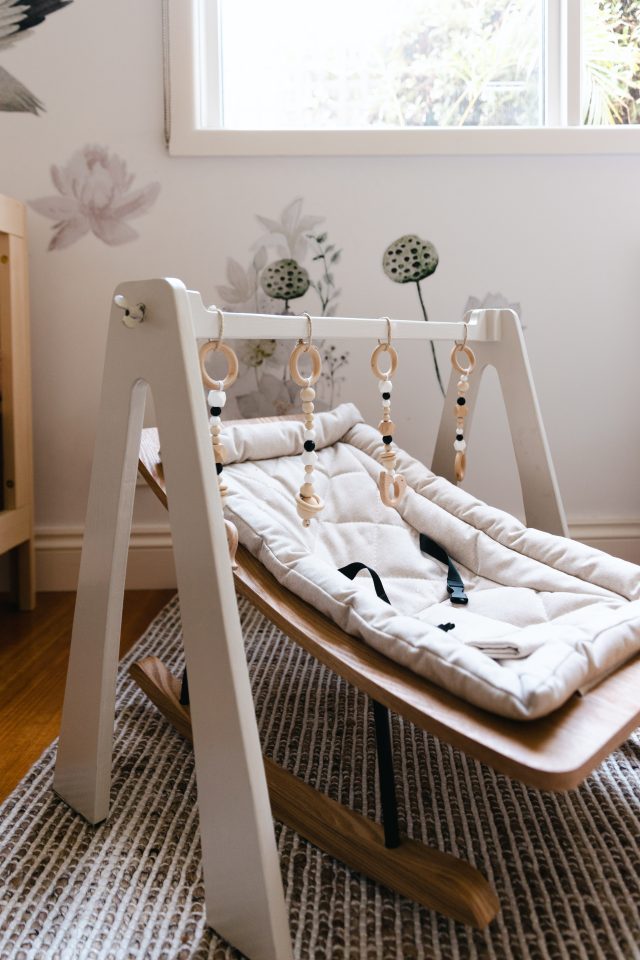 Katie is a residential interior designer in Melbourne who particularly loves working on period homes. "My work is textural, organic and often neutral. I love layers and softness and combining classic pieces with contemporary ones."
For more on Katie Sargent Design
Photography by Lisa Atkinson
Get the look
Olive (crane room)
Cot
Dresser
Change mat
Rocker
Rocking Chair & Foot Stool
Play Mat
Bed Linen & cot throw
Wallpaper
Olives clothes 
Charlie (safari room)
Dresser & Change Mat
Cot
Floor Cushion
Bed Linen & cot throw
Wallpaper
Charlie's clothes 
Rug
How to decorate your rental home in a damage-free way
Renting. Let's face it – it's got plenty of challenges, but there's a certain sense of satisfaction in transforming a…