An Ode to the 60s Vibe & French Design: West Village Apartment by McKay.
In the dining room, table by Pierre Yovanovitch; custom banquette by McKay in a Holly Hunt fabric; chairs are vintage Tobia and Afra Scarpa (Italy, 1970s) alongside a cane room-divider by Quincoces-Drago from Six Gallery. The standing candelabra is by Arthur Umanoff, sourced from Maison Gerard. Pendant light by Merve Kahraman.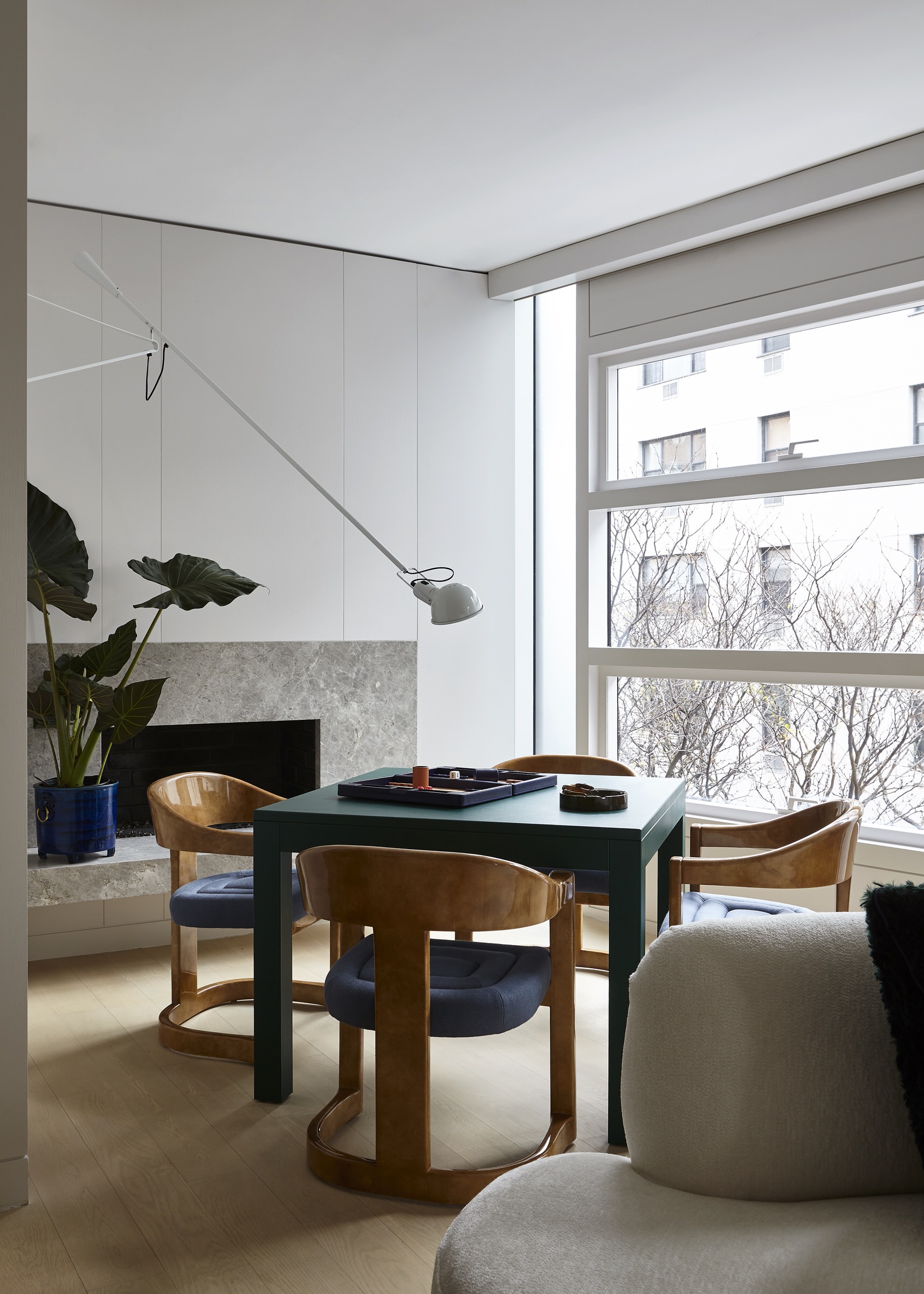 Leather game table, custom by McKay in green Edelman leather alongside vintage Karl Springer Onassis chairs. Seat cushions in Zak + Fox fabric.

Sofa made custom by McKay in Holly Hunt fabric. Pillows on sofa: Toyine Sellers and Kvadrat by Raf Simons. Floor lamp: vintage Arteluce by Giotto Stoppino. Pair of lounge chairs: vintage, upholstered in a Metaphores fabric. Carpet: Mitchell Denburg.

When Matt McKay, founder of design studio McKay, met the owners of this West Village Manhattan apartment — an American couple in their late 20s — through a long-time friend, a gallerist in New York City, there was an instant connection. "I was specifically drawn to the fact that the homeowners were interested in starting a collection and curious to learn about both contemporary and vintage makers," remembers the interior designer.
Spread over 250 square meters, the three-bedroom apartment was originally a dark and moody bachelor pad. McKay was tasked with converting it into a space that could serve as a bright and inviting family home during the day, which could easily transform into a sultry entertaining space at night. To achieve this goal, the interior designer kept the colour palette soft and neutral, using textural wall coverings and finishes paired with sweeping curved furniture shapes to contrast the long linear lines of the building's architecture.
McKay and the couple visited New York galleries and sourced a few pieces from Paris flea markets to balance the budget. Throughout the process, the interior designer worked on developing an interesting narrative with the different objects selected, including his favourite — the vintage carved wood side table by Jean Touret.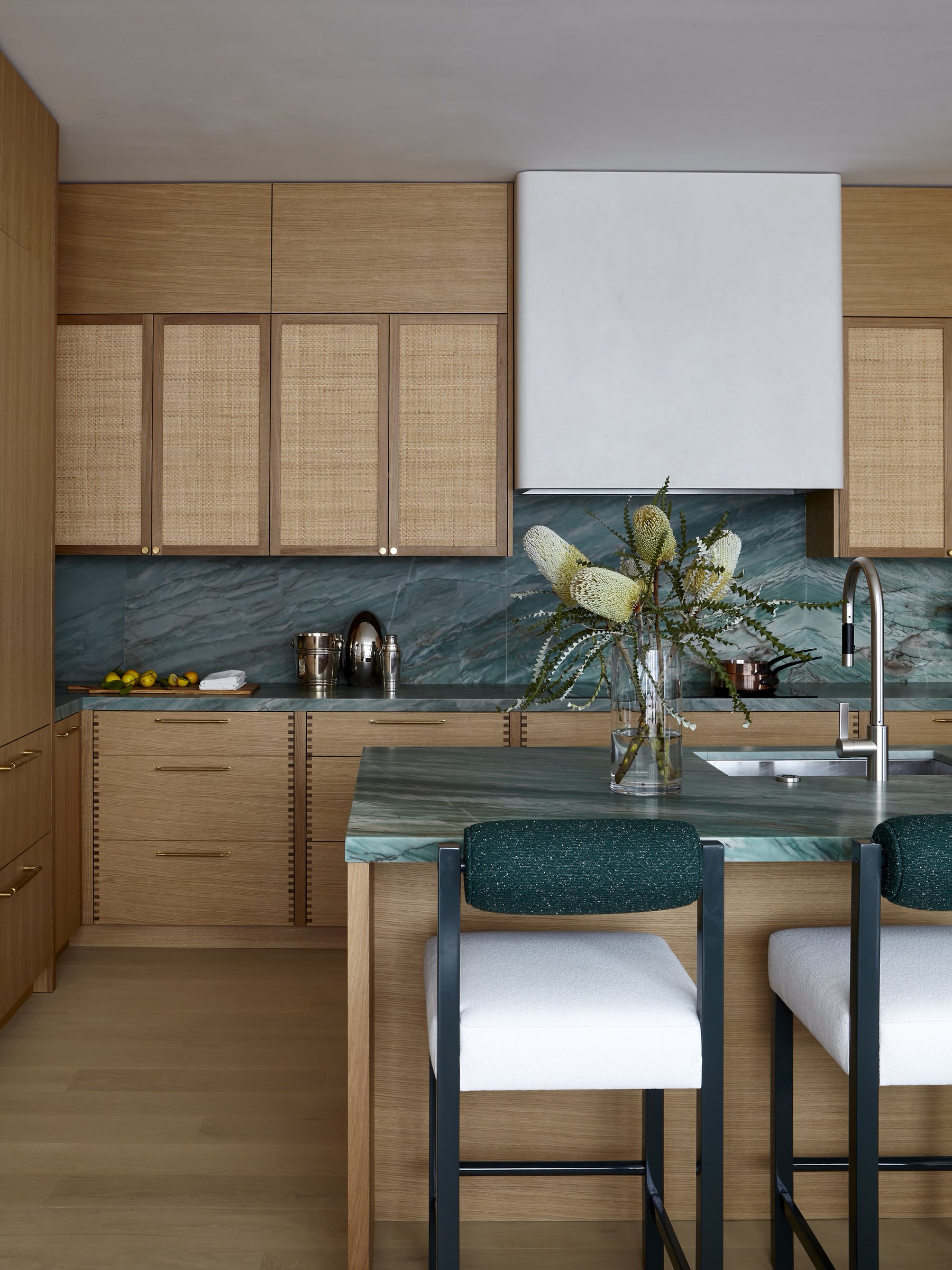 The kitchen was custom designed by McKay, counter and backsplash in Emerald Quartzite from BAS Stone and barstools by Thomas Hayes.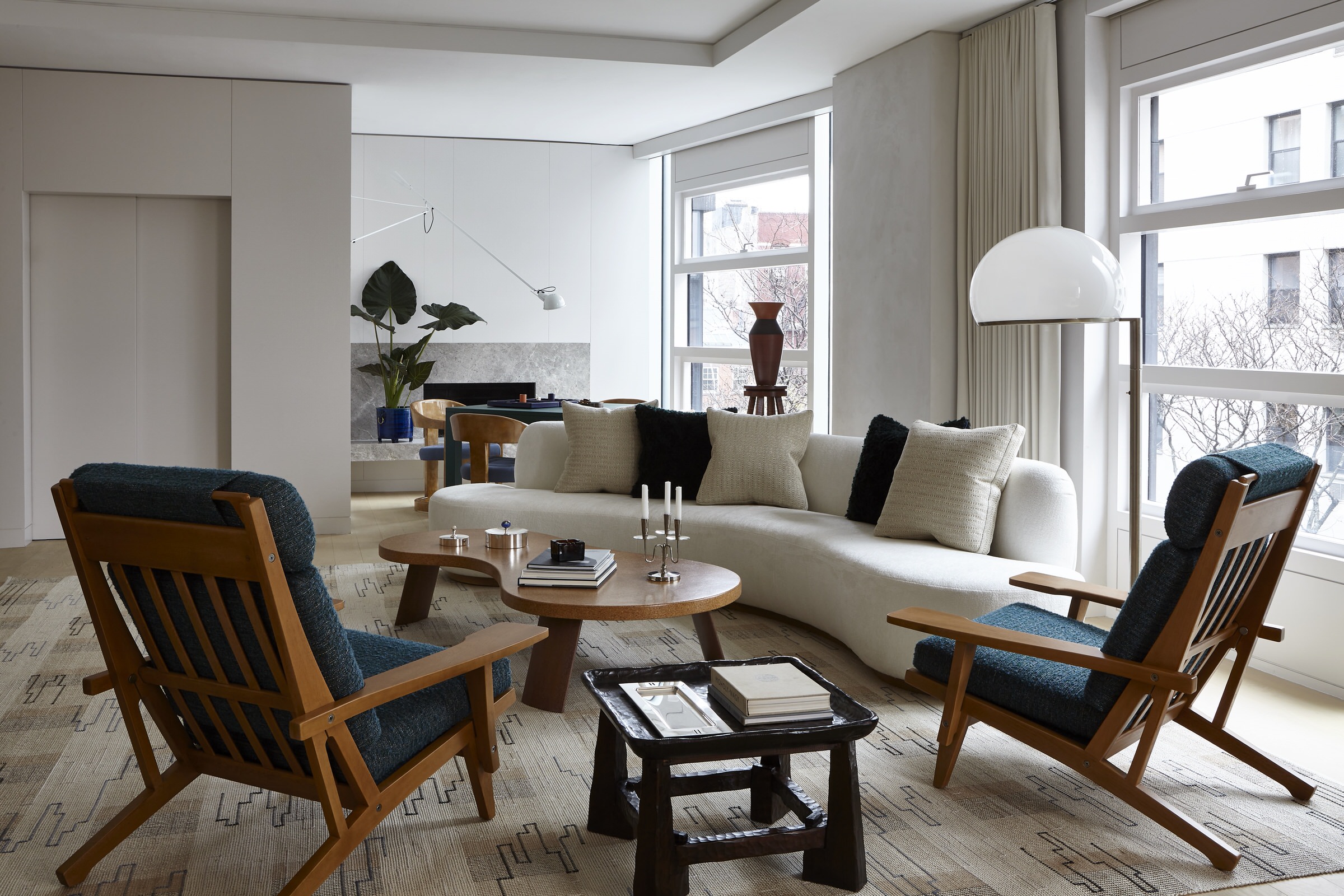 A collection of vintage furniture was sourced for the living room. Sideboard is vintage Guillerme & Chambron (French, 1950s). Cork coffee table by Paul Frankl. Wood frame chairs are vintage, upholstered with Pierre Frey fabric & carved wood side table, vintage by Jean Touret (France, 1950s). 
In the office, wallpaper by Calico. Desk by Poul Henningsen. Chairs, Eames and Mario Botta. Lamp, vintage; Stilnovo by Shigeaki Asahara. Storage unit by USM & carpet by Mitchell Denburg.

The guest bedroom was another custom design by McKay, featuring Nemo Tiles, sconces by RBW & hardware by House of Rohl.

In the open living room/dining area/den, separate office and private areas, the combination of quartzite, onyx, natural oak, and brass is set against rich fabrics and carpets. In terms of colours, McKay focused on various shades of blue, green and teal, pairing them with black and cream accents.
According to the interior designer, this home is "decidedly Manhattan, with views of the Hudson River." It also embraces, however, other influences that go back to the 1960s. "The inspiration aimed to combine various ephemera," he says.
"With French musician Serge Gainsbourg and the wicker seats of the Fiat Jolly, we are taken away to a different time in the south of France, with Brigitte Bardot in St-Tropez. We see German textile artist Anni Albers and French painter Henri Rousseau in conversation through the textures and colours selected throughout. For me that time exemplifies irreverence, just what we need most right now."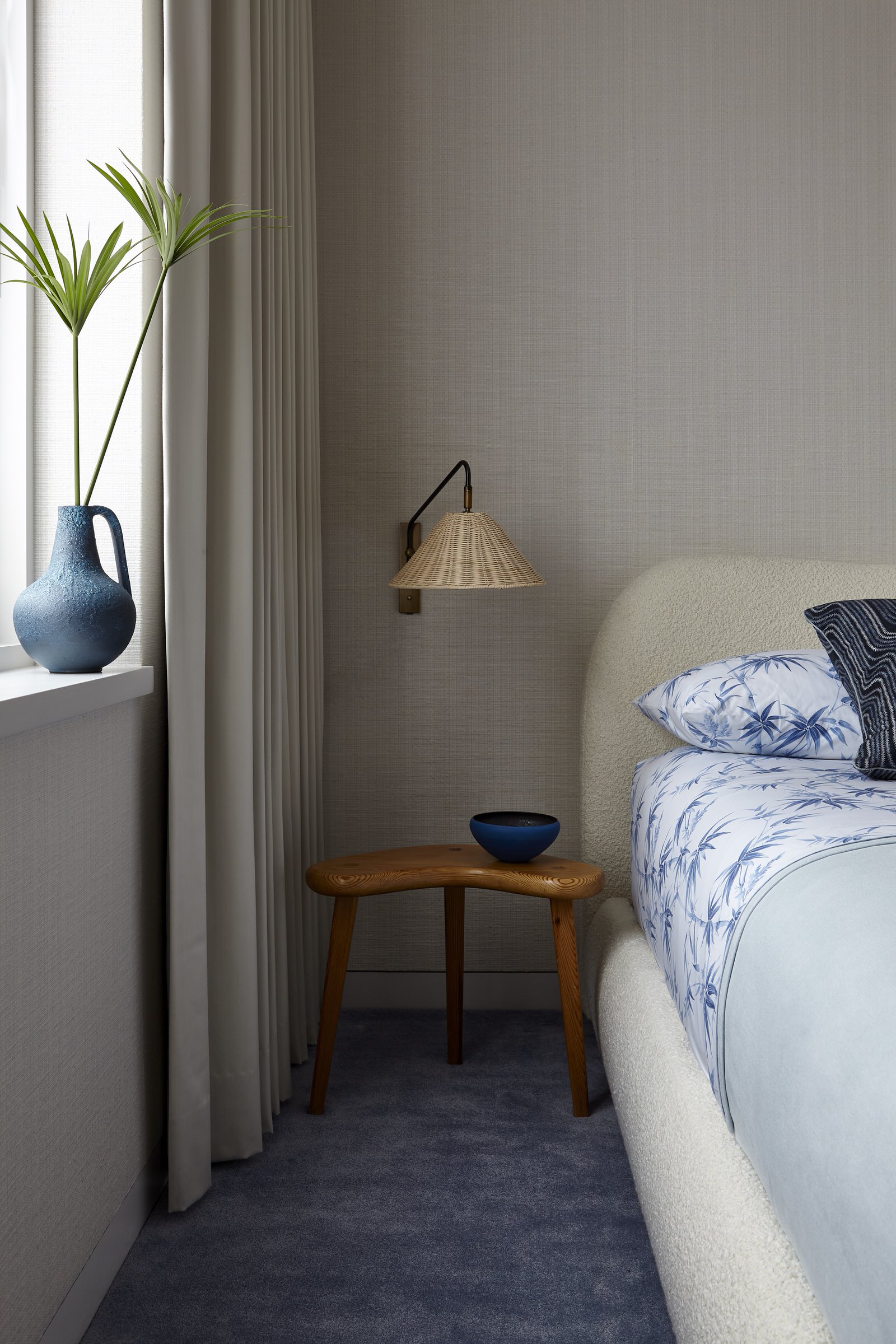 While the apartment was only a few weeks away from the initial install, the homeowners finally agreed to redo the kitchen and guest bedroom, launching a new phase. With their bright green tone, these spaces happened to be two of the boldest spaces in the apartment. "It's hard to imagine the project without these changes," says McKay.
Off-white Venetian plaster walls complement the rich natural wood, delicate caning and vibrant teal quartzite in the kitchen while the colourful tiles in the bathroom bring an excess of character.
With an eclectic mix of design pieces and bold hues, this home is an ode to the cool vibe of the 60s and French design, right in the heart of the Big Apple.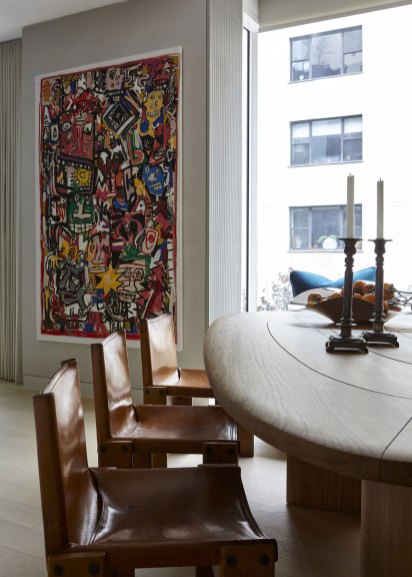 ---
[Images courtesy of Mckay. Photography by Joshua Mchugh.]