When we decided to pull the trigger on our kitchen renovation (those details can be found here if you'd like), the scope creep became real. Basically, new hardwood that trickled into our whole main floor also meant that we may as well go ahead with a fresh coat of paint throughout. Plus, since we were painting, I figured it just made good sense to tackle a mini dining room update while we were at it. I had always envisioned a little more character in this space, so it felt like the perfect time to go for it. Some wall paneling, a new chandelier and the addition of a plate wall* set the stage, and I'm just smitten with the results.
*a design trend I'm v. into right now
SHOP THE LOOK:
Apart from the new engineered wood flooring, none of these dining room updates involved any major changes as far as labour or financial implications go. However, I'm pleasantly surprised by how much fresher the entire space feels (you can see the most recent dining room iteration here, and where we originally started right here). Though I've been doing this whole interior design thing for nearing two decades now (how?!), i'll never fail to be amazed by the power of paint and panelling.
For a really long time we weren't sure whether or not we were staying in this home for any length of time. The limbo meant that I really hadn't made any meaningful updates to most of our spaces in a really long time. We still aren't planning on staying here for too much longer, but I'm really loving our little dining room update, and I'm so glad we went ahead with it. For me this whole experience has been a lesson in making meaningful changes to your home, even if you don't think you're going to stay forever.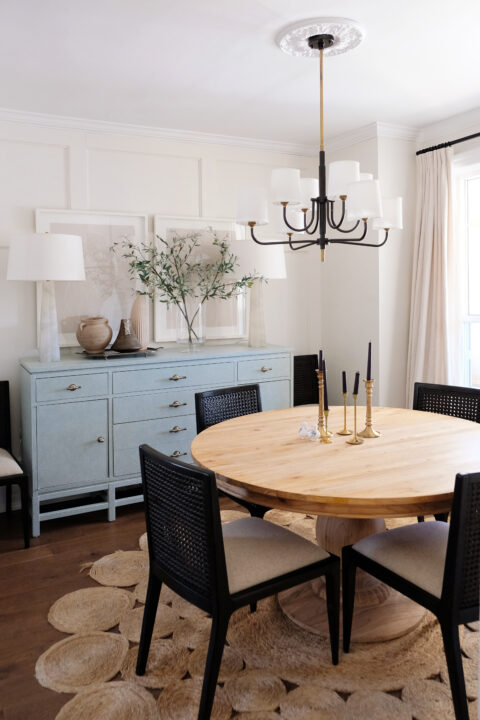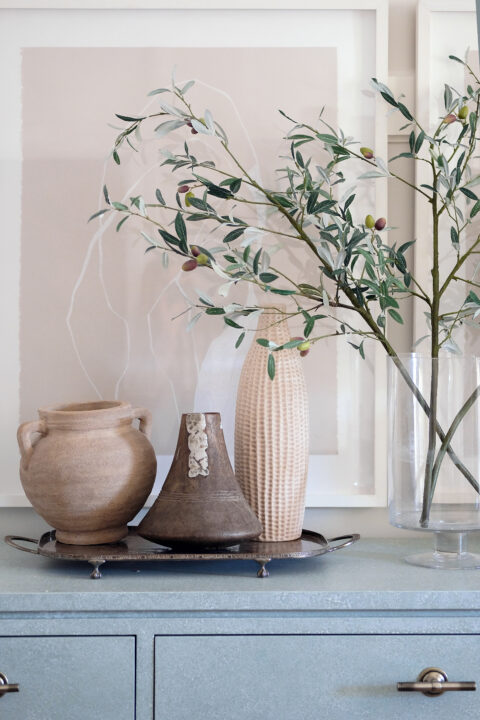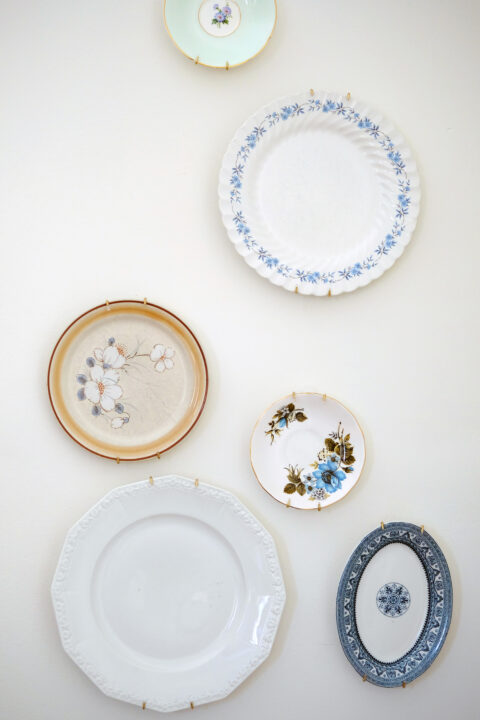 SOURCES

Finishes
Wall Colour: Benjamin Moore – OC-17 – White Dove
Ceiling & Trim Colour: Benjamin Moore – OC65 – Chantilly Lace
Flooring: Fuzion – Outerbanks – Caravan
Drapery: Custom
Drapery Hardware: Tonic Living
Crown: Metrie
Furniture
Art & Accessories
Art: Zoe Polawk, Custom Framed at On the Wall
Plate Wall: Thrifted, Hung Using These
Candlesticks: Thrifted (similar)
Candles: Amazon
Olive Branches: Mcgee & Co.

SEE ALSO

Our Most Recent Dining Room Reveal
Our Original Dining Room Reveal
(our dining room has come a long way)