Okay before we get into the kitchen inspiration I've been drooling over, a little bit of backstory for you. As you may know by now, we're just a few days away from undergoing a main floor renovation in our home. As an aside, if you're new here, definitely read this post first. This is a project that's been years in the making and I'm thrilled we're finally pulling the trigger.
All that said, though I've been a professional interior designer for fifteen years now, I've never undertaken a renovation of my own of this size. And though I've always understood the immense value a designer can bring, I have a whole new appreciation for why people hire us. We provide a ton of support and stress alleviation in so many areas. But my biggest issue is that I'm finding it wildly difficult to make decisions for myself*. It's something that comes so easily to me when I'm working on client projects – I very rarely, if ever, hum and haw for days on end. But that has not been the case for my own kitchen.
The one thing I've been finding extremely helpful is to start managing my own project as I would manage that of a client's. And the first thing I always do when I'm on-boarding a new job is to pull inspiration. I find it's a really intuitive approach to a kicking off a design project. I find the act itself incredibly therapeutic. And I love that it acts as a great jumping off point to visually see what we're feeling. So I did just that a few weeks ago and thought I'd share my vision. Following are the beautiful kitchen inspiration photos I've had in the back of my mind as we've gone through the design process for our own kitchen.
Photo & Design: AKB Interiors
/ inspiration: cream cabinets & gold hardware /
/ inspiration: wall panelling & farmhouse sinks /
Photo & Design: W Design Collective
/ inspiration: white walls, layers of texture /
Photo & Design: Caitlin Flemming
/ inspiration: moody kitchen cabinets & slab backsplashes /
Photo & Design: Galleria Provenance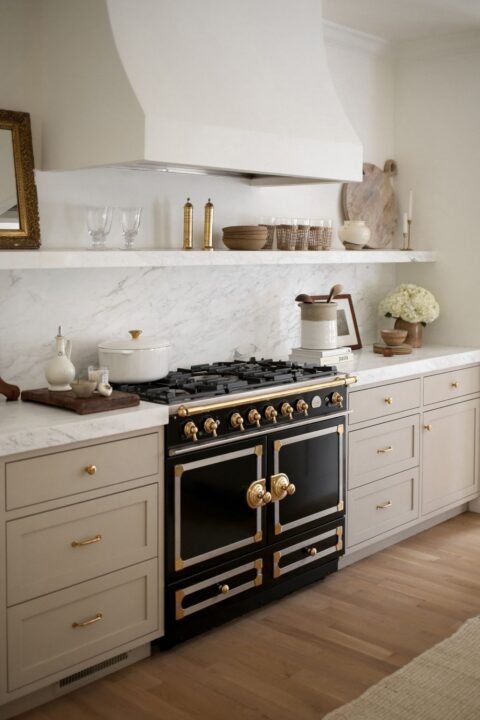 / inspiration: wood floors & vintage finds /
Photo & Design: With Love from Kat
*Funny enough, I was chatting with a very talented fellow design friend (who's also renovating her home) and she told me she just hired another local designer to oversee some of her selections. I'm so glad I'm not alone with this struggle, and thought this was a genius solution! Since this isn't our forever home I'm not going to go to those lengths, but I'm definitely banking it for the future.