The Block is back! 2023's house decider first room reveals
You know the drill by now. The first room reveals aren't real room reveals but we of course want to see the new contestants' first efforts! As I'm not yet into Block mode, I forgot to watch last night, but don't worry, I still have all the goss and pictures for you!
Set in the family-friendly Melbourne suburb of Hampton East, the new series, the 19th if you can believe it, features five houses designed and built in the 1950s and located on the aptly named Charming Street. These grand old dames are now in their 70s and way overdue for a contemporary update. For the first time in Block history, host Scott Cam will be providing contestants with the full renovation schedule ahead of time this season.
So last night saw the house decider challenge. Although I said these aren't what I'd call real room reveals, the end result counts for a lot! The prize is being able to choose which of the five homes they keep through the rest of the season, so it's game on!
Each team was given a home based on the order they arrived and waiting inside was a Disney + item to inspire them in creating the ultimate kid's bedroom. So without further ado, here's what went down and who scored what.
Leah and Ash (first place): 27 points
First aid officer Leah (32) and builder Ash Milton (38) – parents from QLD
Light, bright and filled with colour, Leah and Ash's castle-inspired room wowed the judges from the moment they entered. With custom bunkbeds featuring scalloped edges, a huge feature peacock, well thought out lighting and vibrant colour throughout, colour it was an instant hit. "Whoah!" Shaynna said as she entered, "Look at that!" with Darren agreeing this was the room with "the most imagination".
It was also a room that showcased close attention to detail and left him eager to see what else the couple could do. "I have very high hopes for what they will deliver on The Block," he said. "I literally have no notes!"
Get the look: Neon flamingo lamp, $24.95
Liberty and Eliza (second place): 18.5 points
Personal assistant Eliza (37) and integration producer Liberty Paschke (34) –sisters from VIC
From timber elements in the shelves and bed to the green feature wall and bedside tables that mimic tree branches, this was a room Darren immediately knew was inspired by the living tree, Groot… and he loved that! What was missing Shaynna said, were actual plants, possibly a hanging garden. And also, she added, a wardrobe, something vital in a kids' room.
It was a measured approach, Darren said defending the room, perfect for a little tree person: "At least they've understood what the character means." Summing up, Scotty said the space was well executed and had some good thought behind it but needed some more layers.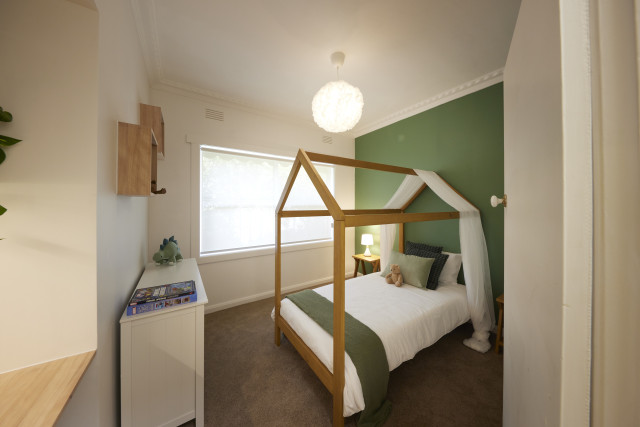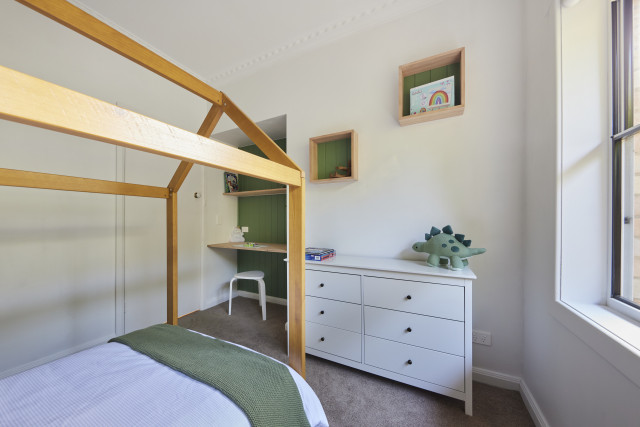 Kristy and Brett (third place): 18 points
Project manager Kristy (34) and safety officer Brett Beames (34) – married from SA
A room fit for a princess was waiting for the judges when they stepped into Kristy and Brett's Frozen inspired space, complete with a low and playful bed, bookshelves at adult and kid height and a lavender colour palette that played into the ice theme.
With stars on the walls, and Elsa taking pride of place, it's a room that hits the mark, the judges said, but needed to go further. The execution wasn't great – unless the drips were supposed to be ice, Shaynna joked – and everything needed to be amplified. "Sometimes less is more," she added, "but not in a kid's room."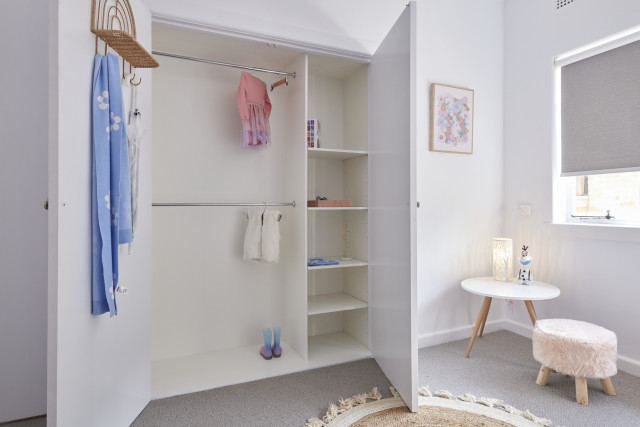 Kyle and Leslie (fourth place): 17.5 points
Firefighter Kyle (36) and teaching aide Leslie Cottone (34) – parents from WA
With a feature star-filled Grafico wall dominating, Kyle and Leslie had created a room that was well on the way to being an alternate universe for kids, but again, one that could have gone further. The Hamptons inspired wardrobe walls worked well, the judges agreed, but the bed, even with its companion lamp, felt pushed into the corner, the beanbag almost an afterthought and the styling (a can of building blocks scattered across the floor) just not enough.
Star Wars-inspired artworks and Grogu (that's Baby Yoda to Scotty!) helped, but as Neale pointed out, it all felt like a room where time ran out.
Get the look: Galaxy wallpaper
Steph and Gian (last place): 14 points
Architect Steph (27) and start-up worker Gian Ottavio (27) – married from NSW
Was it a kids' room, or a hotel room, the judges asked as they took in Steph and Gian's beautifully turned out, but not-quite-child-friendly space. Leaning into the Deco era, the room featured buffet-style storage, a king-size bed and a separate seating area perfect for grown-ups, but with a Monopoly set and some stray building blocks the only nod to a younger resident, the judges were feeling flat.
The inspiration was supposed to be Toy Story, but as Shaynna said: "This isn't Andy's room! There is no joy at all!" It was a room executed beautifully, they all agreed, but one that missed the brief.
Get the look: Etched clouds wallpaper
It's always the same: you look at these first rooms and wonder how on earth they're going to pull off a whole house and then invariably, by the end of the show, they're knocking it out of the park. Let's hope so anyway!
For the first time in over a decade, a new judge joins Shaynna Blaze, Darren Palmer and Neale Whitaker this year. Real estate expert Marty Fox, who has sold two houses on The Block before – Harry and Tash's in Brighton in 2020, and Rachel and Ryan's in Gisborne in 2022 – will tag-team judging on Sunday nights as Neale takes a step back.
Foremen Keith Schleiger and Dan Reilly will be joined on site by a new face, fan favourite from last year, Tom Calleja. The nation fell in love with Tom and his wife Sarah-Jane because of their work ethic and relatable marital bickering, and he jumped at the chance to work with Scotty and come back as this year's official Block plumber.
Tune in tonight (Monday) to see which couple gets which house.
Photos by David Cook Photography thanks to The Block Shop and nine now
Block's Andy & Deb share kitchen & laundry tips from new reno
DNA of Design, AKA 2019 Blockheads Andy and Deb, are back with a brand new home renovation and sharing what…