Va Bene Cicchetti in Warsaw by NOKE Architects in Collaboration With Artist Ola Niepsuj.
A one-of-a-kind bar has landed in Warsaw designed by Piotr Maciaszek, Aleksandra Hyz and Karol Pasternak of NOKE Architects. Located in the downtown neighbourhood of Powisle, the project celebrates the Venetian art of the cicchetti bar—little snacks and drinks in an aperitivo style.
"When you go to Venice you expect to be impressed," says Maciaszek. "Venice is easy to imagine based on a single postcard, but to live it is something completely unique. The biggest challenge was to bring this experience to the guests of Vabene Cicchetti."
The result is a bar that feels unambiguously associated with Venice, while still feeling entirely unique. NOKE took inspiration from the colours of the Venetian flag with red and gold dominating the finishes. To capture the city's distinct essence, the design team looked to its "Aqua Alta" for inspiration—the high water that sometimes washes the Venetian streets and into interiors. An azure green covers the floors, flooding the entire lower level. Reaching the walls and even the lower parts of legs and tables the colour creates a sensation of wading in shallow water.
Entering through a semi-circular portal, inside is a bar made of red travertine set against a backdrop of red and gold textures. The interior design is complemented by custom-made lamps made of artisan glass and designer furniture, including tables resembling Venetian posts sticking out of the canal water. In the bathroom, the element of surprise continues with distinctive black and white stripes topped with a red ceiling, a clear allusion to Venice's famous gondoliers' uniforms.
With the city being a temple of art—both contemporary and Renaissance—the team wanted to create a space for dialogue and exchange of ideas, a meeting point for the worlds of architecture, culture and art. This materialised in an arresting mosaic designed in collaboration with artist and illustrator Ola Niepsuj.
"We came up with the idea to use 'mini pieces of Venice' as the building blocks of our artwork. Mosaic was the perfect solution for this. According to the author, it best represents Venice, where the sun dances on the water," explains Pasternak. "Besides, it refers to the local tradition of Warsaw mosaics and MDM urban square. Also, personally, we have always dreamed of designing a modern version of the Warsaw mosaic."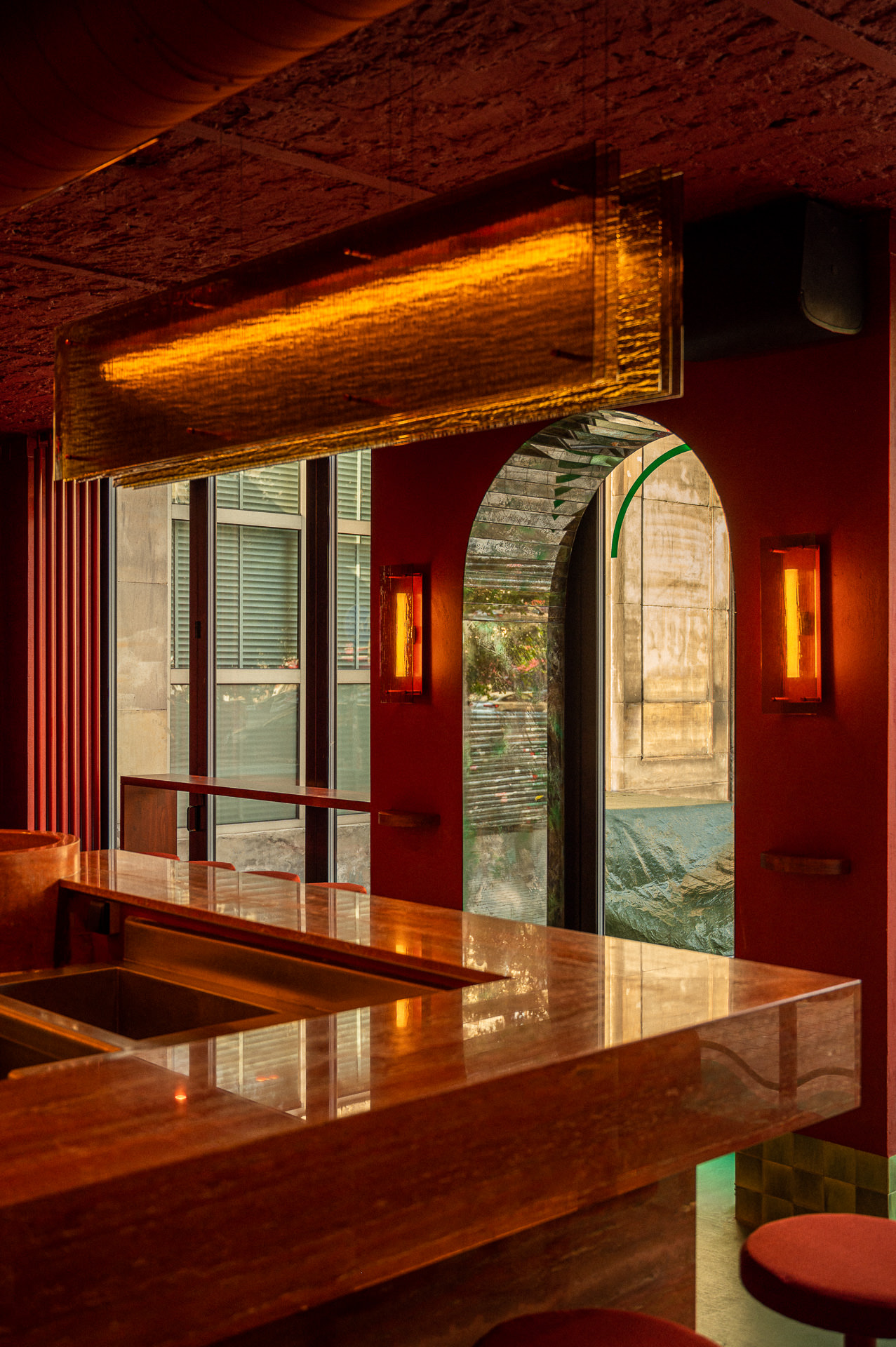 Rather than just a single commission, the collaboration with Niepsuj extended to a broader exchange of ideas and inspiration resulting in a whole set of artworks, graphics and design elements. Notably, she designed the Venetian lion that appears on artistic neon signs and a huge brass doorknob resembling railings in a palace. The illustrator also designed the entire visual identity of the place and the posters for the opening.
To really sell the Venetian experience, the designers added one final touch. "The image of Italian seniors always leaning against window sills, amiably greeting passers-by from windows and balconies resonated in my head. We wanted the interior to be welcoming to the bustling city," explains Hyz. "The windows were designed to be fully open and on warmer days the guests can enjoy the outside area too. What is more, there will be an amphitheatre staircase and a rooftop terrace with a stage for a DJ or live music. You could not wish for more in this cosy corner of the old socialist buildings next to a beautiful relief."
---
[Images courtesy of NOKE Architects.]