Design predictions for 2023 that will inspire you
With people spending more time at home than pre-pandemic, our wants and needs of a home are changing. Our predominantly all-white and all-dark homes are ready for something new. To help show us the way, Rebecca Burrows, interior designer at home builder Henley, looks into her 2023 design crystal ball to unpack a suite of design predictions guaranteed to delight and inspire.
Be bold with colour
Rebecca says: "There's definitely been a move away from white on white. Be brave, be bold and bring in some colour through your cabinetry, furniture or decor items.
"There is a wide spectrum of colours to play with and choose from. If you're afraid of colour and don't want to try bright or dark deep jewelled tones, try soft pastel colours. Subtle pinks, greens and blues are popular and offer a nice, calming effect and add a bit of fun to your space."
Earthy neutrals
"If bold colours are not your thing, palettes with soft earthy neutrals, muted greens, deep mustards and warm browns are beautiful.  
"After a decade, there has been a shift away from greys, white and black. This new colour palette from nature reconnects us with the outdoors – these colours are much warmer and create a relaxed, welcoming space. With this shift, matte black tapware is being replaced with brushed nickel, gun metal and bronze."
Tapping into textures
"We love using different textures. Layering textures will add visual interest to your space. Use textures from nature like, sisal, grass cloth, hessian, clay, stone and wood.  Their natural organic shapes add interest. Textured fabrics like leather and boucle are also popular."
Express yourself
According to Rebecca, it is important to be fun, creative and joyful with your interiors.  
"The minimal and uncluttered look is still popular but with a twist. Home décor is taking on a more individualised style, rather than looking like a perfect display home.  
"Your home should reflect your personality, passions and interests. Express your personality throughout the space. Avoid mass produced designs and use décor items that are handmade by artisans; or use special treasures you've found on a favourite holiday. Items don't need to be perfect – the more unique, the better. Beauty comes form imperfection and you can mix and match different elements together."
Organic shapes
"We've seen a big shift to curved edges – curves are soft, fluid and organic. Cold, modern elements like sharp edges and glossy finishes are being replaced with soft curves. i.e. vanity basins, kitchen islands, coffee tables."
For more on Henley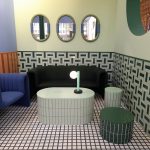 The new tile and interior trend coming in 2023
Elevated Retro is set to become a primary interior design influence as Aussies move into 2023 and give the nod…
Australian kitchen trends: The latest high-tech oven and fridge
From the latest high-tech ovens and fridges to hit the market to beautiful stone-look porcelain panels, building the kitchen of…