Design Show Australia and ArchiBuild in Melbourne this June
From 15-17 June, the Melbourne Convention and Exhibition Centre will for the first time host two of Australia's premier design events – Design Show Australia and ArchiBuild Expo – under one roof.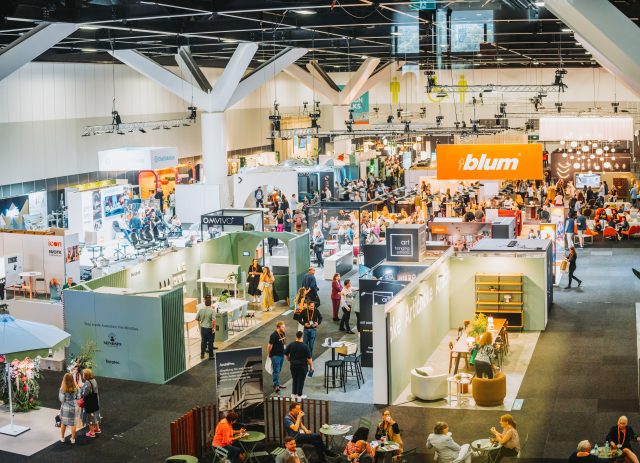 This will be the first Design Show in Melbourne (with the original event being hosted in Sydney last year), and the inaugural ArchiBuild show. Presented by ArchiPro, the two events will run side by side, bringing together over 8,000 professionals and 250 exhibitors from the interior design, architecture and building industries.
"We're proud to be inspiring the largest group of design professionals in Australia with top brands, the latest product technology and the trends shaping interior, architecture and building projects," said event director Andy Vaughan. 
"We're passionate about creating a sustainable future, so our inaugural ArchiBuild Expo will host a dedicated Sustainability Pavilion, as well as must-hear talks at both events that explore challenges and solutions for sustainable design and manufacture."
Design Show will showcase leading brands like Blum, Stoke, Cult and Fermob, superstar designers and future design trends. ArchiBuild will exhibit top brands including James Hardie, Interface, DECO, Thermotek and Dulux, as well as technology, product innovations and revered and up and coming designers. 
Both events will host a multitude of insightful talks and panel discussions.
Design Show Australia highlights
This year, Design Show Australia includes a number of design features and curated design talks. 
Collarts Entrance feature – two Collarts' Interior Design students won the challenge to design an intriguing entrance feature for the event. Over a two-day intensive workshop, students tackled a real-world brief, working in groups to create unique concept designs which they pitched to the Design Show team.
Australia's Next Top Designer – presented by WORKSHOPPED and sponsored by Cult, the competition shines a spotlight on designers, makers and creatives leading the next generation of design. Assessed on product quality, sustainability and innovation, the 17 finalists will be unveiled at the event, showcasing products in the categories of furniture, lighting and objects/art.  
Key speakers – three stages will feature a multitude of panel discussions and interviews, including some DIA CPD sessions. The talks deep dive into the many facets of design, exploring key themes of technology, sustainability and local manufacture. The Design Talks stage has been designed by IDEA 2022 award-winning designer Arthur Koutoulas.
ArchiBuild Expo highlights
As the first event dedicated to architects, developers, builders and specifiers, ArchiBuild Expo will present cutting-edge products, technology and solutions for residential and commercial projects. 
Sustainability Pavilion – providing a platform for attendees to navigate the landscape of sustainable building manufacturers, the space will showcase the latest sustainable products from top brands who are committed to creating a greener future for our planet. Curated in partnership with GreenTag, the Pavilion offers truly sustainable solutions for architects and builders. The expo will include a custom feature from House of Bamboo, as well as carbon-neutral flooring from Interface.
ArchiBuild Bar presented by SmartStone – the ArchiBuild Bar has been custom made with SmartStone's innovative low silica engineered NewGen stone, consisting of 56% recycled material. Get up close and personal with the scratch, stain and heat resistant surface with a drink in hand.
Key speakers – a variety of thought-provoking and practical panel discussions and talks will feature across two stages, exploring the challenges and opportunities facing architects and builders. Architects can gain RAIA Refuel CPD through attendance at the CPD stage.
For more information and to book
Trade tickets are free but you must register online before the show. Use code ADDICT to get 50% off tickets for members of the public (Saturday only) when you buy two or more.