The Block 2023 second bathroom reveals: high scores all round
The main downstairs bathroom, serving the most used parts of their homes, these rooms were a chance for the Blockheads to set the tone for their build, and from small but simple to over the top, they certainly did that. From a compact powder room to a wet room that opened onto a laundry, the contestants showed they had a range of very different opinions for just what a bathroom should be.
Leah and Ash: first place with gnome (27+1 point = 28)
Bringing their love of marble into the new bathroom, combined with a solar skylight, art deco style vanity and shaving cabinets and a clever entrance to the adjacent laundry, Leah and Ash's bathroom serves as a powder room for downstairs guests and a full bathroom for the bedroom to come next door… "win-win!" the judges agreed. For Shaynna, it was the colour choices, brushed nickel tapware and stunning styling including an amazing vase that brought the room together, declaring it "really excellent" and her only worry being how the team's budget must have taken a hit to reach such a high level.
Brett and Kristy: second place (27.5 points)
"Oooh la la!" said Darren as he walked into House Three's luxurious bathroom, with kitkat tiles and polished plaster catching his eye. Even better, he pointed out, it's the perfect accompaniment to the next-door room which could easily be converted into a bedroom. "This allows them to go to market as a five-bedroom home!" Marty agreed. For Shaynna, it was the colour palette and lighting plan that brought things together and if a few minor tweaks, such as changing the powerpoint colour, were made, and underfloor heating for Marty, it would have been a near perfect space.
Get the look: Nood surface mount basin | Camilla wall light
Kyle and Leslie: third place (26 points)
With the couple's trademark curved walls, beautiful artwork, a Nood Co vanity, gunmetal tapware and a cavity slider door to maximise the space, Kyle and Leslie packed a lot of luxury into a small room, the judges agreed. The smallest The Block has ever seen, in fact! And while a powder room instead of a full bathroom limited the couple's ability to market the home as having a full ensuite accessible to the downstairs bedroom. Marty wasn't too worried. If they stick with rooms like this, he declared, they'll have "a house that will really resonate with savvy buyers!"
Shaynna struggled to find something to criticise but pointed out the black door hardware didn't match the gunmetal taps!
Get the look: al.ive gold soap bottle holder | Matisse Gold framed print
Steph and Gian: equal fourth place (25 points)
Featuring a Quartzite vanity with Dekton benchtop and integrated sink, French pattern flooring and feathered artwork opposite an ample mirror, the judges were quick to point out Steph and Gian had once again created a space that spoke to the luxury of the home they are building. But as Darren was quick to point out, there were problems with this downstairs powder room as well. The layout means the toilet is the first thing visible when you open the door, something both Darren and Marty agreed was "just wrong" and the paintwork was as Scotty generously put it, "simple".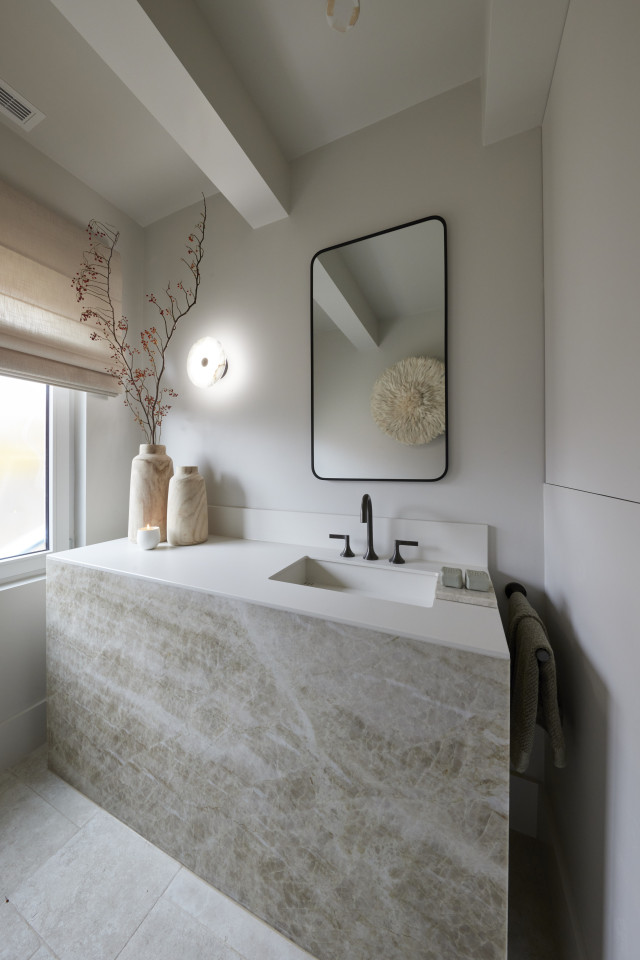 Get the look: Juju feather head dress
Eliza and Liberty: equal fourth place (25 points)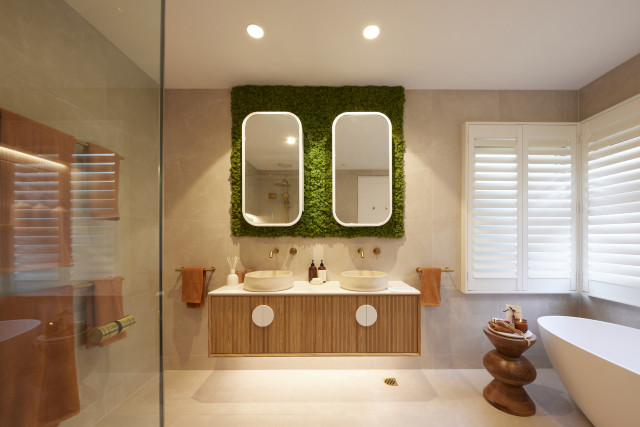 And here was the big surprise of the night, a moss-covered feature wall! "What is that?" a shocked Shaynna asked. "I can't get my head around it!" Marty agreed as the judges took in the bright green living moss feature Eliza and Liberty had used in their downstairs bathroom. Only Darren was impressed, pointing out how it complemented the neutral colour scheme, helped acoustically and was great for the air. Marty wasn't sold however, saying he loved the layout, fixtures and the fact this was the only bathroom presented with an actual bath… but the moss was a step too far. I have to agree! It's a hard no from me.
Get the look: Home cleaning starter kit
Did anyone else notice Fenton & Fenton, which has since gone into liquidation, on last night's show? Awkward…
Which was YOUR favourite bathroom? Did the judges get it right this week?
Photography by David Cook via The Block Shop and nine now.
Work from home spaces: Block 2023 week 3 room reveals
We all know work from home spaces have never been more talked about or valued since you know what (the c-word!), so there was always going to be a lot of interest in this week's Block room reveals. For some contestants, it was a chance to get into the new steel framed sections of their homes, while others battled the older areas. The result was a range of solutions with varying degrees of success. And, after their rocky start, Steph and Gian won for the second week running! Steph and Gian (First) 26.5 points From the sliding panels to hide…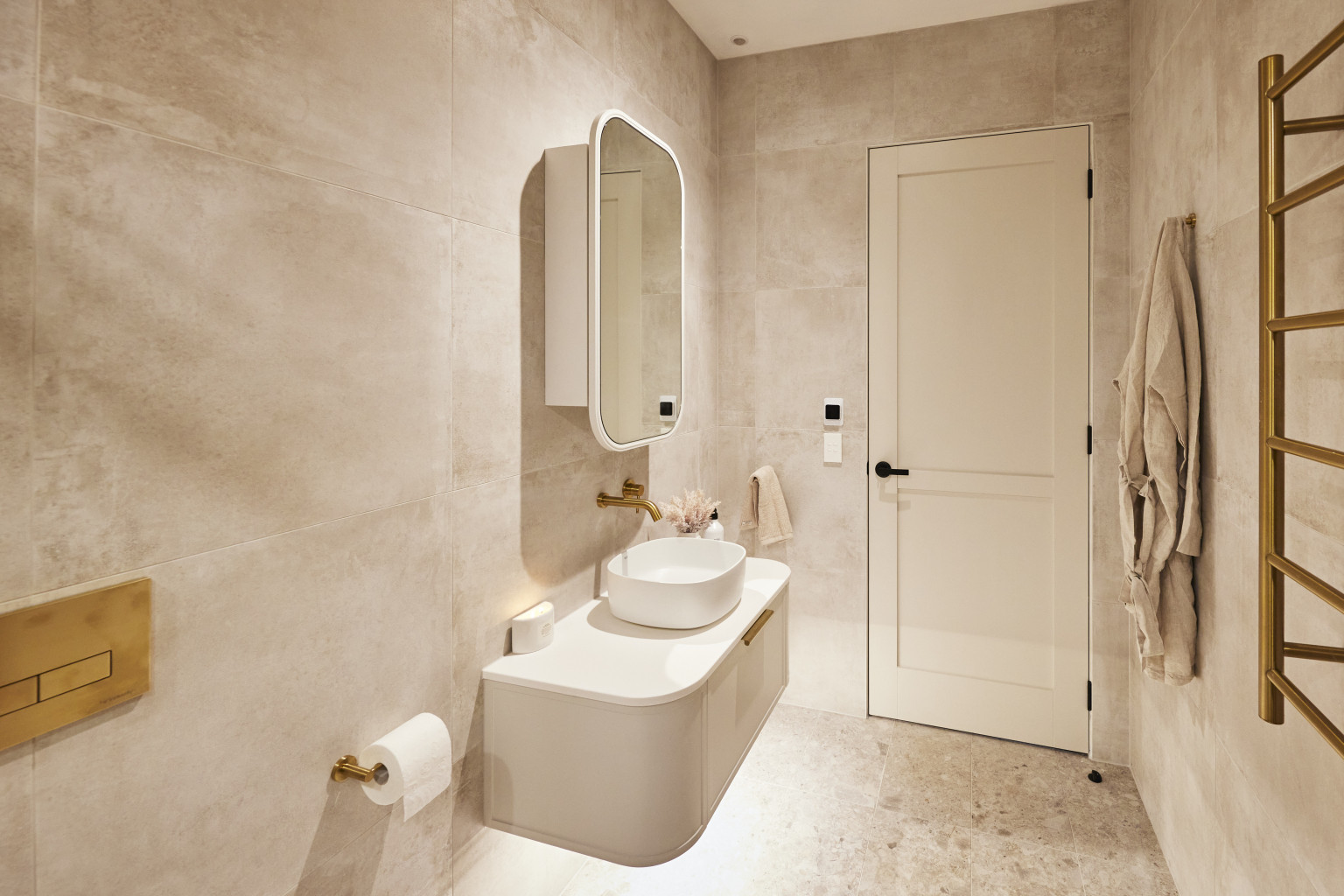 The Block's first bathroom reveals are a very mixed bag
With a new room in their new homes – and a new judge! – it was time for the Blockheads to take on the first room of their build, the studio bathroom. Ooh, we do love a bathroom! And they're not easy are they?! And with a range of styles from spacious rooms with curves galore to smaller spaces offering unique solutions to design challenges, last night's room reveals were varied, which is always more entertaining than seeing a lot of similar spaces. Naturally the drama and backstabbing (or allegations of it) have already started with Steph very firmly in…